stock.adobe.com
The role of document management in hybrid work environments
Document management plays a key role in aiding hybrid workforces, so organizations must ensure their document management strategies enable safe and accessible hybrid collaboration.
For organizations that digitized processes before the COVID-19 pandemic, digital work -- including work with electronic documents -- was no longer a goal to attain; it was the primary way to do business.
Organizations had to quickly learn to continue operations when many existing processes depended on an in-person staff in one location. As hybrid work environments become more prevalent, many organizations still benefit from improved, remote document management due to the pandemic. Yet, document management in hybrid work has greater finality, as the new normal will be a hybrid of remote and in-person workforces. Organizations must assess the benefits of proper document management strategies in hybrid work environments and document management systems that best meet their needs.
How the pandemic changed document management
The beginning of the pandemic saw fewer effects on organizations with existing remote workforces or digital work strategies. Organizations that were not fully remote before the shift discovered myriad flaws in content collaboration.
Even if some organizations still used network file-sharing tools, most were not ready for their entire workforce to use VPNs simultaneously. This led many organizations to deploy enterprise content management (ECM) services that addressed immediate document management needs rather than long-term benefits. While not ideal, many organizations preferred the hastily architected services instead of relying on email to manage documents. Any document management service with remote capabilities -- even if it wasn't the best fit for the organization -- could help meet immediate needs.
5 ways document management benefits hybrid work
As organizations move toward hybrid work environments, they realize strong document management services offer many advantages. Many benefits also applied before the pandemic, but organizations didn't prioritize them.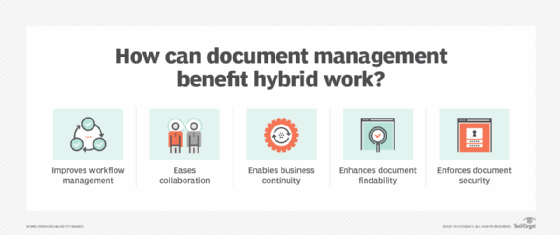 Document management in hybrid work benefits business areas, including the following:
Workflow management. Organizations have digitally transformed business processes over the past few decades. A service that manages documents in a central location can enable users to work and collaborate regardless of their locations.
Collaboration. Discussions and processes that take place in the same context as the document can help expand collaboration and preserve communications among remote employees.
Business continuity. Early in the pandemic, business continuity drove document management, as email quickly became a challenging way to draft, review and manage various types of content. Organizations require services where users -- regardless of location -- can find and work with documents.
Findability. A good document management system makes files discoverable. While no system is perfect, a good service can increase productivity and reduce time spent searching for specific documents.
Security. Documents can contain valuable and unique information. Organizations need document management systems that protect valuable documents from theft and safely store them.
5 document management systems to consider
To integrate a document management system efficiently, organizations must find one that complements how employees already operate. The options below have online offerings and various levels of desktop sync, which can enable organizations to start with the service quickly.
Additionally, an organization must apply information governance before deploying the technology to its whole staff or face new challenges.
Document management systems include -- but are not limited to -- the following:
Microsoft Teams. Teams gained much ground during the pandemic. Initially a Slack alternative in Microsoft IT environments, Teams grew to overlap Zoom's meeting capabilities and offer key document management features. Its greatest strength is its various features that IT departments can deploy quickly.
Microsoft 365. Microsoft 365 is a rebranding of Office 365. It offers a different approach to document management than Teams. While both use SharePoint technology, Microsoft 365 has a more traditional, project-oriented mindset, focusing on information structure. Microsoft 365 is better suited to an organization committed to the vendor but has a collaboration tool, such as Slack, that it uses already.
Box. Box has focused on document management since its founding. Its platform can benefit organizations that primarily need desktop sync and support for digital business processes. The vendor offers a strong API, which simplifies the integration of documents into other systems. Box has fewer built-in collaboration features than its competitors; however, organizations with mixed software environments may benefit most from this vendor.
Google Docs. Organizations often overlook this option. Google Docs enables collaboration and tight integration for organizations that use Gmail. This option has some UX challenges for external party collaboration. Organizations must also closely watch the content format, as users could easily switch content formats to Google's equivalents for Microsoft Word, Excel and PowerPoint.
Hyland's Alfresco Content Services. Each Hyland product has different strengths and a deep history in ECM. The Alfresco Content Services platform has collaboration and document-sharing capabilities. It is open source, enabling easier configuration and customization if an organization deploys the service in its cloud environment instead of an Alfresco platform. To take full advantage of Alfresco Content Services' capabilities, an organization must invest in the vendor's resources.
Gartner, Forrester and other analyst firms cover these vendors and other options. Like the list above, their lists focus on the larger players and may miss a smaller vendor. When choosing a document management system, the most critical questions to ask are the following:
Does the UX support how the staff works?
Can the organization properly organize and control content without impeding productivity?
Can the organization deploy the system to cloud environments and scale up or down as needed?
If a vendor can answer those questions successfully, an organization can have confidence in its selection.
Dig Deeper on Content management software and services