Datto Inc. is a backup, recovery and business continuity vendor that sells data protection products to businesses of all sizes. Datto offers a range of products through a variety of platforms, including hardware, software and virtual appliances and sells its products primarily through managed service providers (MSPs). Datto's product line, which features centralized, cloud-based management, includes the Datto Networking Appliance, Datto Networking Switches and Datto Networking WiFi.
Datto's backup, recovery and BC products include the following:
Datto Alto - a BC product designed for small businesses. It uses image-based backup and a hybrid cloud platform. Users protect physical, virtual and cloud workloads on Windows, Mac and Linux systems. Alto features point-in-time rollback to recover from disruptions such as ransomware. Backups replicate to the Datto Cloud on a schedule set and managed by the Alto device. Alto is available as a hardware appliance.
Datto NAS - a network-attached storage device that connects to Datto's cloud. It provides backup, recovery and business continuity for local, virtual and cloud workloads. Datto NAS is centrally managed and protected by Datto Cloud. Users can share files and folders on the local network and replicate NAS snapshots to Datto Cloud for backup. Datto NAS is available as hardware.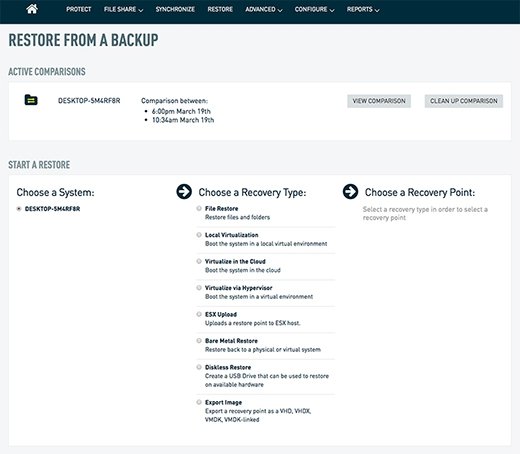 Datto Siris - incorporates features from other Datto backup products, including Datto NAS and Alto. Siris is a comprehensive data protection platform that protects physical, virtual and cloud infrastructure on Windows, Mac and Linux. Like Alto, Siris features point-in-time rollback and replicates to the Datto Cloud. Siris is available as hardware, software and as a virtual appliance.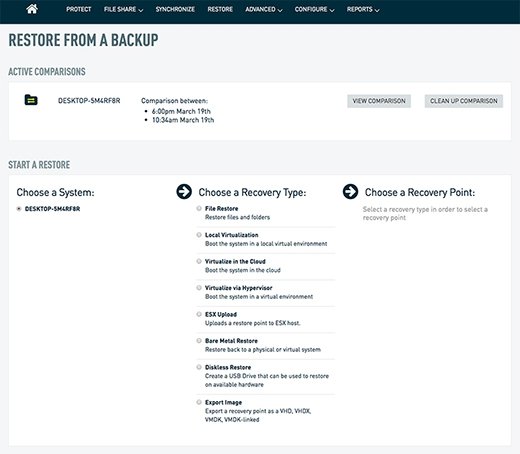 Datto Drive - a platform for file sync and share, across user devices, in and outside of an organization. It is privately deployed and protected by Datto Cloud. Customers can use Datto Drive in the cloud or deploy it locally on Datto NAS or Siris. The product supports Windows, Mac, Linux, iOS, Android or a web interface. Since file sync-and-share products are vulnerable to ransomware, Datto Drive takes complete backups of all a device's files, allowing complete rollback to before an attack.
About Datto
Datto backup and disaster recovery (DR) products serve more than 5,000 MSPs internationally. According to the vendor, its purpose-built Datto Cloud -- which is larger than 300 PB -- stores offsite backups and provides offsite virtualization for business continuity (BC) and DR. Datto also offers cloud-to-cloud backup, which protects software as a service (SaaS) applications such as Microsoft Office 365 and the Salesforce platform, by backing them up to another cloud.
Datto purchased cloud-to-cloud backup pioneer Backupify in 2014. Backupify protects data stored in SaaS applications such as Salesforce, Google's G Suite and Microsoft Office 365. Cloud-to-cloud backup is needed for SaaS applications in the event of disruptions such as user errors and cyberattacks.
In late 2015, Datto closed a $75 million funding round led by private equity and venture capital firm Technology Crossover Ventures. At the time, Datto CEO and founder Austin McChord said his company had been profitable since 2013. Datto had total funding of approximately $100 million when it was acquired by Vista Equity Partners.
In late 2016, Datto purchased cloud-based networking provider Open Mesh. The Open Mesh wireless access point and Ethernet switching technologies led to the creation of Datto's networking product line built for MSPs and geared toward SMBs. Datto did not disclose terms of the deal, which transformed Open Mesh into a Datto company.
Datto was acquired by private equity firm Vista Equity Partners and merged with IT management provider Autotask in 2017. Datto's merger with Autotask Corp. brought several technologies under one roof for SMBs, including professional services automation, remote monitoring and management, backup and DR, networking continuity, and file sync and share.
Autotask, located in New York, offers an IT management suite of products. Terms of the deal, which closed in December 2017, were not disclosed. When the deal closed, the merged organization had approximately 1,300 employees with offices in nine countries. Its 13,000 MSPs service more than 500,000 SMBs in 125 countries.
Main competitors
Datto has several competitors in the field. Major competitors include:
Unitrends - offers hardware and software for backup and recovery. Founded in 1989, the vendor began selling integrated appliances in 2003. Unitrends specializes in bare-metal recovery, BC, DR, appliance-based backup, incremental forever backup, instant recovery, disaster recovery as a service and Office 365 backup, according to the vendor. Unitrends has also incorporated ransomware protection into its products: The Unitrends Recovery Series physical appliances and Unitrends Backup virtual appliances use predictive analytics to detect a ransomware infection.
Veeam Software - started out protecting virtual machines, but has since expanded to physical and cloud support. The company's flagship product, Veeam Availability Suite, provides backup, replication and restore. Veeam touts its products as "availability for the always-on enterprise."
This was last updated in
March 2018
Continue Reading About Datto