Remote hands is the general name for a service offered by colocation providers that enables customers to delegate IT management and maintenance tasks in a colocation facility to technicians hired by the provider.
How remote hands works
Remote hands refers to a service in which colocation data center employees are able to perform various on-site services on behalf of their customers. The data center services offered as a part of a remote hands service vary by provider, but generally speaking, data center employees are able to offer IT services such as installing new equipment, replacing a failed drive, checking equipment status or even cycling a server's power.
One of the most important things to know about remote hands is that, although some colocation providers offer remote hands as a service to their customers, others mandate remote hand use. This allows the colocation provider to restrict physical data center access, thereby, helping to make the data center more secure.
The importance of remote hands
If an organization chooses to lease data center space from a colocation provider, it's important to make sure the provider offers a remote hands service. Having access to remote hands enables the colocation customer to focus on internal tasks with their own organization and prevents them from having to send their own technical staff to a colocation facility. This is especially important if the colocation facility is far away from the organization's geographic location. After all, you wouldn't want to make someone from IT drive to a remote data center location in the middle of the night for something simple such as cycling a server's power.
Another reason why it's so important to have access to remote hands is because support issues have a way of occurring in the middle of the night, on weekends or on holidays. Often, a remote hands service is available around the clock and year-round. They can provide data center support even when nobody from the organization's IT department is available.
Typical remote hands services
Although it varies by colocation provider, a remote hands service generally covers a wide range of tasks, including:
Moving or securing network cables
Network router and switch configuration
Server refreshes and reboots
Hardware and software replacement or installation
Inventory management and labeling
Handling shipping and receiving requests
Reporting on equipment performance
Audits
Remote hands vs. smart hands
Some colocation providers offer most or all of the previously mentioned data center support services as a part of their remote hands service. Other providers, however, differentiate between remote hands and smart hands.
For these providers, remote hands services provide a very minimal level of IT support. These types of remote hands programs might include tasks such as cycling a server's power, checking the status of an indicator light -- and reporting the status back to the customer -- or perhaps unplugging a piece of equipment and plugging it back in.
Conversely, smart hands goes well beyond the basics. A smart hands program might cover things such as receiving hardware shipments or performing hardware deployment. Similarly, a smart hands technician might perform hardware repairs such as replacing failed hard drives or power supply units.
When a colocation data center provider offers both remote hands and smart hands, the two services are going to be billed at different rates. Some providers even offer complimentary remote hands services but bill customers by the hour for using smart hands services.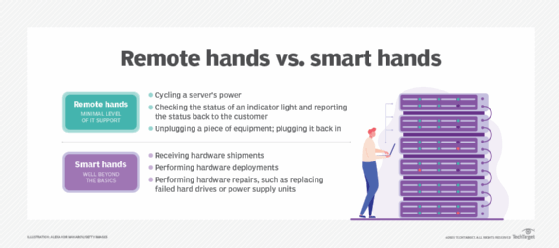 Remote hands vendors and products
Most large colocation providers offer remote hands services. Some of the vendors that make remote hands available to their customers include Digital Realty Trust, CoreSite, Equinix and 365 Data Centers.
The pricing of a remote hands service varies by colocation provider. Some colocation companies bill in 30-minute increments, some allow customers to pay for a certain amount of remote hand hours per year or month and others include the fee of the remote hands service in a monthly colocation bill. Remote hands are also called smart hands by some colocation providers, though others classify the two as different service levels.
This was last updated in
December 2020
Continue Reading About remote hands
Dig Deeper on Data center ops, monitoring and management