James Thew - Fotolia
Everbridge Crisis Management unifies communication, response
Everbridge has launched an application that provides organizations the ability to manage a critical event throughout its lifecycle through a dynamic dashboard.
A new Everbridge application will enable workers to see and update the jobs associated with a given emergency, helping them better understand the status an incident.
Everbridge Crisis Management unifies response and communication through a dashboard, integrated in the vendor's Critical Event Management suite.
"It centralizes everything related to managing a crisis or critical event," said Jennifer Sand, vice president of product management for Critical Event Management at Everbridge, which is based in Burlington, Mass., and Pasadena, Calif.
Everbridge Crisis Management includes integrated chat, incident log and smart conferencing. It can incorporate an organization's recovery plan and provide predetermined communications for specific situations.
Through the application's Task Manager, an organization can update tasks and assign new ones in the middle of an event. Through the dashboard and reporting capabilities, management can monitor response and recovery in real time.
A mobile interface enables users to communicate with others, see and update task assignments, and attach photos from the road.
The application features elements Crisis Commander, a crisis management platform that Everbridge acquired in 2017 and has integrated within some of its products. Crisis Commander provides the ability to manage and distribute plans and tasks.
It's moving from communication to actively managing critical events.

Jennifer SandVice president product management for Critical Event Management, Everbridge
There are a lot of point products in this market offering services such as planning and a virtual command center, but Everbridge is bringing these features together in one product, said Stephanie Balaouras, vice president and research director at Forrester.
"I like the direction Everbridge is going," Balaouras said.
Balaouras was surprised that there wasn't consolidation of features in this market sooner. She said it can be tough having a unique product because competitors can be good for marketing and promoting the field. She expects there to be more products like what Everbridge offers in the coming years.
'Actively managing critical events'
Because it's integrated within the Critical Event Management platform, Everbridge Crisis Management enables users to manage a critical event from detection through response and after-action analysis.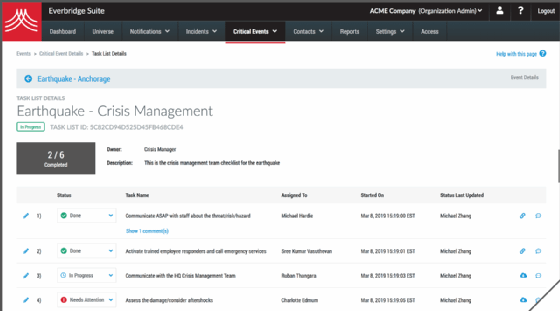 Everbridge also previously offered a communications platform, but this application goes a step further, tying communication actions to critical event response.
"It allows you to take action," Sand said. "It's moving from communication to actively managing critical events."
Customers can also use Everbridge Crisis Management to create and launch response plans. The application digitizes what have historically been physical documents, ranging from DR plans to a response task list.
For years, the biggest competition for vendors that offer planning services has been businesses that do it themselves, Balaouras said, for example through a typical spreadsheet.
"It blows my mind the number of companies doing it manually," she said.
Planning tools were expensive but pricing has come down, and the software is more intuitive.
"Things have changed quite a bit," Balaouras said.
Everbridge Crisis Management will be licensed based on the number of responders in an organization. While some early adopters have used the product, general availability is scheduled for April.
Dig Deeper on Disaster recovery planning and management