Rob Byron - Fotolia
Everbridge mass notification sparkles for Tiffany
Tiffany & Co. uses the freshly updated Everbridge Critical Event Management Platform in a number of ways. It recently had to put the mass notification capability to swift use.
After a steam pipe explosion rocked the Flatiron District of New York City in July, Tiffany & Co. needed to communicate with its incident management team quickly. With one of its corporate offices just three blocks away from the blast, the renowned jeweler's security team had a sense of urgency.
Through the Everbridge Critical Event Management Platform, the team communicated by email, text and voicemail, said Steven Palumbo, senior director of security operations at Tiffany.
The office didn't need to evacuate, because it was about a block outside of the hot zone in Manhattan, but the Everbridge mass notification messaging worked perfectly, Palumbo said.
How Tiffany uses Everbridge 'all day, every day'
Tiffany has used Everbridge mass notification since May, switching over from the Send Word Now platform. Jeffrey Thompson, Tiffany's manager of security systems, said he likes the tighter integration of features within the Everbridge platform. He said he also likes a lot of the back-end features in the Everbridge product and its "single pane of glass."
"It streamlines our processes," Thompson said.
Tiffany uses Everbridge's Visual Command Center (VCC) -- part of the Critical Event Management suite -- as essentially the backbone of its security command center. The company can view risks around the world and how they affect Tiffany directly or indirectly.
"VCC we use all day, every day," Thompson said.
Tiffany plans to expand its use of the mass notification capabilities within the Everbridge Critical Event Management Platform. The platform could be useful for sending messages to employees, such as whether stores will close due to a snowstorm, Palumbo said.
The company aimed to experiment with more Everbridge mass notification to employees as a whole -- first in the greater New York metro area, which includes New Jersey. Tiffany has 4,000 employees in that area and 12,000 around the world across about 350 locations, which include stores, factories and corporate offices.
Thompson said Tiffany uses the platform's weather feature the most. It pulls in forecast information, such as a hurricane's path, and gets quite specific -- down to the ZIP code level, if desired.
"You can see it on the news, but that's generally generic information," Thompson said.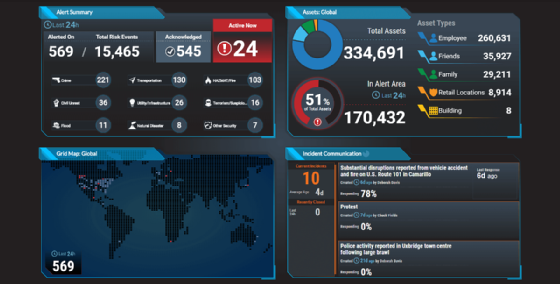 The latest from Everbridge
We keep track of all the bad things clients worry about.

Imad MoulineCTO, Everbridge
Everbridge, based in Burlington, Mass., recently launched the latest edition of its Critical Event Management Platform that fully integrates Visual Command Center software.
"We keep track of all the bad things clients worry about," from cyberattacks to natural disasters, said Everbridge CTO Imad Mouline.
Everbridge claims its platform enables an organization to receive clarity about a threat and its potential impact, pinpoint the location of people affected by a situation, manage automatic incident communications and conduct analysis on actions. It embeds Everbridge mass notification for communication and summarization of response to people affected by critical events.
The Critical Event Management Platform also includes a new administrator console. Customers can upload and manage asset data, configure VCC data feeds and set alert permissions, according to Everbridge.
The unified platform provides more actionable analytics across the board, Mouline said.
Tiffany doesn't have feature requests at the moment for Everbridge mass notification or the Critical Event Management Platform in general. Thompson said the company is trying to make process improvements to what it has in place.
"We're still trying to get up to speed on the features that already exist," he said.
Everbridge has about 4,000 enterprise customers. It also has a few thousand other customers, such as smaller police departments, Mouline said.
Dig Deeper on Disaster recovery planning and management