phonlamaiphoto - stock.adobe.com
AI and RPA are here to stay
The coronavirus pandemic has caused enterprises to rely more on AI technologies as they are forced to lay off employees or temporarily close their offices.
AI and RPA are fast becoming essential to enterprises still open during coronavirus pandemic, with millions of employees laid off or furloughed and countless more working from home.
The technologies enable businesses to automate workflows, freeing up employees to tackle more complex or critical tasks. In the age of COVID-19, AI and robotic process automation (RPA) can also help organizations run with fewer workers.
After the pandemic, enterprises will likely continue using AI and RPA, but at a higher level, according to vendors and analysts.
"The crisis is definitely refocusing AI efforts, and there is a retrenchment from what I am seeing and hearing," said Nick McQuire, vice president of enterprise research at advisory firm CCS Insight. "Projects that can be implemented quickly with clear outcomes and business value indicators attached to them, especially those solving real business problems at the moment in light of the pandemic, are getting prioritized."
Automation to the rescue
Tonkean Inc., an RPA startup based in San Francisco, is finding that out firsthand.
"When the unfortunate coronavirus came in, it actually showed how important it is to jump on it immediately," said Sagi Eliyahu, CEO and co-founder of Tonkean.
Tonkean sells a drag-and-drop platform that enables organizations to automate numerous operational needs, such as intelligently routing sales leads or customer support tickets, and automatically scheduling meetings.
The vendor's customers in the travel industry, including airlines and booking agencies, have been hit particularly hard by the pandemic with people staying at home to avoid spreading the virus, and far fewer people are flying.
Those customers have seen a jump in calls and online questions from worried travelers, Eliyahu said. To help handle the surge in calls, while their own employees have been laid off or sent home, the vendor's travel industry users have started to use more RPA.
"We've seen multiple customers where they've been able to jump in with Tonkean and, within the hour, have two workflows to automatically handle some questions," Eliyahu said.
Using the Tonkean RPA platform, travel agencies and airlines can automatically direct inbound messages to the correct support system or employees, getting answers faster to worried travelers' questions.
RPA platforms, including Tonkean's, have enabled organizations to change their processes quickly and "adapt to a new reality," he said.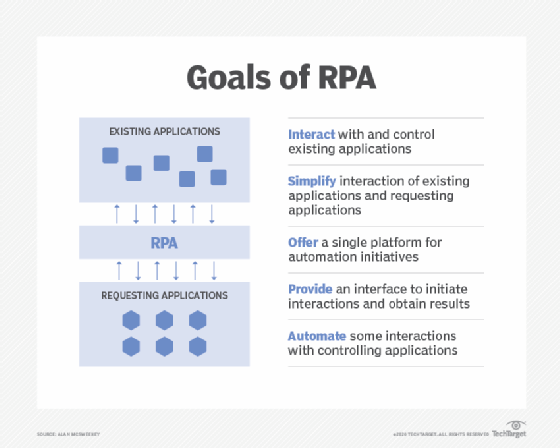 Looking ahead
Meanwhile, more enterprises are investing in AI and RPA platforms, Eliyahu continued.
"A big part of [automated processes] will stay" after the pandemic, Eliyahu said. "We will see the implication of this far and wide."
Bob Moul, CEO of Circonus Inc., vendor of a machine data intelligence platform for IT infrastructure monitoring and IoT analytics, said he expects AI and various forms of software automation to boom.
The fallout from the pandemic "will change the business landscape," he said, as businesses use more AI and automation to make up for disruptions to their workflows.
"People who have been preparing for the digital age, I think you're going to see them rise," Moul said, referring to AI and RPA.
The supply chain, for example, has been dramatically disrupted by the pandemic, as factories and brick-and-mortar retail outlets around the world have closed.
"How do we take the risk out of supply chain?" he asked. "You do that with autonomous vehicles [and] autonomous workers."
Businesses will turn to those now, Moul said, and will continue using them after the pandemic as passed to mitigate risk in in the event of other pandemics.
We will see the implication of this far and wide.

Sagi EliyahuCEO and co-founder, Tonkean
Helping the automation vendors
Moul said that Circonus is likely in a "good spot," even as so many other businesses, even AI vendors, are losing money or shutting down completely. Coronavirus, he said, "does bode well for infrastructure, cloud, cloud services, automation" and other technologies.
Some AI and RPA vendors, such as Jumio Corp., an identity verification technology vendor based in Palo Alto, Calif., have seen a boost in some areas of business and a drop-off in others.
In just a short amount of time, identity verification technology has made significant inroads in the online gambling and banking industries, as physical banking and gambling locations close, said Dean Nicolls, vice president of marketing at Jumio.
Jumio sells a hybrid identity verification system that uses machine learning supplemented by humans, as well as a fully automated one called Jumio Go. Both products use biometrics, machine learning and analytics technologies to help users to authenticate their identities remotely -- a growing need in the suddenly expanded work-from-home economy.
Some users of the hybrid system have recently switched temporarily to Jumio Go, as the pandemic has caused Jumio employees to work from home or temporarily stop working.
"It's a good thing we had that automated solution, because if we didn't, we'd be in a real bind," Nicolls said.
Jumio is giving access to Jumio Go for free to healthcare and education organizations that are combating COVID-19, the illness caused by the coronavirus, until July 1 or until the pandemic subsides. The mobile system does faster verifications but provides less accurate results.
Still, Nicolls said he thinks many customers will keep using the fully automated product after the pandemic subsides, as they may like how much faster Jumio Go enables users to verify their identity.
Software automation pragmatism
According to McQuire, businesses can no longer afford to experiment with AI and RPA. Instead, organizations are looking to automate specific applications or deliver clear operational improvements with AI.
Enterprises will not only turn to AI to help optimize their costs during this economic downturn, but will also expect it to deliver better business results overall.
"This new pragmatism is a welcome shift in the market and will be an opportunity for specific AI and RPA applications that focus on business reengineering, productivity output and helping firms yield better business processes in the post-[COVID-19] world," McQuire said.