Syda Productions - stock.adobe.c
The importance of AI for fraud prevention
As fraudsters become increasingly more professional and technologically advanced, financial organizations need to rely on products that use AI for to prevent fraud.
Jumio, the identity verification technology vendor, released Jumio Go, a real-time, automated platform for identity verification. Coming at a time when cybercriminals are becoming ever more technologically advanced, Jumio Go uses a combination of AI, optical character recognition and biometrics to automatically verify a user's identity in real time.
Jumio, founded in 2010, has long sold an AI for fraud prevention platform used by organizations in financial services, travel, gaming and retail industries. The Palo Alto, Calif., vendor's new Jumio Go platform builds on its existing technologies, which include facial recognition and verification tools, while also simplifying them.
Jumio Go, launched Oct. 28, provides real-time identity verification, giving users results much faster than Jumio's flagship product, which takes 30 to 60 seconds to verify a user, according to Jumio. It also eliminates the need to add a component, meaning the process of matching a real-time photo of a user's face to a saved photo is entirely automated. That speeds up the process, and enables employees to take on other tasks, but also potentially could make it a little less secure.
The new product accepts fewer ID documents than Jumio's flagship platform, but the tradeoff is the boost in real-time speed. Using natural language processing, Jumio's platforms can read through and extract relevant information from documents. The system scans that information for irregularities, such as odd wordings or misspellings, which could indicate a fraud.
AI for fraud prevention in finance
For financial institutions, whose customers conduct much more business online, this type of fraud detection and identity verification technology is vital.
For combating fraud, "leveraging AI is critical," said Amyn Dhala, global product lead at AI Express, Mastercard's methodology for the deployment of AI that grew out of the credit card company's 2017 acquisition of Brighterion.
.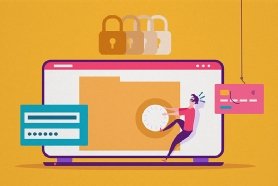 Through AI Express, Mastercard sells AI for fraud prevention tools, as well as AI-powered technologies, to help predict credit risk, manage network security and catch money-laundering.
AI, Dhala said in an interview at AI World 2019 in Boston, is "important to provide a better customer experience and drive profitability," as well as to ensure customer safety.
The 9 to 5 fraudster
For financial institutions, blocking fraudsters is no simple task. Criminals intent on fraud are taking a professional approach to their work, working for certain hours during the week and taking weekends off, according to an October 2019 report from Onfido, a London-based vendor of AI-driven identity software.
Also, today's fraudsters are highly technologically skilled, said Dan Drapeau, head of technology at Blue Fountain Media, a digital marketing agency owned by Pactera, a technology consulting and implementation firm based in China.
Cybercriminals are always that one step ahead.

Dan DrapeauHead of technology, Blue Fountain Media
"You can always throw new technology at the problem, but cybercriminals are always going to do something new and innovative, and AI algorithms have to catch up to that," Drapeau said. "Cybercriminals are always that one step ahead."
"As good as AI and machine learning get, it still will always take time to catch up to the newest innovation from criminals," he added.
Still, by using AI for fraud prevention, financial organizations can stop good deal of fraud automatically, Drapeau said. Now, combining AI with manual work, such as checking or double-checking data and verification documents, works best, he said.