Agricultural equipment maker uses AI for customer experience
Using AWS services Redshift, S3 and SageMaker, as well as third-party tools, AGCO has created new AI marketing tools and a customer portal to better compete in a tight market.
For nearly 30 years, AGCO Corporation has manufactured agricultural machinery and equipment, selling its products to distributors and farmers around the world.
Headquartered in Duluth, Ga., the $9.5 billion company has been successful. To stay abreast of a competitive market, the company has been making large investments in smart IoT technology, as well a revamped analytics back end, in an effort to ride the AI and big data wave.
One of the largest projects AGCO is working on is a new customer and marketing portal that uses AI for customer experience to draw on new sources for marketing insights and enable customers to more easily get information about AGCO products.
Using AI for customer experience
"We realized farming is evolving digitally," said Ahmad Haider, lead enterprise data science architect at AGCO. The company, he said, moved to meet those digital needs.
Currently running a pilot project in select countries in Europe and the Middle East, the new customer experience platform is about two years in the making.
Like many homegrown data science projects, the platform is essentially an amalgam of numerous data sources and machine learning and analytics tools and services. Among those tools are ones from Tableau, Oracle's MySQL and Spark.
Yet, the bulk of the AI for customer experience platform is powered by various AWS services. Running on the cloud service, the platform uses storage services, including Redshift and S3. It also relies heavily on SageMaker, to build and deploy AI and machine learning models.
The AWS services do "a fairly good job," Haider said. It was relatively easy to integrate all of the tools and data sources, he said.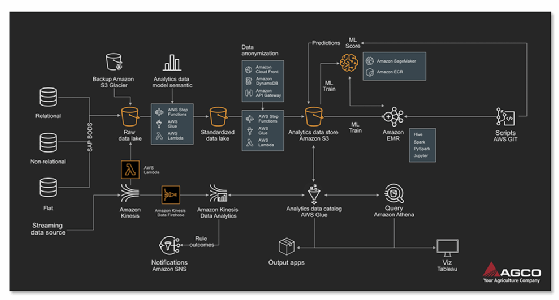 AWS
However, many of the AWS services, at least when he and his team began using them a few years ago, were not customized to AGCO's needs right away. That, he said, created problems.
We realized farming is evolving digitally.

Ahmad HaiderLead enterprise data science architect, AGCO
When using SageMaker, for example, the team had to create their own model management piece that they stitched onto the original SageMaker software. While Haider noted that component has been added natively to SageMaker in subsequent updates, at the time the management component took AGCO time, energy and money to create.
When the AI for customer experience platform is complete, Haider said, it will include a customer-facing portal that uses new AGCO-connected machines' partnerships and technologies to enable farmers to more easily manage their fleets, transfer agronomic data and get personalized product recommendations.
Distributors will have access to new customer-relationship management tools, as well as enhanced marketing analytics capabilities to segment customers and better understand and market to their needs.
The platform will use algorithms to try to predict when are the farmers going to purchase the next set of machines, as well as what type of machines they'll likely buy, Haider said.
Now, he said, the company is planning use cases "to understand how to optimize our relationship with our customers."
A complete rollout of the pilot program is expected in the near future, after which AGCO will measure the results and make tweaks before a wider rollout.