Ronald Hudson - Fotolia
RPA in banking gives fintech a competitive edge
RPA in banking is setting its sights on fintech and flexible banking to compete with traditional banking. Community banks still see hurdles despite potential to wield RPA.
It's no surprise that AI research, development and implementation are starting at the most lucrative points of an industry -- and in the financial sector, that has traditionally meant large banks with household names. These banks have successfully implemented chatbots for internal and customer use and are now deploying new methods for robotic process automation to maximize business benefits.
Beyond lucrative big banks, what's the state of AI adoption in the rest of the financial sector, and how can institutions maximize gains by implementing robotic process automation (RPA) in banking processes? According to Roberto Valdez, risk advisory services manager for consulting firm Kaufman Rossin, RPA in banking can offer three benefits: efficiency, effectiveness and compliance.
Efficiency usually means automating processes to cut costs. Effectiveness is all about consistency and standardization. Compliance ensures companies meet both federal and state requirements for privacy and security improvements. The RPA benefits remain so broad -- and sometimes elusive -- because of the wide variety of implementation cases.
Big bank use cases
A burgeoning use case for RPA in banking is deployment in security processes. With data security requirements for enterprises that handle personally identifiable information becoming more stringent, it's imperative that financial institutions make efforts to improve their security environments. Despite claims that RPA alone can improve security with its accuracy, Valdez warns that companies need to address their security infrastructures before implementing RPA.
"If you already have good governance, then [RPA is] magnifying that," he said. "RPA takes and amplifies whatever your culture is and makes it even more powerful."
Valdez's example follows a good rule of thumb for all RPA implementations: If the process works, RPA will magnify, automate and accelerate it. If the process has missteps, the technology will reflect that.
Most banks perform manual due diligence screening when a new customer requests a service. Employees enter the potential customer into their database to calculate the risk, interest rates and other offerings for the customer. The use of RPA in banking is enabling faster, more in-depth analysis on site.
"We see a lot of RPA being leveraged in the front-line account opening process at this point," said Jason Chorlins, risk advisory services principal at Kaufman Rossin.
"RPA is being utilized to go out and screen multiple lists, such as [the Office of Foreign Assets Control] for some individuals who might be on a sanctions list or politically exposed persons [and other factors] that influence the bank's decision of whether or not to take on the customer from a reputational risk standpoint."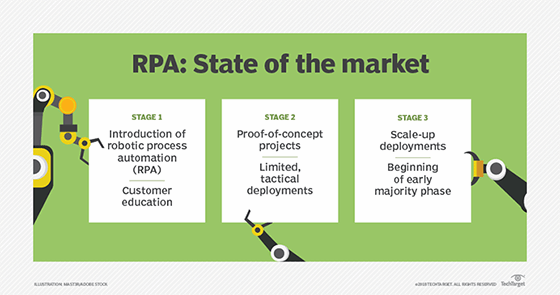 Fintechs
RPA services are also becoming popular tools with fintechs: online, technology-focused banking companies. As mobile banking options become more popular for consumers, RPA is being seen as a dynamic tool.
"RPA technology can be utilized to streamline the process, as well as limit the amount of human resources that are needed to touch the customer and transactions," Valdez said.
While traditional banks primarily focus their RPA projects on serving typical banking customers and automating their processes and customer service interactions, fintech companies are using RPA to target a specific community of financial users -- the unbanked.
The unbanked are users deemed risky financial investments that large banks often avoid -- those with poor credit scores, low monthly deposits, frequent overdrafts or infrequent ATM use. Fintechs are a match for the unbanked. These mobile banks often don't implement fees or charge monthly user rates.
RPA technology can be utilized to streamline the process, as well as limit the amount of human resources that are needed to touch the customer and transactions.

Roberto ValdezRisk advisory services manager, Kaufman Rossin
"With greater financial options, [certain groups of people, age groups and specific populations] gain economic freedom and stronger financial decision-making, as well as important tools to invest in personal or family livelihood," said Stephen Harkey, CMO of ViVi Holdings, a fintech startup company based in Boca Raton, Fla.
RPA can enable and aid Fintechs to sustain online-only banking by automating customer service processes and walking clients through banking service options. As chatbots and RPA bots grow with the company, the effectiveness of the technology is growing. This is the case with ViVi's own customer service chatbot, ViVian.
"If [ViVian] doesn't know or the customer answers with a negative phrase, the context will be transferred to a human, but ViVian will be listening to the conversation and will use the solution provided to the human to learn and the next time give the right answer," Harkey said.
Community banks
Despite RPA's potential to improve community banks, the lack of gross capital hinders the ability for RPA R&D at these smaller financial institutions. Both Chorlins and Valdez see the potential for RPA use in community banks, but the sector is fraught with complications.
"Let's say you're a community bank and your security program needs a little bit of enhancement. If you start to design automated process with that approach, you're probably going to magnify and maybe even introduce new risks [to the network]," Valdez said.
Chorlins noted the tension between the additional investment needed to implement RPA and the day-to-day reality of needing to keep up with regulatory and compliance issues. Yet these are both areas where community banks could see improvement through the use of RPA.
"Instead of augmenting their team with additional human capital, they'd be able to augment with technology such as RPA," Chorlins said. "Employees can focus their time on doing their jobs instead of manual labor tasks."