Getty Images/iStockphoto
VR platform aims to give retailers entry into the metaverse
Through a partnership with SAP, Obsess integrated the e-commerce platform within its virtual stores to create an interface that engages young consumers.
A virtual store platform looking to provide retailers with an entry point into the metaverse has partnered with e-commerce provider SAP.
The goal of Obsess, a New York City-based startup, is to change online shopping in a way that reaches the younger generation and enables retailers to sell most of their core products through virtual environments.
The technology and partnership
Last spring, the virtual reality (VR) platform Obsess -- which has more than 200 virtual stores -- partnered with the SAP.iO program. SAP.iO is a worldwide program that enables SAP partners to work with developers.
Obsess worked with SAP to integrate an e-commerce platform within its virtual stores and create a discovery interface that engages young consumers.
Through the partnership, Obsess and SAP customers can create digitalized shopping venues that could be different from or similar to actual stores. Consumers enter a 3D world online and can engage more immersively with a retailer in the comfort of their home or outside of their home.
"We are bringing that gamification-like interface to the shopping experience," Obsess CEO and founder Neha Singh said.
Not all Obsess customers have 3D models of all their products. Instead, the company has a proprietary and patented technology that can take e-commerce images from Google APIs and create an immersive experience. Once a consumer clicks on a product, they get the same information they would see on a typical product detail page.
"The purpose of these virtual experiences primarily is to aid discovery," Singh said. "If you think about when you go to a retail store, you are looking around -- you're immersed in the brand, you're browsing. All of those elements are what we are trying to bring into the e-commerce experience, because today that discovery is typically not happening on a retailer's e-commerce website."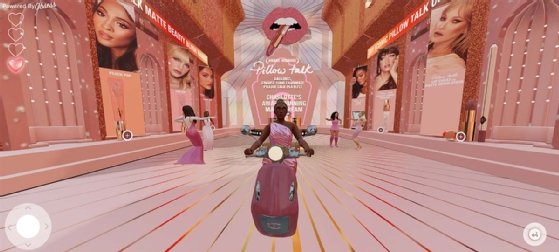 Last November, Obsess introduced Branded Avatars, a feature that enables customers to create branded metaverse environments on their e-commerce sites by offering shoppers customizable avatars. Shoppers can tailor their avatars and use them to shop and attend events in real time with their friends' avatars.
"These types of partnerships, like SAP has with Obsess and other event technology startups that are leading new areas of innovation, really open up new ways to engage with the consumer," IDC analyst Jordan Speer said.
A first step
However, whether the experience will give retailers an entry into the metaverse is yet to be seen.
"This is a first step ... that an organization could take in terms of having a digital immersive experience for customers," said Gartner analyst Tuong Nguyen.
The problem we have right now is everybody thinks the metaverse is this one thing, mainly VR.

Tuong NguyenAnalyst, Gartner
The value of the VR metaverse still needs to be demonstrated in the market. Moreover, companies such as Obsess and providers such as SAP are still figuring out the full potential of the metaverse, he said, and they might find more value in exploring other technologies beyond VR.
"The problem we have right now is everybody thinks the metaverse is this one thing, mainly VR," Nguyen said.
For example, a virtual try-on is one form of digital experience that enables the consumer to try on different products in their own home without the added gear of a VR headset or the need to make a consumer feel like they're in a different dimension or space.
"I think there's much more value and benefit from that because it's much more accessible," Nguyen said. "Instead of transporting me to another time or place with VR, you transform the world around me using many of the same technologies."
While finding value is one challenge with VR environments, another challenge is integration, especially related to metaverse technologies.
"When you talk about the metaverse, [integration] becomes even bigger because the idea is that you're integrating everything so they can work seamlessly," Nguyen said. However, he added that there would be a lot of work to connect the back-end systems, similar to when organizations moved from physical to online shopping.
Customer adoption could also be a challenge.
"We're still in the early stage of adoption," IDC's Speer said. "I don't know to what degree some of these experiences may turn out to be novelties versus really good experiences."
Esther Ajao is a news writer covering artificial intelligence software and systems.