besjunior - stock.adobe.com
Warehouse AI and robotics help train employees
Workers at a logistics and transportation company learn on the job with an autonomous cart, Chuck. The robot teaches employees the layout of the warehouses and where items are.
New employees at XPO Logistics, a transportation and logistics company, know to follow Chuck. Chuck understands the company's warehouses -- layouts, where each product is and where it needs to go. Employees learn quickly under Chuck's tutelage, even though Chuck, despite its human name, is a robot.
Created by warehouse fulfillment platform provider 6 River Systems, Chuck, powered by a cloud-based AI system, is essentially an intelligent cart. The cart, customized to fit the needs of customers warehouses, is fitted with an array of sensors that transmit laser pulses to measure the distance between the cart and nearby objects. It also has a screen on it that can relay instructions to employees.
How warehouse AI works
Using the sensor input, combined with AI and machine learning, Chuck creates a virtual map of the warehouse. The system's vehicle intelligence backend runs on Google Cloud.
The intelligent system is meant to train employees and speed up picking, the process of pulling an item from inventory to fill a customer order, he said.
At XPO Logistics, which has used 6 River Systems technology since 2017, Chuck both helps train new employees and saves employees time.
Imagine having to learn the map of a full warehouse -- where each product is and where the shipping areas are -- within a relatively short amount of time, said Steve Lewis, vice president of solutions and strategy at XPO Logistics. It's not easy, he said. Chuck can map a warehouse in about a week and can then help new employees get around.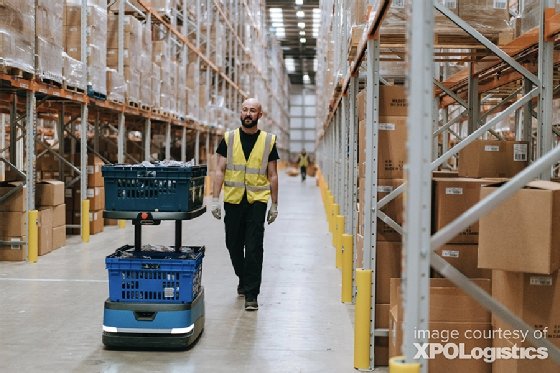 Benefits of a smart cart
The autonomous cart knows the map of each of XPO Logistics' warehouses and mimics the paths employees need to take. By following Chuck, new employees can quickly understand the layout of the warehouse and which areas they need to pick in.
Chuck's screen, meanwhile, can show information about what items employees need to pull.
"The training is very quick with Chuck," Lewis said.
Most employees at XPO Logistics are fans of Chuck, Lewis noted. Besides training, Chuck also helps employees save time.
"First and foremost, it removes those long walks," the walks between the area items are picked and where the items need to go afterward, Lewis said. Once employees fill Chuck, the cart autonomously takes the items to the shipping areas, allowing employees to stay where they are and keep picking.
The training is very quick with Chuck.

Steve LewisVice president of solutions and strategy, XPO Logistics
In the age of COVID-19, Chuck also helps employees maintain social distancing.
Chuck, which is around three-feet long, keeps a four-foot distance between itself and people or objects. Employees, then, "by default," must maintain at least seven feet from each other, if they are around Chuck, Lewis said. That's more room than recommended by the Centers for Disease Control and Prevention -- about six feet.
XPO Logistics hasn't had many problems with 6 River Systems' technology in the three or so years it's been using it, Lewis said.
The company has suggested improvements to Chuck, including more modular bins to fit on the cart, and 6 River Systems listened and made those improvements, he said.
Looking ahead
The use of warehouse AI and robotics is steadily increasing, said Chris Cacioppo, CTO and co-founder of 6 River Systems.
It's not just COVID-19 that's sparking the change -- even last year, Cacioppo said, customers told 6 River Systems they had trouble getting warehouse employees to show up for work.
"There's nowhere near enough labor," he said.
As people continue to shun brick-and-mortar retailers to shop online, Cacioppo predicts an increase in smaller warehouses popping up closer to cities. Companies will likely struggle to find employees to fill the warehouses, especially given COVID-19.
They will turn to enhanced, automated picking systems instead, he said.
"I think you'll see a lot more automation," Cacioppo said.