phonlamaiphoto - stock.adobe.com
Microsoft replaces dozens of journalists with AI system
In a cost-saving move, Microsoft is ending the employment of dozens of contract journalists in favor of AI systems. It's a risky move, though.
Microsoft is replacing dozens of contract journalists with AI systems, in a move to save money and streamline content curation, but which could also lead to more inappropriate or lackluster content appearing on Microsoft's sites.
"By favoring machines over humans, Microsoft runs the risk that all kinds of things might go wrong," said Dan Kennedy, associate professor of journalism at Northeastern University and author of the Media Nation blog.
AI in journalism
The tech giant currently employs full-time staff as well as contract news producers to help curate and edit homepage news on its Microsoft News platform and Microsoft Edge browser. Their duties, according to LinkedIn job descriptions, include cycling relevant news content, editing the content and pairing images with articles.
While Microsoft plans to keep its full-time staff for now, some 50 contract journalists will not have their contracts renewed at the end of the month, according to the Seattle Times.
Microsoft said in a May 29 statement it is not making the move to AI in journalism as a result of the COVID-19 pandemic.
"Like all companies, we evaluate our business on a regular basis," Microsoft said. "This can result in increased investment in some places and, from time to time, re-deployment in others."
By favoring machines over humans, Microsoft runs the risk that all kinds of things might go wrong.

Dan KennedyAssociate professor of journalism, Northeastern University
Using AI for content curation isn't new. Many social media, video and news platforms have been using AI to recommend content or remove inappropriate content for years.
News organizations, including the Washington Post and the Associated Press, have used AI to produce content quickly and inexpensively. Largely, that content is simple, such as a roundup of the latest scores in sport games. Other news organizations, including the New York Times, use AI to augment staff efforts, such as automatically providing research or identifying headlines and key phrases.
Risky business
Even so, AI isn't advanced enough yet to handle the duties of human employees at the same skill level, and Microsoft is making a risky move by replacing so many employees, analysts said.
"Certainly there is a risk of badly formatted and incorrect content being produced, but a larger concern may be dull content," said Alan Pelz-Sharpe, founder of market advisory and research firm Deep Analysis.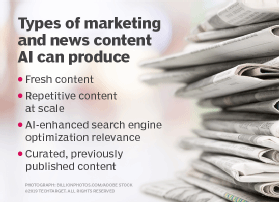 Readers are discerning, but journalists know how to draw in readers to even the dullest of topics, he continued. However, "that's not a strong point of AI," he said.
"Indeed, even the best AI-driven content is fairly easy to identify and even for readers not conversant with the nuances, they will not engage to the same degree with AI-driven content.," Pelz-Sharpe said.
Nonetheless, he pointed out, AI does work well for summarizing facts, for '''reporting' that is simply 'reporting.'"
To Nick McQuire, senior vice president and head of AI and enterprise research at CCS Insight, Microsoft's move comes as somewhat of a surprise, given that Microsoft's emphasis on responsibility in AI.
"One of their most important [principles around AI technology] is accountability, which means humans must have some oversight and accountability in the deployment of AI," McQuire said.
"In this respect, I expect Microsoft to still have human oversight around the technology as per their standard governance procedures for AI operations," he continued.
Microsoft's AI governance policies are overseen by the vendor's AI and Ethics in Engineering and Research committee, an advisory board that provides recommendations to senior leadership on responsible AI, including issues such as AI bias, regulations, safety and fairness, as well as human-AI collaboration.
Not a revolution yet
Still, Microsoft's decision to end the employment of dozens of staff doesn't mark a revolution for AI in journalism, said Pelz-Sharpe. Rather, it should be viewed as an incremental step.
Pointing out how other news organizations use AI, Pelz-Sharpe said that "enthusiasts like to say that AI will free reporters from drudge work so that they can report and write higher-value stories.'
But, he cautioned, "cost-cutting corporate chains are going to be tempted to use AI to replace reporters."
And more use of AI won't have an immediate impact on the journalism industry, but rather a cumulative one, Kennedy said.
"Lower paid entry-level jobs disappear and are automated, reducing the intake of new journalists and making the sector less attractive," Kennedy said. "Those jobs will likely never come back -- the end result is fewer people in the industry."