Laurent - stock.adobe.com
The pope, with Microsoft and IBM, calls for AI ethics
The Pontifical Academy for Life has issued new guidelines for ethical AI that call for artificial intelligence technology to be explainable, trusted and secure.
The Pontifical Academy of Life, an arm of the Roman Catholic Church's Holy See dedicated to promoting the Church's consistent life ethic, has released a set of AI ethics guidelines that may prove to do more harm than good. The guidelines, signed by IBM and Microsoft, are broad and call on AI systems to have a perfect balance of security, explainability and non-bias, and note that AI should benefit everyone.
In theory, the guidelines are positive. In practice, however, they may not be possible.
Impossibility
"[It's] an impossible dream because privacy, reliability, bias, human rights and transparency are subject to both technology limitations and differing cultural definitions," said Forrester analyst Mike Gualtieri.
"Why does the Vatican, IBM and Microsoft single out AI?" Gualtieri questioned. "These stated goals could apply to all software, internet companies and anyone else who embeds technology that uses data."
Published Feb. 28, the "Rome Call for AI Ethics" guidelines call on AI to not contain biases, and to be reliable, explainable and secure. AI systems need to take the "needs of all human beings" into consideration, so that "everyone can benefit and all individuals can be offered the best possible conditions to express themselves and develop."
At the same time, AI needs to be environmentally sustainable, and those who create and deploy AI must do so responsibly, the guidelines specify.
Broad goals
The goals are broad -- far broader than AI ethics and regulation guidelines recently put forth by other governments and tech companies, including guidelines by the White House and by the EU.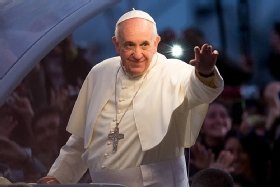 Still, they appear to contain similar themes, such as creating AI systems that are more explainable and secure. The loftiness of the goals, however, might do more harm than good, Gualtieri said.
"I think this is emblematic of the ignorance about AI, and only serves to make people more fearful rather than more enlightened," he said. "I'm surprised IBM and Microsoft signed on this. Maybe they think teaming up with the Pope will make the impossible possible."
I think this is emblematic of the ignorance about AI, and only serves to make people more fearful rather than more enlightened.

Mike GualtieriAnalyst, Forrester
IBM recently released its own set of guidelines for AI regulation, while Microsoft CEO Satya Nadella called for a global set of AI regulations around the use of certain AI technologies in January.
The Holy See is known for setting moral and ethical standards. It has commented routinely on technological issues from an ethics standpoint for years.
Last year, for example, the U.S. Embassy to the Holy See hosted a symposium on AI ethics, during which priests debated ethics and AI at length.