harodominguez - stock.adobe.com
IBM uses AI to power new US Open online features
With AI and Watson Discovery, IBM is providing tennis fans with new ways to interact with each other online during this year's US Open, which will be held without live spectators.
IBM, a longtime United States Tennis Association partner, will use natural language processing and AI to power new online fan experiences during the US Open.
For the first time in its history, the tennis tournament will be held without live spectators, due to COVID-19 concerns. With Watson, IBM will facilitate several debates during the tournament, as well as compile information about players and matchups ahead of each match.
The tech giant will also use AI to recreate crowd noises during the matches at the USTA's Billie Jean King National Tennis Center in New York City.
No stranger to tennis
IBM has long been associated with professional tennis -- it's partnered with Wimbledon and the US Open since the 1990s, and showcased AI technologies during the tournaments for the past few years.
Still, this year the technologies will play a more prominent role than ever before, as the coronavirus pandemic forced IBM and the USTA to develop new online fan experiences.
Beginning Aug. 31, the first day of the US Open -- one of the international pro tennis tour's four "major" tournaments -- fans will be able to engage in online debates powered by IBM.
After posing tennis-related questions online, IBM will use the natural language processing (NLP) capabilities in Watson Discovery, IBM's smart search platform, to analyze millions of news and sports sources. With human support and IBM Research AI technology, IBM will then analyze and summarize the information and present it as pro and con arguments.
Also, using Watson Discovery, along with human curation, IBM will summarize relevant information from articles, blogs and thought leaders ahead of each match to serve fans match insights. Using natural language generation, IBM also will automatically translate structured data, such as statistics from prior matches, into a narrative form.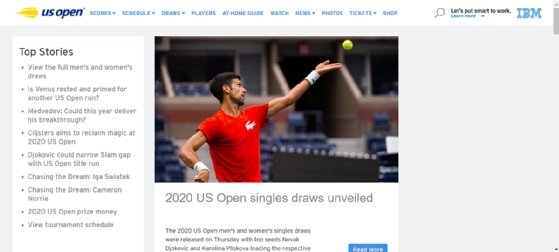 Human review of AI
According to Nick McQuire, senior vice president of enterprise research at CCS Insight, "AI transparency and, in particular, AI explainability supporting human-in-the-loop strategies have been a big part of how IBM differentiates Watson for several years now."
Likely, McQuire noted, IBM is also using Watson OpenScale, its platform to detect AI bias, to also ensure accuracy.
[Watson Discovery can] identify the most relevant documents and passages on a topic from the connected data sources and documents.

Ritika GunnarVice president of data and AI expert labs and learning, IBM
"Wimbledon, for example, has been using this since last year to help editors better understand the accuracy and bias in Watson predictions when serving up highlights on its website, for example, so I wouldn't be surprised if that solution is also being used," he said, referring to the British major.
Ritika Gunnar, vice president of data and AI expert labs and learning at IBM, confirmed that while the match insights are generated with AI, all information published to usopen.org is editorially reviewed before publishing.
Watson Discovery, she said, uses AI to help ensure accuracy, as well as that the information returned is relevant.
The smart search software uses NLP to "identify the most relevant documents and passages on a topic from the connected data sources and documents such as US Open archives, news sites, forums, sports blogs and Wikipedia for further analysis," she said.
"With Watson Discovery you can create customized NLP models to fit any domain -- in this case, tennis -- so that Watson is learning the unique lingo of the client's specific business and industry," Gunnar noted. "You can also train Watson Discovery on document structure, so it pulls answers and information only from places that are relevant and most likely to have accurate information."
In addition to the new online experiences, IBM is using its AI Highlights technology, which it has used for Wimbledon since 2017 for compiling video highlight reels, to recreate crowd sounds.
The AI-powered technology scoured hundreds of hours of video footage captured during last year's US Open to capture crowd reactions, which IBM can use this year to dynamically create crowd sounds based on similar play. IBM will make these available to ESPN and in-stadium production teams.