Getty Images/iStockphoto
AWS targets generative AI at NYC Summit
The tech giant updated its Bedrock Platform with new foundation models and a new foundation model provider. It also introduced new services for developers and health professionals.
NEW YORK -- Tech giant AWS is focusing on and directing its customers to generative AI at a dramatic pace.
During a keynote at its AWS Summit New York 2023 conference on Wednesday, the cloud provider's vice president of database, analytics and machine learning, Swami Sivasubramanian, introduced a slew of new generative AI services.
The new services come as more and more enterprises focus on generative AI.
"Generative AI has captured our imagination," Sivasubramanian said. "It will transform every application, business and industry."
New Bedrock services
To help enterprises use generative AI, AWS is adding AI Startup Cohere as a foundation model provider on Amazon Bedrock.
Bedrock is a managed service that makes foundation models from different AI vendors, including Anthropic, AI21 Labs and AWS, available through an API.
Bedrock will now include Cohere's text generation model, Command, and its multilingual text understanding model, Cohere Embed.
Moreover, Stability AI's latest version of its image-generating model, Stable Diffusion XL1 1.0, is now available on Bedrock. AI Startup Anthropic's latest language model, Claude 2, is also now available on Bedrock.
With an assortment of foundation model providers in Bedrock, AWS seems to be showing it has chosen a particular strategy for addressing the generative AI market, Forrester Research analyst Rowan Curran said.
"[Their approach is] to empower the model building of their customers and partners, not necessarily to compete head-to-head with their models against companies like OpenAI or Google," Curran said.
AWS also has its own own family of foundation models, Amazon Titan FMs, which are available exclusively on Amazon Bedrock. These general-purpose foundation models are pre-trained on large datasets. One is for text generation tasks like summarization and question answering, and the is second for embeddings, which translate words into numerical representations for applications such such as search or personalization.
These foundation models also support the responsible use of AI and are designed with capabilities to remove harmful content in the data, reject inappropriate content from inputs, and filter outputs, according to AWS.
Meanwhile, partnering with outside vendors and expanding that capability also makes sense since the market is still in its early stages, Futurum Group analyst Mark Beccue said.
In the foundation model arena, the vendor market has not settled," Beccue said. "It makes sense to offer lots of options, assuming they meet requirements for enterprise-grade solutions and AWS protocols."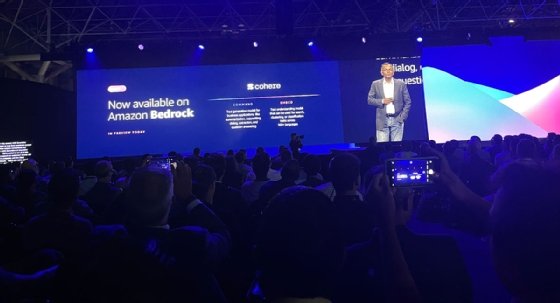 Agents for Amazon Bedrock
AWS also introduced agents for Amazon Bedrock in preview. The new capability makes it easier for developers to create generative AI-based applications to complete complex tasks for different applications. Agents break down tasks and create a plan for automating those tasks without users needing coding knowledge.
The service requires developers to use prompt engineering to build prompts.
"That's becoming a very big deal in AI," Beccue said, adding that this service will likely interest enterprises the most.
[Their approach is] to empower the model building of their customers and partners, not necessarily to compete head-to-head with their models against companies like OpenAI or Google.

Rowan CurranAnalyst, Forrester Research
"It is the concept that we change the interface to enterprise software to natural language," he said. "This interface idea is one of the key generative AI use cases. If it works, and other companies are working on similar initiatives, you democratize your enterprise applications."
A different potential use case for Bedrock was what enticed Bernard Tai, who said he was a developer at global media and entertainment brand A+E Networks.
"Just having the foundation models and being able to load your data, I thought that was a really interesting setup," he said. "I think you can have the enterprise using it and also the individuals loading their data -- a lot of potential use."
For lead generation software, Arezo Javidi, director of sales at sales software vendor Seamless AI, the generative AI releases from AWS spoke to what the future of business will look like.
"It's going to revolutionize business," she said. "It's going to be great among the sales side … to cater to clients and the client's needs."
Besides Bedrock, Amazon also revealed that AWS Glue Studio Notebook, its data integration service, now supports Amazon CodeWhisperer, a generative AI code companion. The vendor also introduced HealthScribe, a generative AI-powered service that creates clinical documents.
Also today, AWS and AI hardware/software vendor Nvidia revealed that Amazon Elastic Compute Cloud 2 P5 instances powered by Nvidia's H100 GPUs are now generally available.
Esther Ajao is a news writer covering artificial intelligence software and systems.