whyframeshot - stock.adobe.com
Fallout after Microsoft hires former OpenAI CEO Sam Altman
The tech giant snagged a major win by hiring Altman and former board member Greg Brockman. Meanwhile, the AI startup faces challenges with many employees threatening to quit.
In a twist of events after OpenAI's firing of CEO and co-founder Sam Altman, and president and co-founder Greg Brockman quitting the company, Microsoft CEO Satya Nadella said Monday that Altman and Brockman will join Microsoft, which has invested $13 billion in OpenAI and is its exclusive cloud partner.
Meanwhile, also on Monday, more than 500 OpenAI employees signed a statement threatening to quit over the OpenAI board's actions, throwing the future of the high-flying AI startup and its popular ChatGPT, GPT-4 and Dall-E large language model technology into turmoil.
In an early morning tweet on X, formerly known as Twitter, Nadella said Altman and Brockman will join Microsoft to lead "a new advanced AI research team."
Altman will lead the unit, which Microsoft said would operate independently. Prices of shares of Microsoft stock dropped 10% Friday after news of Altman's departure and rebounded more than 8% by midafternoon on Monday, adding nearly $200 billion to the tech giant's market capitalization as investors absorbed the news of Altman's and Brockman's intent to join the company.
The developments came after a series of events over the weekend in which OpenAI named its third CEO in a matter of days -- with the initial interim CEO, Mira Murati, replaced by former Twitch CEO Emmett Shear -- and new details of what caused OpenAI's board to fire Altman emerged.
Altman was fired after several board members reportedly felt that the pace at which the technology was moving was too fast and that Altman was not paying enough attention to AI safety. One example is new capabilities that let customers make their own versions of ChatGPT.
Satya is the winner in this.

R 'Ray' WangFounder and analyst, Constellation Research
The winner is Microsoft
While more will likely unfold in the next few days, it's clear that the big winner is Microsoft, according to Constellation Research founder and analyst R "Ray" Wang.
"Satya is the winner in this," Wang said.
"He basically saved his market cap," he said. "His market cap went up the same valuation as ChatGPT and OpenAI."
As of Monday, Microsoft's market capitalization was $2.81 trillion, making it the world's second-highest valued company after Apple.
This outcome favors Microsoft heavily as an investor in OpenAI with a 49% stake but no say on OpenAI's board. If Brockman and Altman join Microsoft, it would put Microsoft in control of technology developed by a unit headed by Altman and Brockman, Gartner analyst Arun Chandrasekaran said.
"Microsoft will have a higher degree of control because they work for Microsoft and are unburdened from the unique corporate structure that OpenAI has today," he said.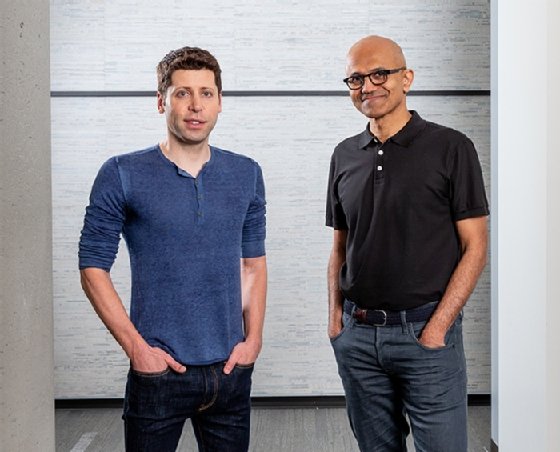 OpenAI's challenge
The swift turn of events has tilted unfavorably for OpenAI.
More than 500 OpenAI employees wrote an open letter threatening to quit if OpenAI board members do not step down, claiming that the board's actions showed it is "incapable of overseeing OpenAI."
"Our work on AI safety and governance shapes global norms," the letter read.
"The products we built are used by millions of people around the world. ... The process through which you terminated Sam Altman and removed Greg Brockman from the board has jeopardized all of this work and undermined our mission and company," according to the document. "We are unable to work for or with people that lack competence, judgement and care for our mission and employees."
Even chief scientist and board member Ilya Sutskever posted on X that he regrets participating in the board's actions.
By severing ties with Altman, OpenAI's board members effectively gave employees a signal to leave OpenAI and go to Microsoft or somewhere else -- especially if they want to continue to build fast AI models, Wang said.
Part of OpenAI's dilemma now is how to maintain its mission, Futurum Group analyst Mark Beccue said.
The AI vendor originally began as a nonprofit with a stated goal of advancing AI to benefit humanity as a whole. The company, which still runs with a volunteer board overseeing a for-profit company, started by providing research free from financial obligations and not constrained by a need to generate a financial return.
"OpenAI has some work to do in terms of mission," Beccue said. "Are they a research-focused company, or are they a revenue-generating company? Clearly the board was not in sync with management with that."
Generative AI's fast-moving pace
The misalignment between OpenAI's board and its leadership reflects some of the challenges generative AI systems have faced all year.
While the technology is innovative, many say it is moving too fast.
This tension has led to a call for an AI pause and a letter signed by prominent AI experts warning of the possibility of human extinction from AI and saying the technology is more dangerous than nuclear weapons.
Even Altman went before Congress to state the need for regulation.
The Microsoft-OpenAI arrangement has also highlighted the contrast between Microsoft's approach to generative AI and Google's approach. While Microsoft has been rapidly incorporating generative AI into all its products, Google has taken a more deliberate path.
Microsoft's move to hire Altman and Brockman shows that it feels it can balance both speed and safety in the generative AI market, Chandrasekaran said.
However, OpenAI's decision to fire Altman could have implications for many AI startups building their models at a similarly fast pace as OpenAI's and have a braking effect, he said.
An early market
What the turn of events has shown is that the generative AI market is still early and evolving, Wang said.
"It's not like OpenAI is dead," he said.
Wang added that it might have to become a company focused more on evaluating AI models for compliance and ethics. "That may be the direction we're going to have to go," he said.
For a startup such as Copyleaks, an AI company with a plagiarism detection tool, that would be a telling change, CEO Alon Yamin said.
"It would be important to see moves around governance of generative AI and compliance of generative AI," Yamin said. "I hope the new management of OpenAI will see that as a priority."
Esther Ajao is a TechTarget Editorial news writer covering artificial intelligence software and systems.