Minerva Studio - Fotolia
How does Microsoft Near Share for browser file sharing work?
Microsoft Edge, Windows 10's default browser, includes a file-sharing tool called Near Share, which is helpful, if not truly groundbreaking.
Microsoft Near Share, which debuted in Windows 10 Build 17035, enables Edge users to pick specific devices to share URLs or documents with from inside the browser.
Near Share provides personal area networking technology and is exclusive to Microsoft Edge, the default browser in Windows 10. The sharing capability enables Edge users to easily share useful or interesting webpages, and to copy documents or other files available as webpages from one PC to another through the browser itself.
Near Share can definitely come in handy for certain tasks, but it is by no means a revolutionary technology, and it could open organizations up to some security risks.
How to set up Near Share
In the Settings app, select System, then select Shared experiences to call up the correct input panels. The panel's subheading reads Nearby sharing, as shown in Figure A: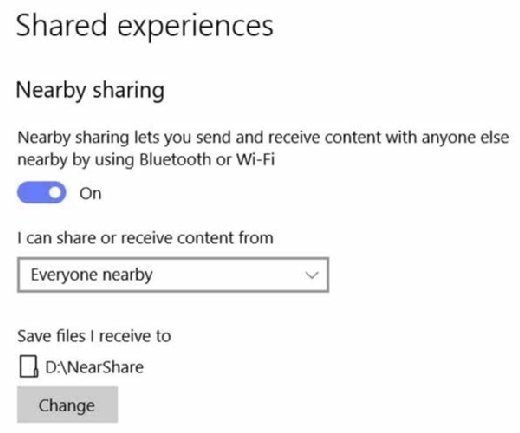 Users can designate sharing for either Everyone nearby or My devices only. The example above uses the more generous -- and less secure -- option for testing. It's probably most prudent to stick with My devices only in the workplace or other public places because then users can only share with devices using the same Microsoft account or login credentials.
Near Share does provide yet another way to quickly and easily move data between machines that are close together, but it's hardly earth-shattering.
Using the Everyone nearby option poses a severe risk of data loss or leakage because it means users can share information with any devices that also have the Microsoft Near Share feature enabled. As a result, users could share potentially sensitive information with devices outside of IT's control. IT can limit the risks Near Share presents by turning it off in the Windows 10 base image or by using Group Policy to put limits on who can use the feature and how they can use it.
Users can also change the location to which Microsoft Near Share sends files on a device. This example uses the Downloads folder, which is the default option. It may be a good idea to create a folder named Near Share to easily identify the files that came from Near Share.
Using Near Share
Right now, Near Share only works in Edge. The arrow-shaped Share button in the upper-right corner of Edge, as shown in Figure B, initiates sharing.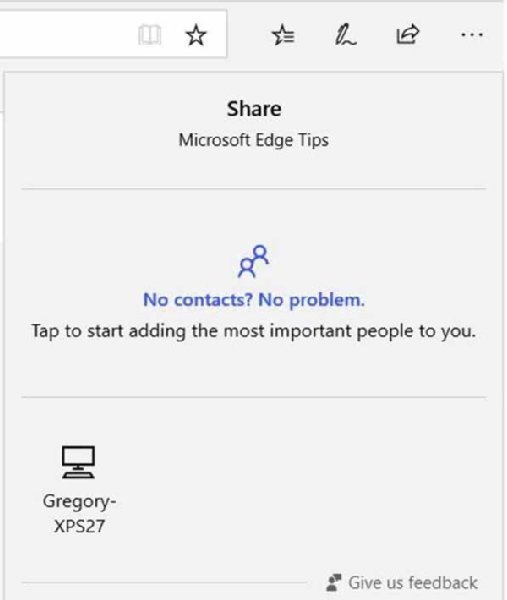 When users click the share button -- the icon directly to the right of the pen -- they can then select the icon for the device with which they wish to share a page -- in this case, the Gregory-XPS27 device. This initiates a transfer to the target machine. If the transfer is successful, Microsoft Near Share will display the confirmation message in Figure C.

What exactly is Microsoft Near Share good for?
Near Share does provide yet another way to quickly and easily move data between machines that are close together, but it's hardly earth-shattering, and it could be dangerous.
It is certainly usable, but as a highly touted feature in Edge, it underwhelms. It is simple enough to use remote access, the command line or even File Explorer for sharing, so Near Share is not the revolutionary tool Microsoft pitched it as.
Dig Deeper on Application management
Microsoft offers different tools to assign Windows 10 PCs to servicing channels. Learn how to assign desktops to servicing channels using a ... Continue Reading
When Windows Update malfunctions, IT must follow this four-step process to fix the problems. Be sure to have admin privileges before getting started. Continue Reading
Without the latest Windows Defender updates, your users' desktops won't be completely protected. When update problems occur, there are several ... Continue Reading