iStock
E-commerce packaging waste becoming a bigger issue
With the rise of online shopping, the packaging waste is becoming more of an issue. Here's a look at why and at some of the early work to solve the problem.
Before online shopping became a global phenomenon, goods were mostly shipped in bulk to brick-and-mortar stores....
Continue Reading This Article
Enjoy this article as well as all of our content, including E-Guides, news, tips and more.
Bulk packaging and shipping had its upsides, especially when compared to the cost, labor and waste involved in shipping individual packages. While the environmental impact from online shopping is attributable to many factors, a key element is e-commerce packaging waste.
The sheer size of the online shopping market is a major contributor to the e-commerce packaging issue. According to the December 2016 Pew Research Center "Online Shopping and E-Commerce" report, eight in 10 Americans are online shoppers, and 15% buy online every week. And Forrester predicted that, by 2022, U.S. online retail sales will grow to 17% of total retail sales.
Origins of e-commerce packaging waste
Traditional packaging utilizes logistics in moving products in bulk among suppliers, warehouses and stores. This mode requires optimized packaging to protect the product, keep costs down and create efficiency in shipping.
E-commerce packaging does not have a bulk logistics system to navigate or take advantage of. Therefore, it needs its own model. The packaging is not focused on promotional value but on shipping costs and preventing loss through shipping damage. But that is just the beginning of the formation of an environmental footprint.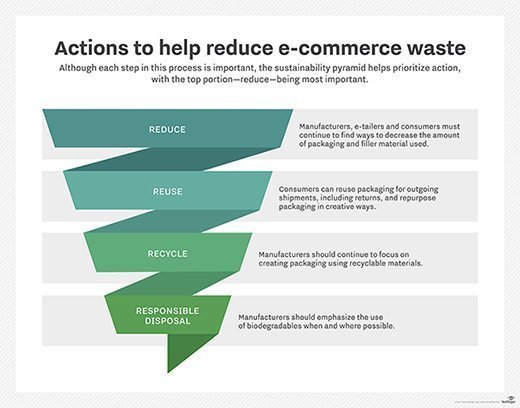 The e-commerce logistics system involves more service providers and processes than the traditional retail environment. "Products are handled an average of five times in a traditional retail supply chain, as handling is highly mechanized with the use of pallets and forklifts. In the e-commerce network, products tend to be handled manually and may potentially be handled 20 times or more," according to a January 2017 white paper by Ameripen, the American Institute for Packaging and the Environment.
While retailers are struggling to make both models more sustainable, a third model is rising to complicate the calculations further: omnichannel distribution, which integrates both online and in-store consumer experiences. In an omnichannel system, "the consumer or product provider may leverage aspects of both systems. The consumer may purchase online but choose to pick up in-store, or a retailer may use a storefront as a fulfillment center -- inventorying or even shipping directly from within," according to the Ameripen paper.
Many retailers are heavily motivated to improve supply chain sustainability overall, with special attention to e-commerce packaging waste -- whether through reducing the impact on the environment, being "green" in the eyes of environmentally conscious buyers or minimizing packaging and shipping costs. Given the extreme competitiveness in retail, most are keyed in to all three.
"Today, given the rise in the number of socially conscious millennials and increasing costs of shipping, the right-sizing of packaging is critical for sustainability, cost reduction and maintaining a positive brand image," said Sean Wilcox, vice president of marketing at GrandCanals, an e-commerce analytics provider.
Technological fixes for e-commerce packaging waste
Retailers have turned to packaging optimization with a specific eye toward minimizing e-commerce packaging waste. Right-sizing is a current buzzword referring to the avoidance of oversized packaging for individual products. It has the obvious advantage of cutting costs, both in terms of shipping and materials.
"In shipping, every inch counts, even more so than weight since nearly all package sizes are subject to dimensional pricing. E-commerce companies must consider the added dimensional costs of every product they ship, inbound and outbound, to minimize shipping costs and stay competitive. In most cases, the earlier this happens in the supply chain, the better," said Krista Fabregas, who launched her first e-commerce site in 2001 and soon grew to operate two niche B2B and B2C sites, a 10,000-square-foot warehouse and a staff of nine. She is currently a staff writer at Fit Small Business and editor of the e-commerce section.
Detailed analysis of product sizes and packaging sizes shipped to key markets can reveal waste and inefficiencies and opportunities to improve.

Sean WilcoxVice president of marketing, GrandCanals
Package engineering is now in hot demand, as both big-box and smaller retailers seek increasingly optimized materials, shapes and weights.
"Packaging design technology is key in helping manufacturers and sellers develop the minimal packaging needed to safely ship, yet attractively present, their products. For example, bulky boxes can give way to sleek, lightweight and protective clamshell alternatives when packaging engineers get involved," Fabregas said.
One example of the new focus on packaging design to minimize e-commerce packaging waste is in the Amazon Packaging Certification program. In a November 2017 press release, Amazon claimed the program had helped eliminate 181,000 tons of packaging and 307 million boxes since its launch 10 years earlier.
The company relies heavily on its Amazon Packaging Certification Guidelines to educate and, to some degree, enforce smart packaging practices.
"Amazon.com has standard and oversized freight fees. Anything over 18 inches will be considered oversized and will be double the cost to ship. You can quickly see how that affects the size of custom products designed for Amazon's platform," said Emily Page, CEO of Pearl Resourcing, an international packaging and product development company. "We have an example of a product -- a tie rack-- that we actually made specifically to fit the box minimum."
As far as technologies used to help improve packaging designs to reduce waste and improve sustainability, it probably comes as no surprise that several advanced analytics, including fulfilment and logistics analytics, top the list.
"Detailed analysis of product sizes and packaging sizes shipped to key markets can reveal waste and inefficiencies and opportunities to improve," Wilcox said.
"These include, but are not limited to, identifying shipments that could be combined, packaging that is unnecessarily large and packaging that is too costly to ship based on a multitude of carriers' complex dimension rules and fees," he said.