Explore enterprise accounting software benefits and products
Explore enterprise accounting software vendors and products for growing and complex businesses -- products which fill the large gap between full-on ERP and SMB accounting software.
The enterprise accounting software market is large and mature, which means the ideal product for any company is out there, but finding it requires careful research. Primary accounting software benefits include support for monetary processes and also insight into company financials.
This roundup of accounting software vendors and offerings provides a quick snapshot of the types of products that provide accounting functionality, such accounts payable (AP) and receivable (AR), general ledger (GL) and others.
Using extensive research into the enterprise accounting software market, TechTarget editors focused on the accounting software vendors that lead in market share, plus those that offer traditional and advanced functionality. Our research included data from TechTarget surveys, as well as reports from respected research firms, including Gartner and Forrester.
Oracle NetSuite Financials First
NetSuite Financials First from Oracle focuses on four areas to help companies manage accounting, according to the company.
One is continuous customer lifecycle engagement, with a consultative approach to ensure continuity as companies grow with the platform. Another is best practices based on NetSuite's scope and Oracle's experience in financial software. Oracle claims thousands of companies have deployed the product worldwide.
A third is rapid implementation that gets the system up and running within 100 days or fewer, with cloud-based delivery and automatic updates. And a fourth is business intelligence (BI), with more than 150 prebuilt reports, preconfigured roles and dashboards.
The preconfigured roles help speed up implementation and include accountant, accounting manager, administrator, inventory manager and procurement manager. All of the roles come preconfigured with all the key performance indicators (KPIs), reminders, reports and dashboards for both daily and strategic planning.
Companies can customize NetSuite Financials First to meet unique requirements and integrate with third-party applications. Among the accounting software benefits, key features and capabilities are:
financial planning and analysis;
multisubsidiary management;
streamlined procurement;
enhanced financial management, unified GL, AR and AP;
period close automation; and
role-based reporting and metrics.
Sage Intacct
Sage designed Intacct's core financials automation processes to reduce reliance on spreadsheets and provide greater visibility into real-time business performance. Business users can tailor the cloud-based financial system by designing workflows, screens and preferences, without code or scripts.
This enterprise accounting software includes several key components. One is GL software with reports and dashboards highlighting performance across multiple business metrics. The software has 10 predefined dimensions to capture the business context for every transaction, budget and measure. They include project, product, customer location, department, vendor, item, employee and class.
Companies can add their own custom dimensions to track other KPIs. Companies can manage user configurations through Sage Intacct's interface, without the need for coding or customizations.
Another key component is AP, which enables finance teams to streamline vendor workflows across the entire AP process. The software automates manual AP processes and optimizes workflows. It features automated expense allocations for bill paying and enables companies to track and view payments, approvals and reports at any time.
The enterprise accounting software also includes purchase order software that helps ensure that purchasing teams place the right orders at the right time, at the right price and from approved suppliers. Users can follow a purchasing process built around structured transaction and approval workflows for greater purchase speed, accuracy, visibility and efficiency. They can use a suite of dashboards and reporting tools to track budget vs. actuals, analyze costs and gain visibility into spending.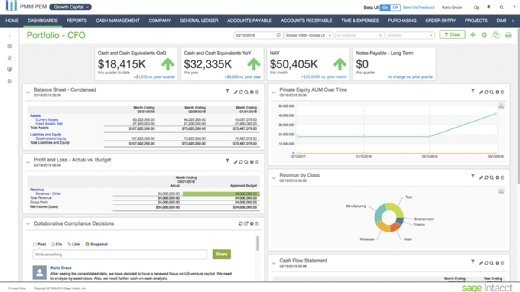 Acumatica
Acumatica's Financial Management software includes modules to address the primary accounting areas of GL, AR and AP.
The software also includes companion modules that add cash management, currency management, tax management, deferred revenue accounting, intercompany accounting, recurring revenue management, fixed assets and payroll management.
Primary accounting software benefits of its SaaS structure include browser-based access for users from any device. Also, data entered into the software remains consistent across the entire suite of applications, and full audit trails can trace back from the highest-level summary reports to the original event or entry, including the date, time and location, user identification of the person making the entry and any attached documents or comments.
Accounting transactions initiated in purchasing, sales order management, inventory management, production, project management, service management and other areas are linked into the financial modules for timeliness, accuracy and detailed audit trails.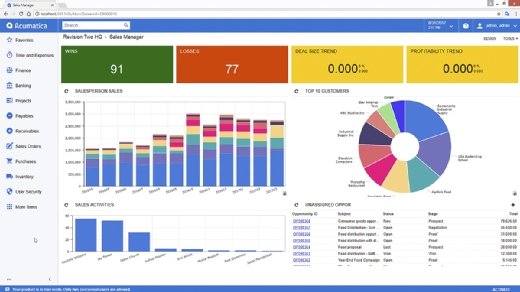 Microsoft Dynamics GP
Dynamics GP from Microsoft is a full ERP platform designed for SMBs and sold exclusively through a Dynamics Partners program. The partners provide planning, implementation, customization and support services aimed at optimizing the platform to meet specific business needs beyond accounting.
Dynamics GP, which can be deployed on premises or via private cloud, public cloud or a hybrid combination, features a number of key components. These include financial management and accounting to manage cash, assets and banking; inventory management and operations to track and manage production, inventory, orders, returns and vendors; sales and service to manage contacts, sales opportunities and service contracts; HR and payroll for hiring, training and paying employees with the help of complete employee profiles and evaluation tools; and BI and reporting. Here, the accounting software benefits include real-time visibility and analytics to track performance.
Companies have the option of purchasing Dynamics GP licenses upfront (perpetually) or paying a monthly subscription fee. Both licensing options include rapid-start tools designed to get the software running quickly, according to Microsoft.
The Starter Pack offers core financials and distribution functionality with three full users. The Extended Pack offers more advanced functionality, which enables companies to extend core financials and distribution with broader functionality, such as managing and billing jobs for professional services, construction and other unique needs. And the Customization Pack provides the ability to integrate or customize Dynamics GP with built-in tools for integration with other products and customization that extends the application to meet specific requirements.
Intuit QuickBooks Desktop Enterprise
Intuit tailored QuickBooks Desktop Enterprise software for several industries, with versions dedicated to manufacturing and wholesale, retail, contractors, nonprofits and professional services. The industry editions provide specialized features, such as customized charts of accounts and critical reports aimed at the specific business type.
Among the enterprise accounting software's key components are QuickBooks Desktop Enhanced Payroll, which enables companies to create unlimited paychecks, use free direct deposit, file payroll taxes and generate W-2s, and QuickBooks Payments, which automatically updates and sends payments directly to a company's bank. The software also includes an advanced inventory feature that provides visibility into orders, reorders and customer fulfillment.
Another feature, Advanced Reporting, enables companies to build reports as needed, using templates designed for particular industries. They can fill in company data and view reports without having to export into Microsoft Excel, according to Intuit. And an Advanced Pricing feature lets organizations control, customize and automate their pricing from within the QuickBooks platform, rather than doing this manually.
One interesting capability is mobile barcode scanning for simplified inventory tracking. This feature is available anywhere there's an internet connection or with Bluetooth and Intuit's Android mobile app. Accounting software benefits include sped-up receiving and picking and a reduction in data entry errors.
Intuit offers a free loyalty program that provides a dedicated "customer success manager" to help with product selection and provides access to training, onboarding specialists and customer care agents. A cloud-based version of the enterprise accounting software is available called QuickBooks Desktop Enterprise with Hosting.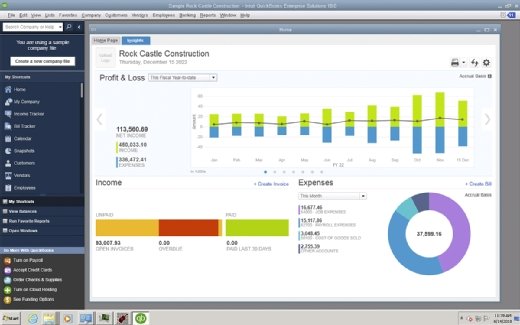 FinancialForce Accounting
FinancialForce Accounting is a financial system natively built on the Salesforce CRM platform. By integrating accounting systems into Salesforce, many tasks related to customers and accounting are automated and easier to use, according to FinancialForce. The software minimizes duplicate data entry in the finance and sales departments.
The cloud-based FinancialForce software enables companies to create invoices from Salesforce opportunities, set credit terms both globally and by every customer account, and automatically calculate payments to invoices based on document references and amounts.
FinancialForce Accounting and Salesforce CRM reside on the same Salesforce cloud platform. This makes the lines between applications indiscernible, the company says, with accounting software benefits that include increased user adoption and cross-training opportunities, according to the company. The applications share the same infrastructure, database, development tools, reporting tools, UI and user logins.
Key components include:
GL with a multidimensional chart of accounts, multicurrency and multicompany transaction handling, and automatic calculation of cumulative and year-to-date budgets for each period;
AP with invoice-to-pay processing, automated invoice and expense approvals, and automated calculations of due dates and settlement discounts, based on vendor terms; and
AR with opportunity-to-cash processing, credit terms globally and by customer account, and automatic calculation of due dates and settlement discounts.
At the application's core is an accounting engine that FinancialForce claims can accommodate highly diverse or complex enterprise requirements. It includes a single ledger design and a multidimensional chart of accounts, which give companies real-time BI and helps them shorten period closes.
The accounting engine includes components such as multicurrency, global tax and multicompany accounting capabilities across the entire system.
The enterprise accounting software is designed for real-time financial analysis and modeling, not just to generate financial statements. The system has financial report templates and configurable dashboards that users can access on mobile devices.