demonishen - Fotolia
SaaS enterprise financial applications inspire one platform
Single cloud integration platforms are among the options, from simple to complex, for hooking up multiple business processes like HR, CRM and supply chains with SaaS financials.
Integrating business processes such as HR, CRM and supply chains with SaaS enterprise financial applications like accounting, budgeting and planning is basically a two-step process. First is deciding which systems to integrate, then there's the actual integration.
"And that's often where some of the challenges are," said Dave Brunswick, vice president of solutions at integration technology provider Cleo. "[Y]ou realize just how many potential feeds there are that you want to get in and out of those SaaS applications."
For companies using purely legacy and on-premises systems or a combination of SaaS and on-premises systems, hooking everything together can be a complex and time-consuming operation, he acknowledged. But the majority of SaaS applications now come with some type of API that allows companies to enter into and extract data from the interface.
"That's the lowest-level building block for doing those kinds of integrations," Brunswick added. "You can access an API with pretty much any programming language or scripting tool that supports those types of things."
Moving beyond APIs
APIs can work and be effective as long as a company has a relatively small and simple number of integrations. But to handle more complex integrations, organizations need to look to integration platforms, according to Brunswick.
[Y]ou realize just how many potential feeds there are that you want to get in and out of those SaaS applications.

Dave BrunswickVice president of solutions, Cleo
"[Companies] want to do everything on a single platform," said Kerman Lau, vice president of finance at Adaptive Insights, a Workday company. "They want the ability to do the reporting and analytics on a single platform and bring all the other data together that they need around ERP, HR, CRM, payroll data, etc."
Adaptive's integration platform, for example, allows users to connect to a number of data sources and bring that data into the business planning cloud, Lau said. The business planning cloud offers analytics, reporting and dashboards to analyze real-time financial, sales and operational data and continuously apply what they learn to their business planning, according to the company.
Most SaaS financial products also have built-in integrations for major CRM, HR, talent management and supply chain systems, said Hyoun Park, CEO and principal analyst at consultancy Amalgam Insights. "This has become necessary over the past couple of years as CFO demands have increased," he explained, "and the CFOs have come back to both the ERP and planning, budgeting and forecasting application vendors to ask for additional integrations." Since CFOs may not be aware that all these applications are available, he noted, they may need some help doing the actual data mapping to determine what data from each application should be aligned to the specified financial information.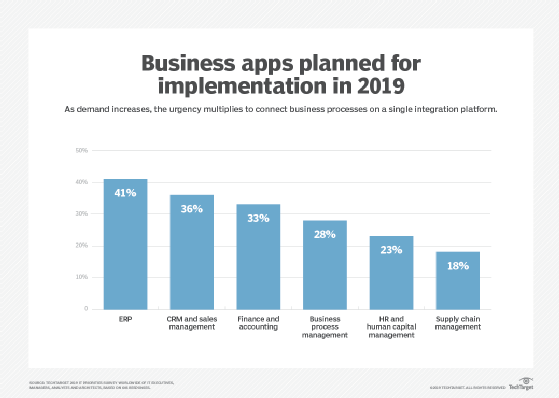 "Vendors should be able to provide this type of support," Park said. "Although you can also get third-party consulting support from application experts that can help with this type of work as well as systems integrators, direct data and application consultants."
Implementing integration layers
Another way to integrate SaaS financial applications with other business systems is via an integration layer, such as a data warehouse, in which enterprises bring together all the data from disparate systems, said Kim Neininger, a director at Panorama Consulting Solutions.
CFOs have come back to both the ERP and ... application vendors to ask for additional integrations.

Hyoun ParkCEO and principal analyst, Amalgam Insights
"There's a business intelligence tool on top of it that brings up the key information that's across the organization," she explained. "I've spent years in the pre-cloud space putting in [applications such as] Hyperion that sit on top of your transactional systems and bring it all together on an integrated data level so that you can get the reporting. It's SQL. It's a data warehouse. It's BI. There are all kinds of solutions out there."
In addition, vendors also provide options on how to complete the integration. For example, Neininger said, "NetSuite has its cloud, and they have different modules. They have a financial module, a supply chain module, an e-commerce module, a customer relationship management module and a BI module. They allow you to piece [those modules] together in a phased way that makes sense to the organization."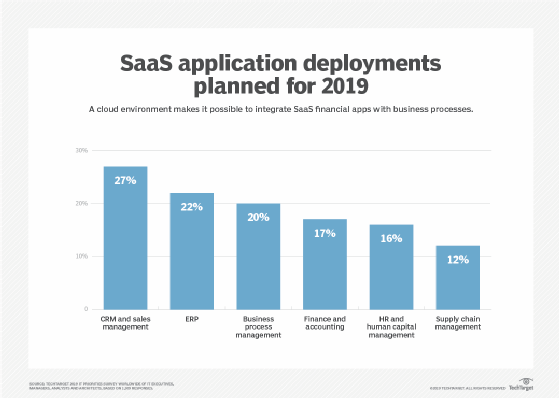 Another example is Workday. "First, they were all about [human capital management], Neininger recalled, "and then they recognized that they needed to integrate with the financials. They've led the way in HR financial integration. In the old days of ERP, it was really hard to get the HR data synced up with the financial data." She said other on-premises ERP vendors are also working toward fully integrating disparate modules, such as HR, finance, supply chain and production, rather than turning to third-party vendors for those integrations.
[I]n the cloud environment, ... you can integrate everything on a single platform.

Kim NeiningerConsultant, Panorama Consulting Solutions
"But in the cloud environment," she added, "you have this whole greenfield development space where you can integrate everything on a single platform. And that's what we really encourage companies to think about -- not just about their core financial platform, but trying to get as much as they can get from these vendors on a cloud solution integrated on one platform."
There are a number of platforms that allow organizations to bring together all the data from their disparate systems, said Pozzo Consulting's Heidi Pozzo. "When I look at bringing multiple systems together," she said, "I start with the fact that there has to be one version of the truth. You can, through the cloud, bring all of that data together and not have to worry necessarily about systems not being compatible."