Share this item with your network:
Technology insights for the data-driven enterprise

pressmaster - Fotolia
Fueled by SaaS, ERP for SMBs soars into the cloud
SaaS is making ERP accessible to more small organizations, but is there a downside? Industry insiders weigh in on the ROI of SaaS vs. on-premises and hybrid ERP.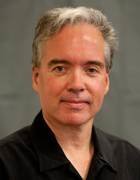 By
The automation needs of small businesses may not be that different compared to large global enterprises, but they often lack the IT resources and the time to wrestle with ERP for SMBs while working to expand their business.
That was the situation for Kelly Milazzo four years ago as vice president of operations at Toad&Co., an apparel maker based in Santa Barbara, Calif. A decade-old, highly customized, on-premises ERP system tailored to the apparel industry called LogOn was "increasingly unreliable and unstable," Milazzo acknowledged.
As a result, the company was mired in a to update the Toad consumer experience with omnichannel features like in-store pickup for products that were ordered online. "We were patching systems together" to integrate the ERP with separate point-of-sale (POS) and e-commerce platforms, she explained.
The clothing manufacturer considered offerings from vendors known for selling ERP for SMBs -- Microsoft, NetSuite and Sage -- as well as the two behemoths for large-enterprise systems that have tried to move down market -- SAP and Oracle. The Toad selection team went with NetSuite, which Oracle later acquired, after coming to the realization that the ERP would have to run in the cloud. "We were version-locked [with the on-premises system] based on all the customizations," Milazzo added.
For Milazzo, the value proposition of SaaS ERP for SMBs is obvious: "The software [vendor] is saying, 'Here, we're going to offer you very similar software at a lower cost, not because it necessarily does anything less, but because we recognize you can't pay the same amount as a global corporation.'"
Now, the Toad ERP runs all the major business processes on the same database. "We felt that the value add of having that single data source," Milazzo noted, "outweighed any feature functionality additions we could get" from buying separate systems for retail and POS. As a result, the company's IT costs are down 60%. "All we're maintaining in our four walls is user hardware," she said.
Smaller is bigger
Depending on your longevity on the system, SaaS doesn't necessarily have a positive ROI as compared to an on-premises solution.

Kelly Milazzovice president of operations, Toad&Co.
The market for SMB ERP is driven mostly by the appeal of quicker implementations, user-friendly screens and lower initial costs of SaaS. At the same time, SMBs are fueling much of the double-digit annual growth of SaaS ERP.
"[T]he vast majority of SaaS ERP adoption to date has occurred in small-to-midsize companies and subsidiaries of larger enterprises," according to an early 2017 Forrester Research report on the SaaS ERP vendor landscape. The report also noted the increased demand from large companies, especially for moving accounting and other core functions to SaaS ERP.
"The small-to-midsize market wants to go and get a one-stop, end-to-end enterprise application," said Cindy Jutras, president of ERP consulting firm Mint Jutras. "Large enterprises want more modularity, though they want all the pieces to fit better together."
SMBs set sights on cloud ERP
According to SAP, 80% of the company's 250,000-plus customers are SMBs, and in the quarter of 2018, the segment was the "growth engine" for customers on the cloud in North America.
"Over 75% of our revenue last quarter was cloud, so that should show you that the midmarket is asking for cloud," said Eric Friedrichsen, senior vice president and general manager of SAP's North America midmarket and ecosystem business. "In almost every ERP situation, the customers want cloud."
The idea of having one piece of software that handles basic accounting and other essential business functions, such as HR, procurement and inventory management, was the original selling point of large-enterprise ERP in the early 1990s when on-premises deployment was the only option. Ironically, users, vendors and industry observers of ERP for SMBs now sing a similar tune when moving operations to the cloud.
SAP sees a big opportunity in SMB ERP. "We're getting more and more investment in the SMB marketplace," Friedrichsen said.
SaaS also serves as an entry point for -time ERP users among SMBs. The web-centric user experience is a major draw. "As you get down to the smaller end of the space, it needs to be more consumer-oriented, anyway," said Paul Farrell, NetSuite's senior vice president of product marketing. "Even when it was in its on-premises days, people needed to be able to pick it up and use it more easily and effectively because they couldn't afford to have 10 people who were managing the implementation. It needed to be self-managing."
Is SaaS always the best choice?
Years of relentless hype over SaaS as the "faster-easier-cheaper-better" alternative has led to some deserved skepticism and insistence to see the proof. "As market share has shifted in favor of SaaS and cloud, and it's reached more of a critical mass, I'm always a skeptic whenever there's kind of a universal, one-size-fits-all answer for the market," said Eric Kimberling, CEO of Third Stage Consulting Group. "The fact of the matter is, there still are on-premises solutions out there." And Kimberling still sees clients adopting them -- for example, one company with remote locations that aren't cloud-friendly.
Weighing complexity, flexibility, configurability and affordability
SaaS ERP holds obvious attractions to small businesses but comes with tradeoffs that few of them take lightly.
"There were some very clear barriers for companies that were distinctly in the small-business space and also for those that knew that they were at a graduation point," said Nicole Hardin, director of product management at Sage Software and a former small business owner. "SMBs were reluctant to step up to that level of technology because of not just the expense, but the complexity. Across the industry, what the cloud has really done is democratize technology."
But with democratization comes concerns about flexibility in making system upgrades. Hardin said the issue is important in ERP for SMBs because many emerging companies feel they achieved success by developing unique or complex business processes. They're reluctant to adopt software that forces them to change the very processes that made them successful. Configurability of ERP is therefore essential.
Hardin said SMBs often turn to ERP for accounting "plus a little bit more," such as supply chain management or POS that's connected to inventory -- all of it delivered on the ERP vendor's cloud platform. "You see this evolution in the SaaS world in general," she added. "Instead of saying, 'Here's our product,' we're saying, 'Here's our ecosystem.'"
"There are just certain companies out there that have a lower risk tolerance," he added. "They don't want to be on the bleeding edge of some of these relatively less mature cloud solutions." They're also finding that newer cloud options often don't have some of the "sophisticated functionality" of on-premises ERP products that were built up over a decade or two. Nevertheless, Kimberling said, "Over time, more and more companies will, in fact, probably find that cloud or SaaS solutions are the best for them."
Yet SaaS long-term isn't always cheaper than on premises. "When we put together financial analyses for our clients," Kimberling said, "we still find that there's a break-even point or a point where in the future -- five to seven years out -- where the cloud or SaaS option becomes more expensive. Even when you factor in the short-term cost savings, ... you don't have to build an infrastructure, and you don't have to maintain as much IT staff. You're shifting the money around from short-term to longer-term costs" and from IT infrastructure and salaries to the software.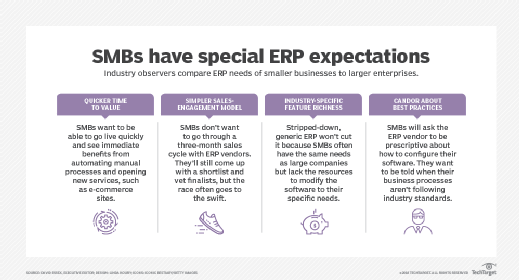 Toad&Co.'s Milazzo agreed. "Depending on your longevity on the system, SaaS doesn't necessarily have a positive ROI as compared to an on-premises solution," she said, and SMBs will be particularly sensitive to the timing of the payments. Over time, she noted, on-premises ERP will usually play out more favorably.
I'm always a skeptic whenever there's kind of a universal, one-size-fits-all answer for the market.

Eric KimberlingCEO, Third Stage Consulting Group
Still, on-premises ERP upgrades can be costly, not to mention the hidden cost of delaying those upgrades. "The system you had after 10 years I don't think would be comparable," Milazzo said, "even if you planned on a couple of re-implementations along the way. You'd have to plan on those to have it be even close to comparable."
By comparison, Toad's NetSuite SaaS ERP gets updated every six months with new features. "All of that allows us to remove our attention from software and technology and back onto our core business," Milazzo explained, "which I think is a huge advantage."
Customization vs. configuration
There's a big knock on SaaS applications, especially the multi-tenant kind, in which a single instance is shared by different customers. The apps can't be easily customized, and they force a generic simplicity onto companies whose business processes are more complex.
"Multi-tenancy still scares some people, because they say, 'What do you mean I can't change it?' 'What do you mean I have no choice about when you upgrade?'" Jutras said.
SaaS ERP proponents turn the negative labels into virtues, claiming their automated business processes are industry best practices and the ability to configure -- not customize -- provides enough flexibility. Customization is frowned upon in the industry because it can break upgrades and mess up the process. Kimberling said ERP vendors are doing a better job of providing PaaS development and integration tool sets that make programming add-ons easier. They're also making dashboards and other user interfaces more configurable and "personalizable" to provide the specialized data analytics and reporting that was often the reason for customizing ERP.
Large enterprises want more modularity, though they want all the pieces to fit better together.

Cindy Jutraspresident, Mint Jutras
That's the case with Toad's NetSuite dashboards, which are configured according to each user's role in the workflow and can alert them to exceptions instead of requiring tedious fishing through data. "If there's an order that hasn't shipped, it pops up on your dashboard as a to-do," Milazzo said. "You can click through to the orders if you need to see more detail."
While SaaS might be the eventual path to ERP for SMBs, it's not an all-or-nothing proposition. Jutras said some vendors -- among them Acumatica, Epicor Software and Infor -- take a "platform approach" that provides the same codebase and browser-based experience across various deployment models, including multi- and single-tenant SaaS, private cloud and on-premises.
Hybrid ERP is a common route taken when moving from on premises to the cloud. "Particularly with today's component-based architectures and open APIs and that type of integration," Jutras explained, "it's getting easier to keep that digital core on premises and then surround it with ... the add-ons, the extensions -- CRM, sometimes [human capital management], sometimes e-commerce."
That sounds a lot like the pieced-together, decentralized, "postmodern ERP" that Gartner has long called the future of ERP. Some SaaS ERP vendors that target SMBs are talking about a similarly modular approach. It remains to be seen whether the typical small business is ready to explore such a universe or is just looking for one vehicle that does it all the old-school ERP way.
Dig Deeper on ERP products and vendors