Share this item with your network:
Technology insights for the data-driven enterprise

freshidea - Fotolia
Pressures mount on SMBs to modernize aging ERP processes
To upgrade or replace their old and cranky ERP systems, SMBs must consider several options, and the cloud figures prominently. But the final decision is seen shifting away from IT.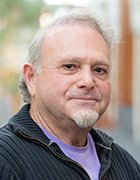 By
Obsolescence can be a nagging concern for owners and a business opportunity for providers.
Oldies-but-goodies music lovers know all too well the problems encountered in finding replacement parts for their decades-old turntable, especially that essential phonograph needle that unlocks the early vinyl sounds of Sinatra, Elvis and Peggy Lee. Classic car owners share a far more expensive search for the right parts to their 1964 1/2 Mustang. Then there's the dilemma IT and business leaders face with their not-nearly-as-old on-premises ERP processes.
ERP system providers may stop supporting older platforms due to prohibitive costs as they improve their offerings or shift their focus to more advanced platforms, according to a report by the Aberdeen Group. Faced with that reality, IT managers must wrestle with mounting internal pressures to either upgrade or ditch their legacy systems because of consumer demand, corporate bean-counters, marketplace disruptors, cloud alternatives and inevitable obsolescence.
It's a familiar refrain in practically every vertical industry, as business strategies evolve according to a changing landscape influenced by the latest technologies. When asked to rank the pressures driving their technology decisions, business leaders responding to the Aberdeen survey pointed to increased competition, followed closely by managing growth expectations, reducing costs and meeting changing customer demands.
Enter the cloud
In TechTarget's 2018 IT Priorities Survey of IT decision-makers, cloud-based applications, including ERP, top the grocery list of software initiatives planned for deployment this year -- ahead of big data analytics, data integration and artificial intelligence. More specifically, ERP ranks second among 14 product categories of cloud-based apps to be implemented in 2018.
Forrester Research is all in when it comes to SaaS ERP processes for SMBs, calling it the "default deployment model" and reporting that it's well on its way to becoming the "preferred deployment option." The research firm cited better flexibility, faster deployment, easier integration of new features and accommodating technology improvements, when comparing SaaS ERP to on-premises or hosted deployments.
"[M]igration to cloud has accelerated rapidly," Forrester analyst Jay McBain said. "This has driven down-market opportunity for vendors, as many smaller SMBs can now afford robust ERP platforms as opposed to tool-based solutions sitting on premises. SMBs are demanding enterprise-class platforms and looking to digitally transform by integrating ERP with customer tools such as CRM, marketing automation and customer service/success."
SMBs have plenty of incentives to upgrade or replace their existing ERP processes. Maintenance and support costs, lack of features, lack of qualified internal IT resources, obsolete technology foundation or infrastructure of their ERP processes, lack of available customization and lack of support from their ERP vendor are the major reasons reported by the Aberdeen survey. So the clock is ticking on SMBs to decide if the time is right for their on-premises "dinosaurs" to sprout mythical wings and ascend to the cloud.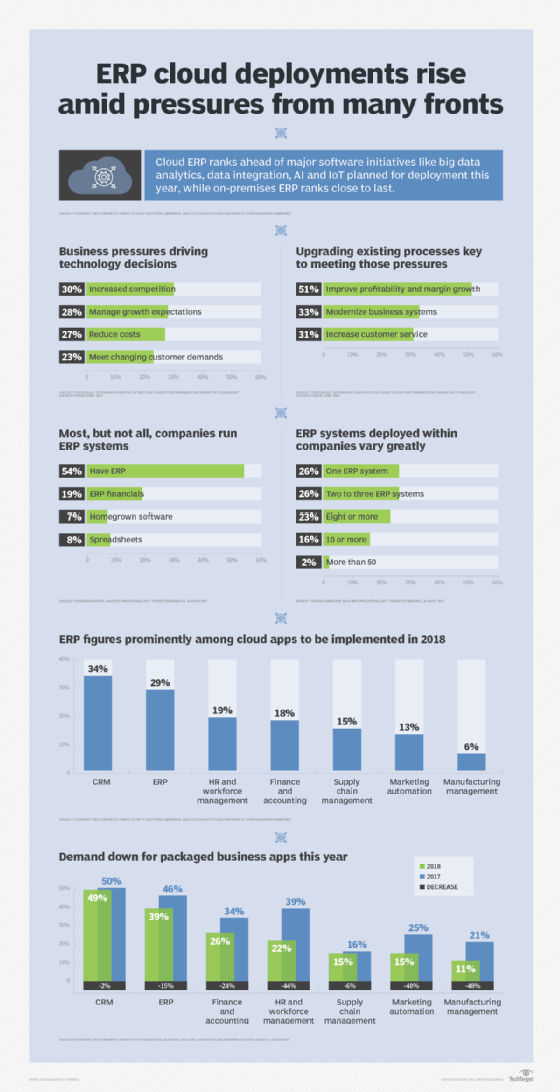 But who's making the final decision?
McBain noted a significant shift in the SaaS ERP selection process. "Line-of-business leaders are now making 65% of these decisions and building the internal/external project teams to make it happen," he acknowledged. "In 29% of cases, they are not involving their own IT departments, which they view as legacy. Given this shift in buying behavior, SMBs have struggled to attract the right talent, and 58% of them are relying on third-party system integrators, SaaS ecosystem partners, born-in-the-cloud firms, independent software vendors and even nontraditional technology players such as accountants."
Yet upon closer look, SMBs aren't exactly stampeding their way (as yet) to vendors' doors and acquiring entirely new systems or at least updating old granddad. "On average, less than 10% of all companies [surveyed] have made a move on their ERP in the last two years, which means that 90% of these systems are greater than two years old," wrote the author of the Aberdeen report, Bryan Ball, who added that 55% of these companies' ERP systems are more than five years old. "Though many have hosted their ERP solutions for customers and considered them 'cloud' solutions," he said, "these applications are primarily traditional hosted solutions rather than SaaS-type solutions."
SMBs are demanding enterprise-class platforms and looking to digitally transform by integrating ERP with customer tools.

Jay McBainanalyst, Forrester Research
The decision-making process is further complicated by the quantity of ERP systems within a company. Most respondents to the Aberdeen survey acknowledged managing more than one ERP. Just 26% said they have one ERP system, while 39% laid claim to eight or more systems and 2% admitted to 50 or more. "A few of the findings are surprising," Ball wrote. "Over 10 and over 50 ERPs are the eyebrow-raisers. Hopefully, these are the results of acquisitions and not strategies."
Strategies for ERP processes are nonetheless formulated with an eye toward the cloud based on the business priorities of SMBs. The top three organizational goals identified in the Aberdeen survey are improving profitability and margin growth, increasing customer service and, yes, avoiding obsolescence by modernizing business systems.
So when it comes to the inevitable obsolescence of existing ERP systems, we might hear Sinatra say "that's life" and Elvis warn "it's now or never" to upgrade or replace. And while Peggy Lee might still wonder "if that's all there is" for ERP deployment options, industry observers can claim "not anymore" since SaaS has widened the field of ERP choices available to SMBs.
Dig Deeper on ERP products and vendors