Share this item with your network:
Technology insights for the data-driven enterprise

d1revolver - Fotolia
SMB reaps rewards of migrating QAD ERP system to the cloud
Moog's medical devices group moved its on-premises ERP system to the cloud, resulting in more reliable operation and a redirected IT focus on adding business value to the entire group.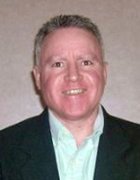 By
Moving an ERP system off premises to the cloud can create an ideal situation for many SMBs.
And it did for Moog Inc.'s medical devices group, which moved its on-premises QAD ERP system to the cloud last year. The medical devices group operates as a separate division within Moog, a global designer and manufacturer of systems for the aerospace, defense, industrial and medical industries. In 2012, the group ran an on-premises version of the QAD ERP system in four locations: Salt Lake City, Costa Rica, India and Lithuania, according to IT Director Brett King.
The decision to move to the cloud was driven primarily by the cost of adding features and functions on premises, King said. Also, the group needed greater system reliability and improved disaster recovery, common concerns for many SMBs looking to deploy ERP in the cloud.
"Prior to going to the cloud," King explained, "we had numerous issues with servers running out of disk space, servers running out of RAM -- just your normal server stuff that we weren't keeping a good eye on. We weren't being proactive and had always been reactive with server maintenance things. Going to cloud solved this problem immediately for us, and we've already seen a tremendous increase in our uptime and availability since going there."
Following a familiar flight plan
King was instrumental in the medical devices group's decision to move to QAD Inc.'s cloud ERP system in 2017, since he had taken other companies along a similar path. "Before I came [here]," he said, "they had played with the idea [of moving to the cloud], but they just hadn't pushed themselves over the line with making a good business case for it. So I shaped that and we moved forward. I joined the organization with the idea that [it] needed a direction and a strategy. I've taken on businesses going through a cloud transition in the past and been very successful with that -- increasing the features and functionality while maintaining stability as well as the financial impact."
The move to the cloud allowed the group to clean up old and unneeded data from the QAD ERP system. "Our business grew through acquisitions throughout the years, and through that process, there had been a lot of ERP transformations," King said. "So we took this as an opportunity to purge the data and really understand the data that we had there. We had divested business units, so we took care of that data and got it out of current data sets. There was probably three good months of cleansing the data."
Going to the cloud resulted in process changes that provide much better process control but altered the way the QAD ERP system can be customized. Because the group's IT department had full control of the on-premises system, they could make customizations that weren't always well-documented or understood due to organizational turnover. The cloud QAD ERP system is less customizable and the change process is more rigid and controlled.
"Businesses grow and change, people leave, and for certain books or certain APIs, that knowledge left with those people and we didn't have a good understanding of their customizations," King acknowledged. "My team is transitioning from an on-premises system where, if something was broken, they could flip the switch and fix it, so the rigidity of the change control process was a little frustrating for them. But we now have a control process which is in a regulated environment that we run, so it's a much better way to do business."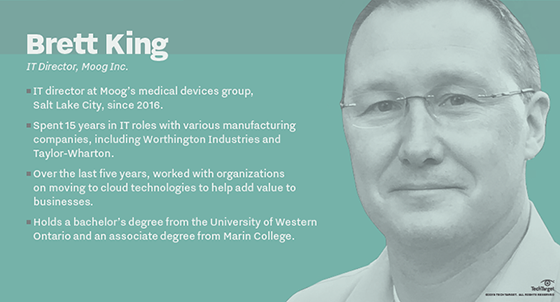 Adding business value and greater reliability
As an SMB that lacks the IT resources of a larger organization, the medical devices group derived two major benefits from moving to the cloud.
With the on-premises ERP system, the group's IT team spent much of its time and resources managing the system and "fighting fires," King noted. Now that the cloud ERP system is deployed in a managed environment, the IT staff can focus on adding value back to the business.
Now we don't have to worry about the system. We can rely on it being up and running and working in a predictable manner.

Brett KingIT director, Moog medical devices group
"There's so much value that a company can attain from technology," King reasoned, "and a lot of times they can't get past the day-to-day firefight to look at where they can grow the business, be it sales or better productivity on the production floor. That's the primary advantage of [the cloud] to me: I'm subscribing to a system and I'm using a system instead of supporting a system and getting my time and technical wherewithal focused on just keeping the system up and running."
In addition, the managed cloud system is far more reliable than the old on-premises system.
"Previously, on premises," King recalled, "we had a single point-of-failure within the organization in one location, and the world would go down if this site experienced any network or power outage. They'd take the whole organization offline. Now we don't have to worry about the system. We can rely on it being up and running and working in a predictable manner, whereas when we had it on premises, we had to tweak some things -- which is a nice way to put it -- to make it work for a moment in time versus a longtime predictable business system."
Building a strong business case
Before moving ERP systems to the cloud, organizations -- especially SMBs -- must build a sound business case, King advised. Companies need to look beyond upfront costs such as licensing, which may very well be higher for a cloud system compared to an on-premises setup. Yet on-premises systems could have unseen costs for servers or test environments that aren't included in annual budgets.
"The topic of cloud is everyone's favorite catchphrase. Put it in the cloud and forget it, but it's not like that," King said. "You put it in the cloud for business reasons. You don't do it because everyone else is doing it. The organization has to make the determination that it's the right thing for them to do, and to us it was."