Nomad_Soul - Fotolia
Delays, change orders blow up ERP project budget for school district
ERP projects are notorious for cost overruns and delays. That was the experience of the Manatee School District, which ran into major problems.
ERP projects are notorious for cost overruns, delays and trouble. Just ask the Manatee School District in Florida. Its ERP project began at about $10 million and has since climbed to $26 million. Change orders, insufficient project staffing, delayed decision-making and customizations all contributed to the cost overrun.
The project breakdowns were almost across the board, except in one area: training. A consultant, hired by the school district to evaluate the ERP implementation, praised the work of a vendor hired to train personnel on the PeopleSoft ERP system, calling it "excellent." But that would not last.
The ERP project began in 2016, with training completed in time for the expected 2017 go-live date, a relatively fast timeline for an ERP implementation. But this go-live date was put off until July 2018, and the training lessons faded from memory. "That training was not reinforced and thus essentially lost," reported the school district's consultant. The school district has 61 schools and nearly 50,000 students.
ERP project is still a work in progress
The known ERP project implementation problems did not deter Scott Hansen from taking the job as the school district's CTO on April 1, 2018.
Hansen said the ERP project is "still challenging." The system is in use, but they are still working on it. Some of system's complications are due to the unique requirements of school districts that meant significant customization. But the customizations are also tripwires to success, he said.
"Oftentimes some of the most successful implementations are those where very little to no customization is done," Hansen said in an interview. "With every customization, the potential for you to manage that system becomes a little more difficult."
Oftentimes some of the most successful implementations are those where very little to no customization is done.

Scott HansenCTO, Manatee School District
But little to no customization was not an option for the Manatee School District. Its ERP project needed to meet its own rules and the state regulations and needed significant customization to get there.
Doing so is common in a state where school districts have flexibility in how they deliver ERP-related services, Hansen said. School districts, for instance, may have different rules around performance pay, retroactive pay and other contractual payroll issues -- all of which can complicate an ERP implementation, he said.
The Manatee project was a complete upgrade of the district's ERP system, affecting financial, human resources, procurement and budgeting. The PeopleSoft system replaced a JD Edwards system.
State auditor, Sherrill Norman, released a report last month critical of the district ERP project. It listed the history of change orders, showing how costs escalated.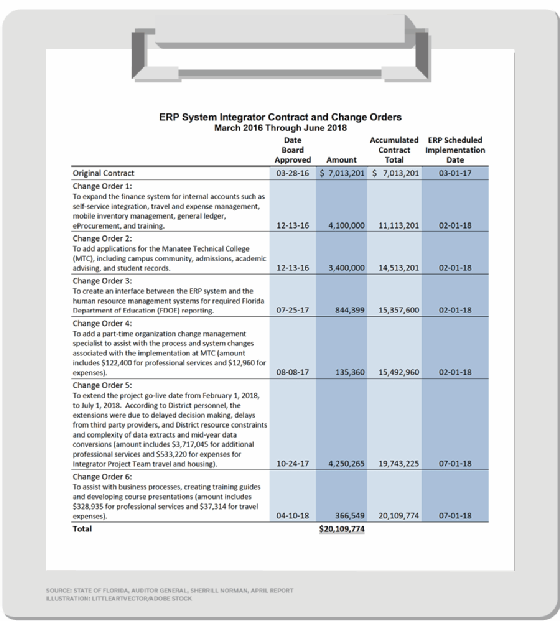 Delayed decision-making hurt ERP project
One of the largest change orders was for $4.25 million to extend the project's timeline. This was a result of "delayed decision-making, delays from third-party providers" as well as the project complexity. About $500,000 of the $4.25 million was to cover the new expenses of travel and housing costs for the systems integrators.
Delayed decision-making in ERP implementations has been cited as a major reason for either failed or challenged ERP projects. One research paper said decision latency accounted for nearly a third of the failures.
The Manatee School District did its own independent evaluation in 2018. It faulted project staffing. The district's subject matter experts "were often not made available to participate" in the design. The district's implementer, Ciber Inc., "experienced significant staffing turnover."
The project was complicated by Ciber, which filed for bankruptcy and was acquired in 2017 by HTC Global Services Inc. for $93 million. The school district is now using a different consulting firm.
The school system acquired 28 ERP modules, with 26 implemented but not all functioning to some degree. It is evaluating its need for all the modules and may stop using some of them, Hansen said.
Hansen's advice to any school district considering a similar deployment is to reach out to as many school districts using as similar a product as possible. He also suggested they keep the questions simple such as, "If you had to do it all over again, would you do it the same way?"
Hansen, who has implemented an ERP system in another school district, said there is no one system that would score "a perfect 10" across the board for all needs. Sometimes third-party integrations are appropriate, he said.
In deploying these large projects, Hansen said "there has to be a focus on what the district is trying to achieve from a desired outcome."