Getty Images/iStockphoto
Reshoring manufacturing interest grows but is slow going
Reshoring manufacturing to the U.S. is on the rise, driven by supply chain risks, sustainability demands, and policy incentives. But the pace and extent of any shift is uncertain.
In a change that breaks a decades-old trend of offshoring work to China and other locations, manufacturing reshoring may bring facilities and jobs back to the U.S.
For example, spurred in part by investment from the 2022 CHIPS and Science Act, microchip manufacturers are building fabrication plants across the U.S. The Taiwan Semiconductor Manufacturing Co. is building a $12 billion facility in Phoenix that is expected to supply chips to Apple. Other chip manufacturers building plants include Intel in Ohio, Micron Technology in New York, and Samsung in Texas.
Several factors are making reshoring more attractive and viable for U.S. companies, according to Rosemary Coates, founder and executive director of the Reshoring Institute, an independent non-profit organization in Los Gatos, Calif., focused on bringing manufacturing back to the U.S.
"The risk that [disruptions have] introduced into global supply chains has pushed more domestic sourcing and manufacturing," Coates said. "That's a key issue and a connection that's important, because this risk keeps being identified over and over again. Not only is reshoring on everyone's agenda, now it's urgent, and we're seeing a growth in reshoring."
But not everyone believes manufacturing is at such an inflection point given the systemic nature of the global supply chain. While there may be advantages to reshoring, there are also factors that may prevent reshoring from happening on a large scale. Companies looking to push those efforts forward must ensure they have the right technology in place first -- a difficult task on its own.
Global risk factors encourage reshoring
Coates said factors such as a struggling Chinese economy, ongoing supply chain disruptions and the growing importance of sustainability as companies shorten supply chains to reduce carbon footprints are contributing to interest in reshoring.
She said these efforts will be a boon to U.S. manufacturers, particularly for smaller to midsized companies that will do much of the work. But these companies will need to have modern, integrated enterprise systems like ERP and manufacturing execution systems (MES) to compete, Coates said.
"These days, you have to have a business system to continue with manufacturing," she said. "Relying on those business systems to help you plan and forecast is an essential part of today's manufacturing environment."
In addition to digitizing processes, modern supply chains must also be flexible and resilient, said Andy Burton, global industry director for manufacturing at IFS.
"Customers are demanding much more information about where things have come from and how dirty they are -- how much carbon was generated creating the product that they're buying," Burton said. "That means that manufacturers tended to concentrate on price, which very often meant going to China or other places a long way away."
ERP help manufacturers prepare for reshoring
As more data is made available, manufacturers can start to better understand the costs throughout the value chain, not just the cost to produce goods in areas like China and Southeast Asia, where labor is cheap, he said.
"You need your ERP system to be able to hand off to say you've got your main supply coming from China, but it's getting a little bit wobbly, so you're going to bring in a local supplier and use local talent," Burton said. "Maybe it's a bit more expensive. But you can argue that because you're not burning oil to ship it around the world. Your carbon footprint is much smaller if you use someone closer."
Supply chain disruptions like the COVID-19 pandemic have spurred manufacturers to consider more reshoring, said Christine Hansen, director of product marketing for manufacturing at ERP vendor Epicor Software.
"When we had the disruption and the level of it, it turned everyone on their ear in terms of being able to be more resilient so that you can be responsive and predictable to your customers," Hansen said. "That's been a hard thing, especially for manufacturers."
These manufacturers are looking to multiple sources and will need more emphasis on flexibility and compliance, she said. Modern ERP systems can help because they have capabilities to support compliance requirements, traceability and security.
"Part of this is also being more efficient at home, like ensuring that you've got a smart factory floor," Hansen said. "Where you're connecting to devices on the plant floor to be more efficient and understand what your equipment is doing, you can get predictive in terms of changes that might be happening."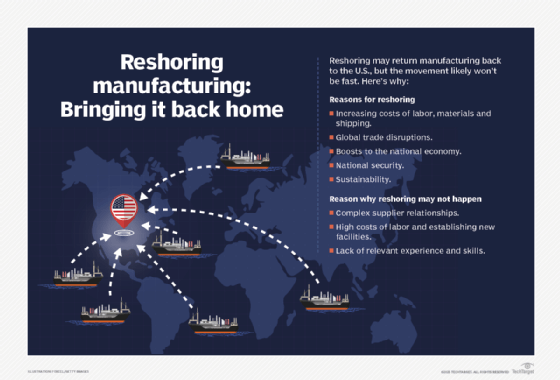 Investment to spark manufacturing technology explosion
A lot of investment is coming to manufacturers through policies such as the CHIPS and Science Act and the Inflation Reduction Act, which will help companies build in the capabilities to reshore and multi-source away from China dependency, according to Raj Badarinath, chief marketing and product officer at Rootstock, a cloud ERP vendor.
"There's about a half-trillion dollars being spent, which means that there will be a Cambrian explosion of new forms of manufacturing that will be developed," Badarinath said. "These won't be like the assembly lines of the '50s, '60s and '70s. These will be high-end manufacturing driven by technology and new concepts like 3D manufacturing."
ERP systems are being designed now to meet these new manufacturing environments, particularly for reshoring requirements for the automotive and aerospace and defense industries, as well as new industries such as green energy and battery manufacturers, he said.
"When these companies grow, they don't want to just expand their old legacy ERP. They want to rethink it and design it for the next 30 years," Badarinath said. "The role of ERP is evolving from a database where you could dump everything in as a source of truth to something that helps you make better decisions through technologies like AI and machine learning."
The investments being made to reshore manufacturing will involve mostly small to midsized companies, and these companies are the most in need of modern digital software systems, said Ryan Kuhlenbeck, co-founder and CEO of Pico MES, based in Redwood City, Calif.
Small to midsized manufacturers need to integrate MES with ERP systems to improve efficiency that can reduce the costs and make reshoring more viable, Kuhlenbeck said.
"The investment money coming into manufacturing acts as a catalyst that guarantees demand effectively," he said. "Now these companies can invest in digitalization technologies to meet that demand efficiently."
Hard to disentangle supply chains
However, claims about a growing reshoring trend may be more hype than reality, according to Simon Ellis, practice director at IDC.
The global supply chain that's been developed over the last 50 years can't be disentangled overnight, and certain things may never be fully produced locally, Ellis said.
The risk that [disruptions have] introduced into global supply chains has pushed more domestic sourcing and manufacturing.

Rosemary CoatesFounder and executive director, Reshoring Institute
"Overall, it's a mixed story," he said. "There's been some of it, but is it enough to say that this is the big inflection? I don't think so."
There are factors that could swing the momentum for more reshoring, including sustainability and growing tensions between China and the West, Ellis said. But although the pandemic moved the needle somewhat, it hasn't led to large-scale reshoring so far.
"We've heard about reshoring many times, but it never really materializes in any substantive way," he said. "Once the urgency [of situations like the pandemic] passes, people focus on other things, and nothing happens. I'm not saying nothing will happen or has happened. I've just been an underwhelmed skeptic."
Things may change if manufacturers decide that lower labor costs aren't the main criteria for location, Ellis said, and instead place higher value on shorter lead times or sustainability and don't want to ship goods around the world.
"Maybe sustainability will be the thing that the worm turns on. Or maybe over time, the divide between the East and West will get to the point where we see more regional sourcing than global sourcing," he said. "That might start to make companies make some different choices and different decisions. But I think sustainability tends to be more in the realm of talk than walk."
Jim O'Donnell is a senior news writer who covers ERP and other enterprise applications for TechTarget Editorial.
Dig Deeper on Supply chain and manufacturing