Evaluate
Weigh the pros and cons of technologies, products and projects you are considering.
Infographic: Why sustainable business practices are important
Companies have more and more reasons to focus on sustainability. Here's a look at some of those and why greening IT should be part of that effort.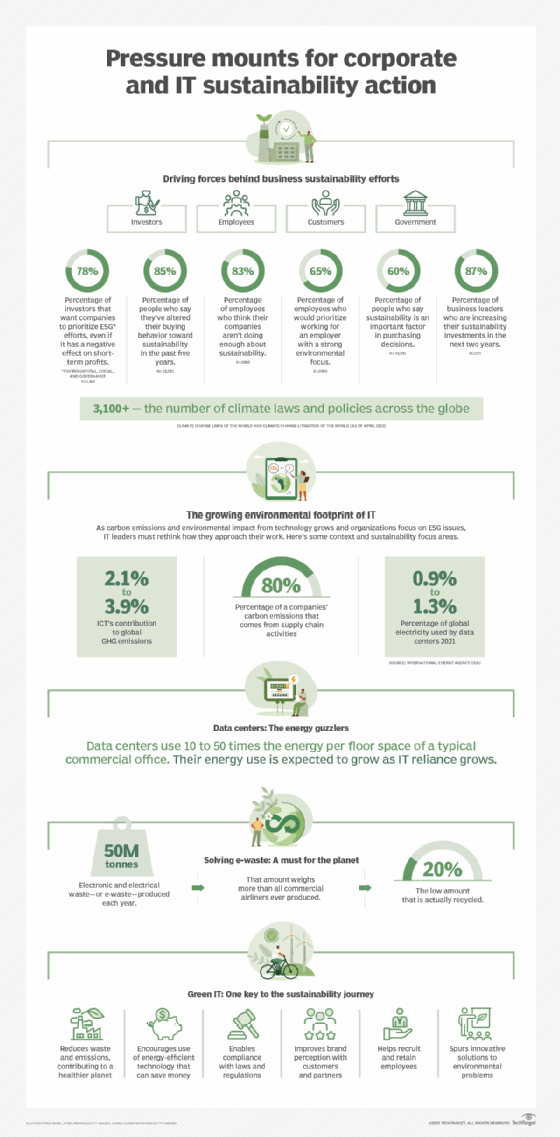 Thanks to mounting pressure from multiple stakeholders, more companies are taking environmental sustainability seriously.
Investors, governments, consumers and employees are demanding that companies understand their impact on sustainability and become a more positive force for planet and people. Since technology underpins virtually every organization's operations, IT departments are naturally a part of that effort.
Consider these statistics:
Seventy-eight percent of investors want companies to prioritize environmental, social, and governance (ESG) efforts, even if it has a negative effect on short-term profits, according to a November 2022 EY survey.
Eighty-five percent of people say they've altered their buying behavior toward sustainability in the past five years, according to "The global sustainability study 2021," conducted by global strategy and pricing consultancy Simon-Kucher & Partners.
Sixty-five percent of employees would prioritize working for an employer with a strong environmental focus, according to the "Future of sustainable workplaces," a report published by Unily, an employee experience platform.
Sixty percent of people say sustainability is an important factor in purchasing decisions, according to Simon-Kucher and Partners' study.
In response, governments are taking action. There are 3145 climate laws and policies across the globe, according to Climate Change Laws of the World and Climate Change Litigation of the World (as of April 2023).
With climate change urgency growing by the day, the need for both businesses and their IT departments to take action is also growing.