Getty Images
Industrial metaverse, AI set to transform manufacturing
Manufacturing is moving into the industrial metaverse where companies create and run virtual models of physical facilities, incorporating digital twins, AR, IoT and cloud computing.
The world of manufacturing is transforming into an environment where work is performed in a combination of the real and virtual worlds, which has been dubbed the industrial metaverse.
Some of the concepts, aspects and technologies required to enable this transformation were discussed at the Enabling the Industrial Metaverse conference held in June at MIT. The conference was sponsored by the MIT Technology Review and Siemens AG, which offers a number of hardware and software platforms and technologies that comprise the industrial metaverse.
Real work in a virtual world
The industrial metaverse will encompass a variety of technologies that allow people to work in the virtual world much in the same way they do in the real world, said Peter Koerte, chief technology and strategy officer at Siemens at the conference. The basic technology building blocks include digital twins, IoT, AI and ML, VR and AR, advanced 5G and 6G networks, cloud and edge computing.
"The industrial metaverse allows you to transfer real-world problems into the digital world, execute them, simulate them, optimize them and move them back into the real world," Koerte said. "The idea of the industrial metaverse is to create much faster solutions with real-world impact."
Just as the Internet changed communication, the industrial metaverse -- as a part of the larger metaverse -- is going to transform the way we work and interact with each other, said Josh Drean, co-founder of the Work3 Institute, a research organization that focuses on the future of work.
"Because it's a marriage between our physical and our virtual worlds, [the metaverse] allows us to collaborate in ways that were previously unimaginable," Drean said. "We can get into an immersive digital world from anywhere we are in the world, and it feels like we're in the same room together."
The world got a taste of working together remotely during the pandemic, he said, but collaboration tools like Zoom and Slack are not a true workplace. Instead there's a rise in the usage of virtual workspaces like Virbela and Microsoft Mesh and other Azure-based spaces.
These not only allow people to collaborate efficiently, automate processes and enable analytics-based decision making, but they include human elements that are lost in remote work, Drean said.
"You can have serendipitous conversations around the proverbial watercooler or see your boss and get a quick answer to a question instead of wasting time setting up a meeting or a Zoom call," he said. "A lot of people want to start coming back into the office because they want all the rich human interactions. The metaverse provides the best of both worlds."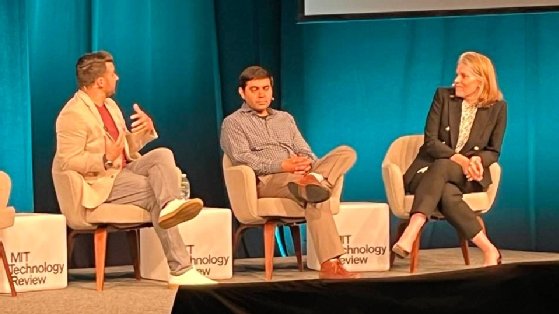 Building a digital model of physical operations
In the industrial world, the metaverse enables people to work together to drive a digital transformation of physical operations, said Kam VedBrat, general manager and head of product for Azure IoT, Azure Digital Twins and Windows IoT at Microsoft.
This means that organizations can create a digital model of their entire physical operation and use that to make better decisions and deliver more resilience and agility, he said. However, the organizations will need to be able to adapt to this new model.
"Change is a constant that every organization has had to deal with deeply over the last four or five years," VedBrat said. "The ability to cope with that change is ultimately the value that folks can get."
In one example of the industrial metaverse, VedBrat said, a large European-based bakery uses Azure tools to instrument their entire production facility, such as ovens and packing lines. With this virtual modelling, the company can understand metrics like throughput and temperatures across the entire organization.
This ensures product consistency and quality no matter where it's produced, he said. But the company can also consider new products, look at supply chain issues that might come up in the future, or see how things like increased labor costs may affect the business.
In another example of the emerging industrial metaverse, a manufacturer based in Southeast Asia faces a staffing challenge because its factories are located in areas that are decreasing in population, VedBrat said.
The company is moving to running "dark factories," or facilities that can operate without any people. But with automation, robotics and AI, he said. People may come in on occasion to fix something, but the factory largely runs itself, and the machine operators work remotely off mobile phones or tablets.
"It's not hard to imagine the capabilities that we're bringing along with things like generative AI that make it easier for people to work with more complex technologies through ordinary language interactions," VedBrat said. "Imagine a world where the basic notion of how these operations work has totally changed."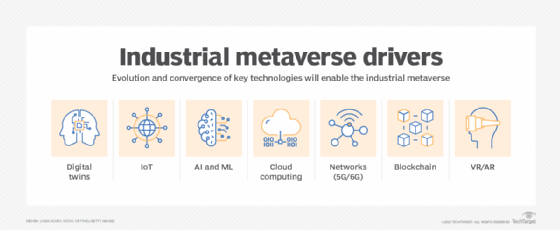 Change is a constant
To make this transformation work, however, organizations will need to fully embrace change management, Drean said.
The industrial metaverse allows you to transfer real-world problems into the digital world, execute them, simulate them, optimize them and move them back into the real world.

Peter KoerteChief technology and strategy officer, Siemens
"The key is to embrace a proactive and adaptable approach and foster a culture of learning and innovation within the organization," he said. "You have to be excited about these emerging technologies."
Organizations will need to adopt some specific strategies to make the industrial metaverse a reality, according to Drean.
First, they must adopt a learning mindset that drives innovation by networking and collaborating with experts who push the boundaries of what's possible right now. Second, they must stay up on technology trends, which can be as simple as setting up Google alerts for "the industrial metaverse." Third, they must innovate and evaluate the results continually, because the landscape is constantly changing.
"You must keep a structure of agility where you can adopt and adapt to these changing technologies, embrace and be ready to use them at a moment's notice," he said.
Ultimately, the industrial metaverse is all about collaboration, Koerte said. It won't be built by one vendor or on one single technology but will need a mix, including digital twins, AI, edge computing, Web 3.0, to come together to make it work.
"It's about ecosystems and interoperability," he said. "These technologies all working together requires openness and collaboration across many different companies and individuals.
Jim O'Donnell is a senior news writer who covers ERP and other enterprise applications for TechTarget Editorial.