As digital healthcare expands, tough questions arise
Indu Subaiya, M.D., talks about digital transformation, the intersection of healthcare and consumer tech and how directing short films has informed her work in health IT.
Indu Subaiya, M.D., converses easily about how hospital and consumer technologies interact with, and influence, each other. Within the digital healthcare world, she serves as executive vice president at Health 2.0, a division of HIMSS that produces market research and runs conferences about new health technologies and vendors. She's also a filmmaker who writes and directs short pieces, such as the drama The Apartment.
Subaiya spoke to SearchHealthIT at the HIMSS 2018 conference about what digital transformation means within healthcare, and how startups can enter the industry. This Q&A has been lightly edited for clarity and brevity.
There are a lot of enterprise-level players right now in health IT. From a startup's point of view, that seems intimidating. Is there wiggle room for a digital healthcare startup to get in on this industry?

Indu Subaiya: It depends on the kind of startup that you are. I think if you are in the business of being a data analytics company and an artificial intelligence company, unless you have something that's going to do what a Google algorithm is going to do, I think it's going to be very hard to compete. [Major vendors are] going to own a certain niche of the algorithm analytics space. So that's sort of the threat. ... If you have something that can really stand out, there's a chance that you will be able to plug in.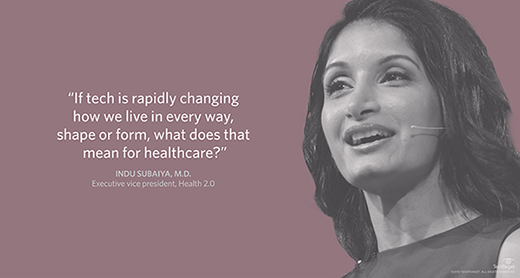 I think the second thing is the enterprise players ... [are] pushing for cloud-based platforms that all data feeds into, and then AI can operate on top of and then improve the whole system. That's their sort of holy grail vision. That's tough to do given the granular nature of healthcare. ... Whoever has these platforms is going to need the individual services, and I think that's where, again, the opportunity for the startups is huge.

We often hear 'digital transformation' thrown out as a buzzword, but it can be confusing or unclear what it means. How do you define that term within digital healthcare?

Subaiya: I think for health systems, it means automating many things that used to happen on paper or between people as cumbersome processes on the phone or fax machines. So it means taking everything from the point of entry where a patient enters the health system [and] making all of that automated and seamless. ... From a consumer landscape, digital transformation is happening every day in our lives anyway -- how we live and all aspects of our lives, even to the cars we drive or the cars we won't be driving anymore. So you've got this parallel process, it's not really related to healthcare. ... At Health 2.0, we sort of have always looked at both of those forces and how they converge. If tech is rapidly changing how we live in every way, shape or form, what does that mean for healthcare? And now that healthcare has gotten onto that bandwagon, what does then that mean for the way we live? I see it more broadly than just health systems moving from paper to the EMR. ... Devi Shetty out of India, the famous surgeon who started a very progressive series of hospitals, said in the future, a hospital should be two things: an emergency room and ICU.
So just high acuity patients would go to the hospital?

Subaiya: That's it, right. And we've had people in the health plan world who are very progressive ... saying health systems are going to have to radically transform because as a health plan, with tech, with innovation, I can actually get better bang for my buck if that patient is housed in a different environment. So whether it's a skilled nursing facility or at home, why am I going to contract with this fancy hospital to [care for the patient] if I can do it better here? So I think you're seeing this leveling of the playing field with technology.
You've done short filmmaking. Have you taken anything away from that experience that either has helped you learn about digital healthcare or business IT in general?

Subaiya: [If you can] tell a story from a different point of view and it's not the same old story -- I think that's one thing I'd take away from it. The other thing that I take away is that we're at the point now that we almost don't need more technology, right? There's like 320,000 health apps in the world, and I think 150,000 were added between 2015 and today. So we're good. More are coming, but it's not like we don't have [plenty]. So what it comes down to now -- and you're seeing some folks do this -- is really digging into how these technologies are touching people's lives, and really understanding that. We haven't spent the time because it's been happening so fast. How does it actually affect people? In storytelling and filmmaking, there's this term called narrative medicine, which is [about] people's stories of their health and how that affects the outcomes. I think that's some of the stuff that filmmaking has taught me. How do you slow it down and understand what's really going on between people? People are asking for that right now: 'I get this gadget, it's shiny and cool and there's a robot coming, but where's the human story?' ... There's so much to unpack about the real impact of this stuff.
Dig Deeper on Healthcare IT management and organization