KazantsevAlexander - Fotolia
TailorMed platform helps offset costs for patients, providers
A platform from TailorMed helps healthcare systems quickly identify potential financial assistance for patients.
A platform that integrates with EHR and billing systems is helping healthcare organizations quickly find financial assistance for patients and increase revenue collection for providers.
Danielle Nelson, administrative director of the supportive oncology services division at the Henry Ford Cancer Institute in Detroit, Mich., said the platform from New York City-based TailorMed automates what traditionally has been a manual -- and time-consuming -- task performed by financial counselors.
The financial assistance management platform builds a patient profile based on demographic, diagnosis, treatment and benefits data collected from the EHR and billing systems. TailorMed then projects out-of-pocket costs for patient treatment and matches patients to financial opportunities, such as copay assistance programs, free drug programs and local and national grants. Nelson said before Henry Ford started using the platform, financial counselors spent a significant amount of time manually creating out-of-pocket cost estimates for patients and searching for financial assistance.
"Once a patient has a basic understanding of their financial responsibility, TailorMed will also then put together information about the kind of assistance programs the patient might be eligible for," Nelson said.
Once a patient has a basic understanding of their financial responsibility, TailorMed will also then put together information about the kind of assistance programs the patient might be eligible for.

Danielle Nelson Administrative director, Henry Ford Cancer Institute
TailorMed, founded in 2017, was integrated into Henry Ford's Epic EHR platform a year and a half ago. Since then, Nelson said the automation has enabled the financial counseling team to spend more time helping patients navigate paying for costly treatments.
Platform eases workload
Nelson said the biggest benefit for the health system has been automating treatment cost estimates for patients and identifying healthcare payment assistance. The work to integrate the TailorMed platform involved the healthcare system's IT team to figure out what data fields were needed to make the product meaningful to financial counselors.
Now, when a new patient comes into the healthcare system's oncology division, the TailorMed platform provides cost estimates for patients based on treatment regimens and helps identify if a secondary or supplemental insurance plan will help reduce costs over time.
As part of reducing the workload for financial counselors, the TailorMed platform searches for and flags potential financial assistance opportunities for treatments, such as grants, that may only be available for short periods of time, Nelson said.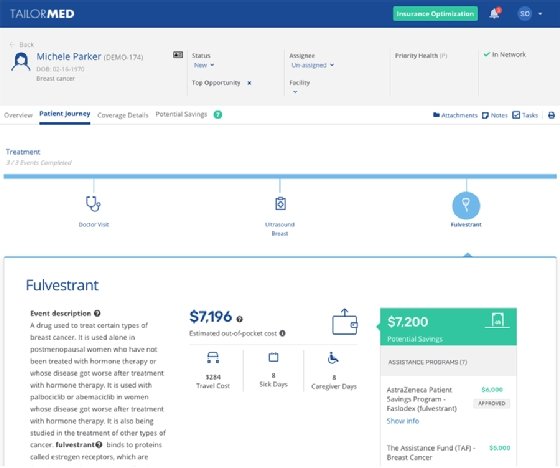 "A lot of these funds, they open and close very quickly," Nelson said. "So, if a new fund becomes available, TailorMed will alert our team that there's a new fund available and [identify] all the patients who are eligible for it. When you don't have a system alerting you to that, it's very easy to miss these things because sometimes these funds might be open for a couple of hours."
Indeed, Torrina Lavoie, financial advocate manager at New England Cancer Specialists in Kennebunk, Maine, said the platform has helped them capture more grants for patients.
For example, non-small cell lung cancer Medicare patients pay several thousand dollars in out-of-pocket costs for treatment, and Medicare funds for that treatment are almost always closed, according to Lavoie. The TailorMed platform, which Lavoie has been using for two years, immediately flags the financial advocacy team when funds for that treatment become available.
"It sends an email to all the advocates and it sends a second email right after that giving us medical record numbers of who is awaiting funds," she said. "As soon as that fund opens and they send you those medical record numbers, you can log in and get those grants. We've been very successful in getting those grants. Some of them are open for literally five minutes, and in five minutes we can get 15-20 grants."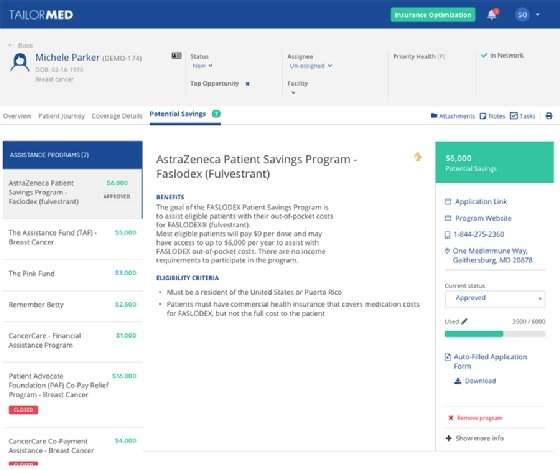 Srulik Dvorsky, TailorMed CEO and co-founder, said while the platform finds financial assistance for patients, it also makes sure healthcare providers receive compensation for the care provided -- something he said is critically important during the COVID-19 crisis as healthcare systems head into uncertain financial waters with most routine care postponed.
TailorMed platform goes remote
Dvorsky said in response to COVID-19, TailorMed has made its platform accessible remotely for financial counselors who still need to find financial opportunities for patients.
Dvorsky described the service as "telehealth for financial navigation," which enables financial counselors working from home to continue working with patients who may be facing even more hardships related to the pandemic.
"We are seeing a need because, on the one hand, patients that had financial distress as a result of their existing condition still have financial distress and it's even exacerbated now with higher unemployment rates and lower incomes," he said. "Also, they cannot come into the office to get that financial counseling service."