freshidea - Fotolia
AthenaHealth CEO Jonathan Bush out as cloud EHR vendor soars
Jonathan Bush quits as CEO of AthenaHealth in the midst of an unsolicited purchase bid from an activist investor and details surface about domestic abuse in Bush's 2006 divorce.
AthenaHealth CEO Jonathan Bush's departure from the flourishing cloud EHR company he co-founded was not as unexpected as it might appear.
The now former AthenaHealth CEO was under intense pressure, akin to a hostile takeover bid, from activist investor Elliott Management Corp. and its co-CEO Paul Singer, who had already rattled Bush and forced layoffs at the Watertown, Mass., vendor.
AthenaHealth mulling purchase bid
Elliott had also tendered a $7 billion buyout price that is considerably over AthenaHealth's market worth -- in other words, an offer that will probably be too good for AthenaHealth's board, which is considering it, to turn down.
And that was even with the likelihood that Bush, first cousin of former President George W. Bush, whose business vision, outsider persona and belief in cloud technology for health IT has been synonymous with the company he co-founded, would step down.
The board has not yet accepted Elliott's proposal, but likely will, as other shareholders have joined Elliott's bid.
Domestic abuse reports
What was most shocking was the sudden revelation of details from Bush's 2006 divorce about domestic abuse incidents that neither Bush nor his ex-wife, Sarah Sheldon, has disputed, though both said they have resolved their problems. Bush has since married and divorced a second time.
Bush issued an apology for his actions during his marriage to Sheldon, which were revealed by the newspaper the Daily Mail. The British news organization obtained court documents about the divorce in which Bush confessed to at least some physical abuse of Sheldon, with whom the ex-AthenaHealth CEO has five children.
But the news was nonetheless explosive in a health IT industry that has been mostly devoid of the now countless allegations and episodes of sexual assault that have roiled other business sectors and the media.
Bush out as AthenaHealth thrives
There's another dimension to the story, one that must be somewhat bitter for the former AthenaHealth CEO.
Bush's capitulation to Elliott, and perhaps to shareholders and customers shaken or stunned by the domestic abuse news, came as AthenaHealth's business fortunes are soaring.
Yes, the vendor was forced to eliminate 500 workers' positions last year. But out in the market, Bush's strategy has proved enormously successful, to the point at which AthenaHealth appears to be becoming the dominant vendor of EHR systems for small hospitals.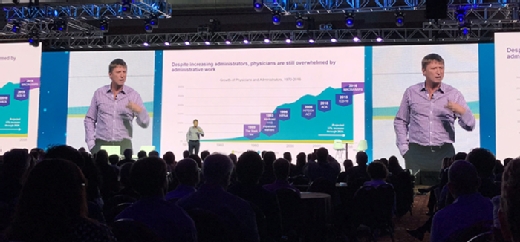 AthenaHealth leading in small hospital EHRs
Bush and former White House CTO Todd Park founded AthenaHealth in 1997 as a women's healthcare provider in California. The company developed into a vendor of billing systems and then EHRs for physician practices before surging into the small hospital sector with the acquisition of RazorInsights in 2015.
In a new report on U.S. small hospital EHR market share, KLAS Enterprises put AthenaHealth dramatically ahead, in terms of winning new contracts over the last year, not only of ambulatory EHR competitors such as eClinicalWorks and CPSI, but also the EHR giants of the big healthcare system space, Epic and Cerner.
Now that the former AthenaHealth CEO is gone, it will be intriguing to watch what happens, and whether the company will remain as dynamic as it has been under its iconoclastic former leader.
Now that the former AthenaHealth CEO is gone, it will be intriguing to watch what happens, and whether the company will remain as dynamic as it has been under its iconoclastic former leader.
The big question is whether new owners and leaders can keep the company on course while returning more profits to shareholders, as Elliott has demanded.
Unusual doings in health IT
In addition to Elliott, Oracle and Salesforce have surfaced as potential buyers. If one of those tech giants were to own AthenaHealth, well, that would simply be bizarre.
Nothing like that has happened in health IT in terms of a non-native health IT tech giant acquiring a leading EHR vendor.
Bush loved to resist his stockholders and provoke the much bigger EHR heavyweights, particularly Epic. And he resisted government regulation of health IT even as he acknowledged that AthenaHealth profited from some of it, especially the old meaningful use EHR incentive program.
Bush is gone, but could return
Health IT will be a quieter place without Bush's mercurial presence; that is, if he stays away.
Few would be surprised if he returned in another role in the business he partly defined over the last two decades, even with the domestic abuse situation (and there are also other allegations of sexual harassment). At least the divorce is pretty old, and Sheldon has defended him to some extent.
Some in the industry were repelled by the former AthenaHealth CEO's brashness and perceived arrogance over the years. Others admired his passion and commitment to the cloud, his customers and consumers.
For now, he's out.
Dig Deeper on Healthcare IT systems and applications