WavebreakmediaMicro - Fotolia
SaaS HR a seedbed for innovations in AI, people analytics
The leading edge of 'intelligent' HR technology resides in SaaS, fueled by the cloud's computing power and storage. But getting machines to predict human behavior is challenging.
Anyone running enterprise applications in the public cloud can recite the list of benefits that make the migration such a no-brainer -- reduced IT management burden, ubiquitous access to data, improved flexibility and agility, and fixed ongoing costs.
As much as these factors build a compelling business case for moving to SaaS HR, it's the innovative new wrinkles that get added to a cloud platform that will bring increasing value to that system for the foreseeable future.
In today's HR sphere, that innovation largely falls into two categories: analytics and AI. Vendors of SaaS HR products are falling all over themselves trying to add new analytics capabilities designed to help companies make better use of their data. And they see AI as the key to an emerging area of seamless HR self-service.
Meanwhile, organizations relying on SaaS HR platforms are trying to make full use of those analytics while thinking about what role AI will play for them. And, in most cases, the motivations of HR leaders are clear and simple: They want to make the experience of interacting with HR systems more effective and engaging.
"We're looking at better, quicker ways to get people answers," said Kellie Romack, vice president of digital HR and strategic planning at Hilton. "If a team member is happy and they're using tools they enjoy, they're going to perform better."
To that end, Hilton is experimenting with both AI and analytics. The company has a chatbot on its career site that guides applicants through the job-seeking process, helping them identify positions that either match their skills and salary requirements or are located near where they live.
HR analytics tricky to do well
On the analytics front, Romack said Hilton wants to work closely with its vendor, Oracle, on developing analytics tools that will let the hotel chain marshal existing data to enhance the way the HR system works. She sees numerous opportunities to improve repeatable HR processes with predictive analytics.
If a team member is happy and they're using tools they enjoy, they're going to perform better.

Kellie Romackvice president of digital HR and strategic planning, Hilton Hotels
"I would love to see Oracle push these boundaries," Romack said. "If Suzy always says no to a Wednesday shift because she picks up her kids at dance, why don't we stop offering her Wednesday shifts?"
Yet analytics represents one of the more challenging areas of HR, said Brian Sommer, HR analyst and founder of consulting firm TechVentive. Sommer believes HR tools need to take advantage of the reservoirs of big data organizations possess. But he suggested that the nature of HR data, which generally revolves around people and they're complexities and unpredictability -- makes effective analytics tricky.
"It's easy to know why a piece of equipment fails," he reasoned. "But it's impossible to know everything about a person, like if a messy and painful divorce is affecting performance."
Such challenges aren't keeping SAP SuccessFactors from embedding AI, machine learning and analytics in its products where they make sense. Last year, the vendor introduced CoPilot, an AI-powered, voice-controlled digital assistant similar to Amazon's Alexa that customers can use to interact with any of its applications. Going forward, it's working on an interactive pay statement that would be fueled by analytics, and it's also writing machine learning programs designed to do things such as detect payroll fraud or create attractive personalized employment packages.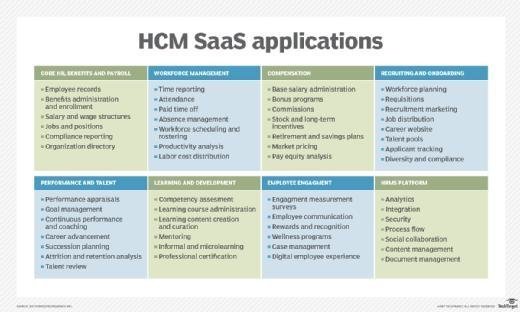 Eventually, SuccessFactors wants to apply predictive analytics beyond HR so its customers can, for example, link with facilities and identity management systems to detect whether a building at certain times has no employees in it and remotely shut off the air conditioning and lights. "It's all part of the art of what's possible," said Frans Smolders, senior director of HCM solution management at SuccessFactors.
Until then, AI and analytics should bring plenty of value to HR in the form of better data. Gretchen Alarcon, group vice president of HCM product strategy at Oracle, said it all starts with tapping emerging technology to guide users through processes. Making those processes easier for everyone will inevitably lead to improved data quality and improve the whole cycle.
"Engagement is likely to rise," Alarcon noted, "and there will be more data being created in the HR system, leading to better analytics and guidance."
App marketplaces a fast route to emerging tech
Marc Farrugia, HR vice president at Sun Communities Inc., which operates nearly 360 retirement communities and RV resorts in the U.S. and Canada, said he's "not [yet] on the whole AI bandwagon as it relates to HR," because that's looking too far into the future. He's more interested in using predictive analytics to help Sun make better decisions in the present based on educated assumptions, such as trying to get a better idea of why the company might be experiencing higher-than-usual turnover, without having to invest in expensive analysis.
Farrugia thinks there's huge value in tapping innovation in application clearinghouses like SAP App Center, where third parties offer cutting-edge applications -- many of which rely on AI and analytics -- that SAP would not have the time or resources to build. Sun recently saw the value in that resource when it decided to replace an old and stale employee rewards and recognition program.
We want immediate gratification. We want things easy and seamless.

Marc Farrugiavice president of HR for Sun Communities
Farrugia said the company didn't have time to issue a request for proposal, so it turned to the App Center, found an application, vetted it, made the purchase, had it automatically provisioned and synced employee data -- all in less than 60 days. Better yet, the new app, which is optimized to run on mobile phones and web browsers, increased engagement by 175%.
"That's going where people want to be now," Farrugia explained. "We want immediate gratification. We want things easy and seamless."
As cloud providers continue to innovate by experimenting with emerging technologies like AI and analytics, SaaS HR promises to feed that need for immediate gratification, which should bring a smile to HR users everywhere.