HR vendors agree: Generative AI isn't hype
The generative AI race is on as major HR vendors discuss how they plan to integrate the tech into their applications and make it available to customers in the coming year.
SAP SuccessFactors and Ceridian are holding user conferences this week, and like the just-concluded Workday conference, generative AI will be a topic of discussion. Coming into sharp focus among HR vendors is how they plan to use the technology.
Over the next 12 months, major HR vendors are planning to release generative AI-based tools to make HR applications more conversational. Features will include summarizing and creating content, such as writing job descriptions; helping conduct performance reviews; and personalizing learning materials.
As SAP illustrated last week with a planned product, conversational user interfaces will be one of the most noticeable changes ushered in by generative AI.
SAP SuccessConnect conference attendees will likely hear about Joule, a generative AI assistant that will act as a conversational AI interface. Joule will be integrated into SAP's cloud product portfolio, including SuccessFactors, and will pull enterprise data to answer plain-language queries as well as suggest ways to improve or fix something. SAP has yet to roll out Joule but said it plans to start with SuccessFactors later this year.
Similar to SAP, Workday is planning conversational AI interfaces. Oracle has outlined generative AI plans, as has UKG. Ceridian will outline its plans at its Insights conference, which started Monday.
In detailing Joule, SAP said generative AI is past its initial hype, a comment asserted by other HR vendors.
Generative AI is "one of the biggest technology changes we've seen in our industry in my lifetime," said Joe Korngiebel, Ceridian's chief product and technology officer. "It's rival to the cloud and the push to the cloud; it's rival to the PC era."
There have been many "big shifts" in technology, "but this one is different," said Aneel Bhusri, co-founder and co-CEO of Workday. He told attendees at last week's Workday Rising that AI "certainly feels like the most important shift since the emergence of the cloud."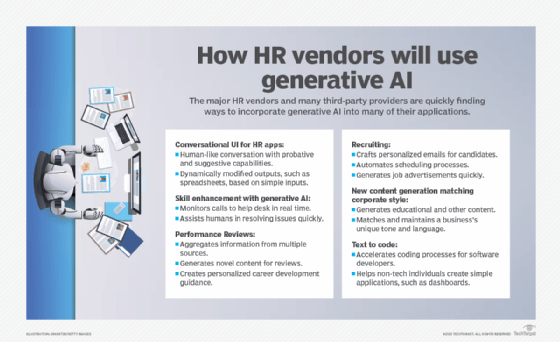 Deliver unexpected results
Sayan Chakraborty, Workday co-president who leads its product and technology organization, told Rising attendees that generative AI can deliver unexpected results and have conversations "that feel very natural, unlike previous AI-powered assistants."
Generative AI is one of the biggest technology changes we've seen in our industry in my lifetime.

Joe KorngiebelChief product and technology officer, Ceridian
"This is truly a moment that we'll remember with a before-and-after," Chakraborty said, comparing it to the arrival of the smartphone, cloud computing and even electricity.
The vendors contend generative AI will increase productivity, but they make the claim before the technology has been deployed. That may be why Workday invited Erik Brynjolfsson, an economist and director of the Stanford Digital Economy Lab, to present at its user conference.
Brynjolfsson was one of the researchers who looked at generative AI's use in a system used by 5,000 call center agents.
The study found that the "least experienced operators got the biggest benefit," with a 35% gain in productivity in two to three months, Brynjolfsson said at Workday's conference. But most skilled workers "didn't get nearly as big a benefit as the less-skilled workers because most of them already knew how to solve the problem," he said.
Patrick Thibodeau covers HCM and ERP technologies for TechTarget Editorial. He's worked for more than two decades as an enterprise IT reporter.