4 ways to use HR systems to communicate as COVID-19 develops
Discover four ways chief HR officers and HR teams can use an HRIS to keep everyone in the company connected and informed during the COVID-19 pandemic.
As HR teams navigate the new remote work environment caused by COVID-19, an organization's human resource information system has become a critical tool for keeping employees connected.
A human resource information system (HRIS) typically acts as a central repository for the master employee data -- such as addresses and Social Security numbers -- an HR team needs to complete its core processes. HR teams and IT should work together to ensure that HR systems are available remotely, 24/7, so company updates are always accessible.
Managers are on the front lines of employee relations, so they are critical in facilitating business responses to COVID-19. As part of that role, HR teams need to educate managers on how they can use the HRIS to communicate with employees.
Here are four ways HR can employ an HRIS during the COVID-19 pandemic.
Use employee contact information
Up-to-date employee contact details are important so HR can share company news in a timely manner. HR should remind employees to review and update their contact information as necessary and share the procedures for doing so.
Managers will then be able to alert employees about new working hours, COVID-19 infections within the company and office closures.
Show policy changes
HR teams should keep the HRIS updated to reflect new and revised policies related to COVID-19.
As governments around the world issue orders to keep their constituents safe, organizations must institute new work policies or expectations. HR should explain to employees where they can view these revised policies and guidelines, as well as how to access important documents, such as pay statements and other forms needed for tax and regulatory purposes.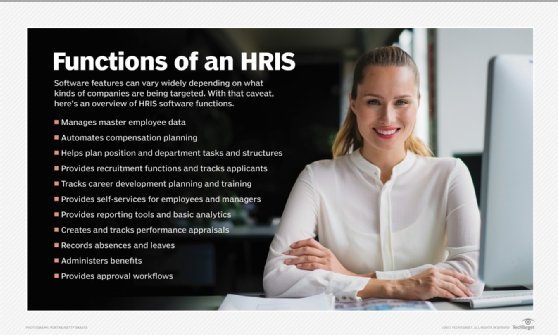 Help the company stay on track
HR should ensure employees know how to view schedules and record time worked remotely. This may be a new process for employees who relied on their manager to post this information in a paper-based format.
HR should also inform managers about workflow changes, if applicable, and how they can support each other using HRIS delegation features if a manager is not available.
Keep employees engaged
An HRIS system's collaboration or community features can provide managers with an environment that brings teams together to work on projects or just gives employees a way to keep in touch during a period of social distancing and remote work isolation.
Despite the disruption to everyday work life due to COVID-19, an HRIS provides HR an opportunity to show the true value of their investment in these systems and how they can help in times of crisis.
Dig Deeper on Core HR administration technology