krunja - stock.adobe.com
Develop a channel sales strategy for smart city projects
Channel partners can find roles in smart city initiatives by providing IT expertise, but firms should understand the challenges that government customers face before making a play.
Getting in on the ground floor of smart city projects isn't like any other channel sales effort.
To appeal to government customers, channel firms must take into account some basic factors that make the state and local administration space unique, according to Dominic Papa, executive director of the Institute for Digital Progress (iDP), a nonprofit organization dedicated to enabling digital transformation in government. Factors include complex fiscal considerations, lengthy procurement procedures and the proverbial red tape. Additionally, city officials exploring smart city initiatives typically look for technology advisors, not sales pitches for the latest in IT.
"Go into these cities looking to build a deep and fruitful relationship, and try to deeply understand the challenges and issues each … city is facing. Once you build a relationship, cities are more likely to open up and then look toward procuring solutions through you," Papa said.
IDP is currently working with 22 cities and towns in the Greater Phoenix area to develop a smart region. Papa also serves as a member of CompTIA's Smart Cities Advisory Council, which he said is currently developing a playbook for how channel partners can become involved in the smart city market.
Target the right city government officials
Partners can get started in building these relationships by figuring out who the points of influence are within a city. The types of officials that oversee a smart city initiative can be different from one city to the next.
For example, one city's smart city projects may be driven by its mayor, while another's are driven by its city manager, economic director or CIO, Papa said. When partners understand the city's points of influence, they can more easily navigate the key figures and "ultimately sell more products or your solutions," he said.
"We find the companies and channel partners that know the intimate details of our city, who are the influential people and who are not, who [to] spend more time with [and] who [to] talk to … are the types of partners that are more successful," he noted.
He also advised partners to pitch outcomes, not technologies, to government customers, addressing how their offerings would solve concrete issues that the city wants to tackle. "Don't sell me IoT leak detection technology; sell me [on that] we are going to save billions of dollars in water loss every year. … Understanding the key outcomes that result from the solution is critical," Papa explained.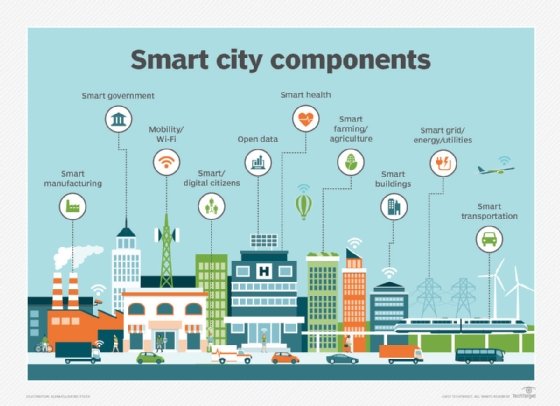 Addressing budgetary concerns
Adam Petrovsky, vice president of U.S. public sector, government and education, at Logicalis, a New York-based IT solution and service provider, said budgetary requirements always come up in discussions with government customers. Government organizations are typically "dealing with a diminishing budget, and that is a crisis for all governments around the country," he said.
Don't sell me IoT leak detection technology; sell me [on that] we are going to save billions of dollars in water loss every year.

Dominic PapaExecutive director, Institute for Digital Progress
Additionally, "most of these counties or cities … don't want to use taxpayer money to do … a smart [city] initiative. They try to figure out alternative ways to fund initial offerings," Petrovsky said. For example, the government organization may seek funding from a federal grant.
Logicalis approaches budgetary concerns by identifying smart city projects that would rapidly deliver significant ROI. The firm also helps its customers research federal and state grants. He noted that the Trump administration has made federal and state grants for physical security or public safety more widely available.
"Seeking federal money for IoT smart connections that deal with safety may be a good first step," Petrovsky said.
Logicalis' smart city projects have included solving a waste management problem in a Latin American city. The city struggled with consistent garbage pickup in some of its neighborhoods. Logicalis installed two types of sensors in city garbage receptacles -- one sensor for detecting odor and the other for detecting how full the garbage container is, Petrovsky said. When the sensors are triggered, the city is alerted for garbage pickups.
Prepare for complex procurement processes
Another important basic concept for targeting government customers is to understand IT procurement challenges. The traditional IT procurement process can be extensive, which has resulted in keeping many government organizations' IT systems several steps behind commercial organizations.
"A lot of the time, as we are trying to procure these technologies that are changing at an ever-increasing rate, by the time we actually work through the traditional procurement process, that technology is outdated," iDP's Papa said.
Part of what iDP is trying to do is help governments think more like "lean technology startups and allow them to procure in a more rapid and more innovative, agile fashion," he noted.
Modernizing the government IT procurement policy has been a national focus for some time. As noted by Josh Nisbet, director of U.S. government markets at Deloitte, in 2016, states are trying to transition to more agile and modular purchasing models than have been historically used.
Government customers play it safe
It is also critical for channel partners to appreciate that government customers are generally risk-averse, Papa said. "As we all know, government can't fail, and so they are a little timid to try [new] products, especially around … security, data, data privacy [and] data governance," he said.
Government officials will likely be "a little bit hesitant to dive head first" into smart city technology deployments, he added. They need to ensure that they are covering their bases, that "the citizens' needs [and] interests are put forward at the beginning and not as an afterthought."
IDP is working to facilitate smart city adoption in its Greater Phoenix smart region initiative by developing innovation sandboxes where cities can test emerging technologies.
For channel companies, transparency around what you offer, the technical limitations and security implications can help establish trust with government prospects, he said.