Goals of SOA: Integration and interoperability
This excerpt from "SOA: Principles of Service Design" defines the term "interoperability" and describes how service orientation can benefit the process of sharing data.
Interoperability refers to the sharing of data. The more interoperable software programs are, the easier it is for them to exchange information. Software programs that are not interoperable need to be integrated. Therefore, SOA integration can be seen as a process that enables interoperability. A goal of service-orientation is to establish native interoperability within services in order to reduce the need for integration (Figure 3.27). In fact, SOA integration as a concept begins to fade within service-oriented environments (as further explained in the Effects of Service-Orientation on the Enterprise section in Chapter 4).
Figure 3.27 Services are designed to be intrinsically interoperable regardless of when and for which purpose they are delivered. In this example, the intrinsic interoperability of the Invoice and Timesheet services delivered by Project Teams A and B allow them to be combined into a new service composition by Project Team C.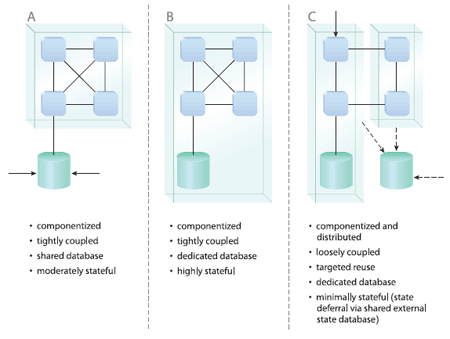 Interoperability is specifically fostered through the consistent application of design principles and design standards. This establishes an environment wherein services produced by different projects at different times can be repeatedly assembled together into a variety of composition configurations to help automate a range of business tasks.
Intrinsic interoperability represents a fundamental goal of service-orientation that establishes a foundation for the realization of other strategic goals and benefits. Contract standardization, scalability, behavioral predictability, and reliability are just some of the design characteristics required to facilitate interoperability, all of which are addressed by the service-orientation principles documented in this book.
How specifically service-orientation design principles foster interoperability within services is explained in the Service-Orientation and Interoperability section of Chapter 4.
Use the following table of contents to navigate chapter excerpts.


SOA: Principles of Service Design


Home: Service-oriented computing and SOA: Introduction


1: Design fundamentals: Design characteristics


2: Design fundamentals: Design principles


3: Design fundamentals: Design pattern and design pattern language


4: Design fundamentals: Design standard


5: Design fundamentals: Best practices


6: Introduction to service-oriented computing


7: Service oriented architecture


8: Service compositions


9: Understanding service oriented computing elements


10: Entity services


11: Web services and service oriented computing


12: Service inventory blueprints


13: Service-oriented analysis and service modeling


14: Service-oriented design


15: Goals and benefits of service-oriented computing


16: Increased intrinsic interoperability


17: Increased federation


18: Increased vendor diversification options


19: Increased business and technology domain alignment


20: Increased ROI


21: Increased organizational agility


22: Reduced IT burden

ABOUT THE BOOK:
SOA: Principles of Service Design is dedicated to service engineering and establishing service-orientation as a design paradigm. This hands-on manual for service design establishes concrete links between specific service-orientation design principles and the strategic goals and benefits associated with SOA. Purchase the book from Amazon.com.
ABOUT THE AUTHOR:
Thomas Erl is the world's top-selling SOA author, Series Editor of the "Prentice Hall Service-Oriented Computing Series and editor of The SOA Magazine. His books have become international bestsellers and have been formally endorsed by senior members of major software organizations such as IBM, Microsoft and Oracle. He is the founder of SOA Systems Inc., a company specializing in SOA training, certification and strategic consulting services with a vendor-agnostic focus.