peshkova - Fotolia
Enterprise network market: Key trends partners should monitor
Key networking trends channel partners can expect to navigate include a shift in WAN design, developments in network microprocessor tech and rising demand for automation.
Editor's note: This article summarizes enterprise network market trends that could influence technology adoption patterns this year. Read on for developments in white box offerings, network microprocessor technology and software-based feature sets.
Introduction: Higher-than-expected growth sets the stage
Driven by widespread adoption of cloud computing, the network market surpassed its modest growth expectations in 2017.
"We forecast total market CAGR through 2020 at 2.9%," stated Brad Casemore, research director of datacenter networks at IDC. "In 2017, the overall enterprise network market grew by 3.6%."
The growing popularity of cloud and its impact on enterprise networks was a key driver. Vendors such as Apple, Amazon Web Services, Facebook, Google and Microsoft have been building out enormous data centers. Consequently, more Layer 2 and Layer 3 switches are needed to keep up with the rising traffic volumes.
White box, network microprocessor developments
Yet, these customers are moving away from expensive proprietary solutions to white box systems, generic hardware running specially designed software.
Consequently, established network equipment vendors, like Cisco and Juniper Networks, may find it difficult to keep pace with the white box suppliers. Traditionally, these vendors charged a premium for their microprocessors, but moving forward, they may be forced to be more price- and feature-competitive with generic solutions.
A similar change is taking place in network microprocessor technology. Startups have emerged that are designing software-based network microprocessor solutions. These products are software focused and can be tweaked to specific markets -- financial services, for example -- that have stringent network requirements. This change could positively impact resellers. They may be able to develop custom offerings and consulting services for specific markets.
WAN design rapidly shifts
In the wide area network (WAN) space, the cloud's popularity created a few ripple effects.
"Demand for dedicated circuits such as MPLS have been under attack by utilization of less expensive internet circuits from a number of sources," explained Dave Chandler, practice director of enterprise networks at World Wide Technology (WWT), a technology solution provider based in St. Louis.
Increasingly, businesses are taking a closer look at how their networks are architected. "Cloud changed network traffic patterns, especially in the WAN," Casemore noted. As a result, software-defined WANs (SD-WANs) became a very hot topic in 2017. In fact, IDC found that worldwide revenue from SD-WAN infrastructure products reached $887 million, a 76.7% increase from the previous year. Good news for channel partners: Services from managed service providers did even better, reaching $200 million, up 325% from $48 million in 2016.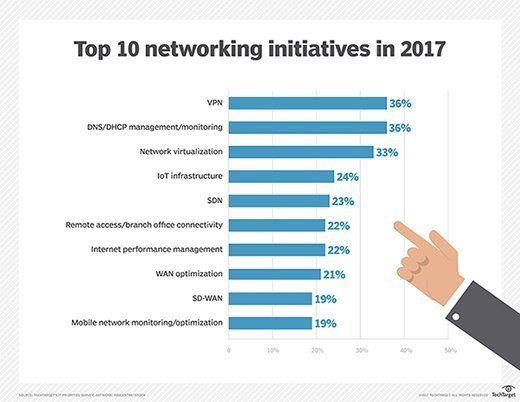 Automation needs growth
Another cloud factor is the desire for more automation. Businesses do not want to spend a lot of time configuring devices. Traditionally, entering such information router by router via command-line interfaces has not scaled well. In dynamic markets, like retail, financial services and health care, organizations want to provision services more rapidly.
If partners are not ready for these changes, then their relevancy will be short-lived.

Dave Chandlerpractice director of enterprise networks, World Wide Technology
Software-defined networks (SDNs) were supposed to provide enterprises with more automation functionality, but this segment of the enterprise network market delivered mixed results in 2017. The systems have been deployed in a growing number of cases, but networking is a complex area, one that does not easily lend itself to automation. Consequently, the impact of offerings in this technology space fell a bit short of expectations.
Intent-based networking emerges
To fill the void, intent-based networking started to emerge in 2017 with new capabilities and terminology. Increasingly, SDNs rely on AI and machine learning to automate network configuration and troubleshooting.
"These new systems are being built [on] mathematically proven network design [rather] than a best guess," said Joe Skorupa, vice president and analyst at Gartner. Intent-based networks are designed to deliver higher degrees of automation to businesses, so they can spend less time configuring network devices and more time on strategic initiatives.
The enterprise network market reshuffling presents both opportunity and hurdles to resellers. Many have forged successful businesses selling equipment and services for traditional enterprise WANs. But both the hardware and services are becoming commoditized.
The design changes offer channel partners potential benefits in the enterprise network market, as well as pitfalls.
"The future holds significant changes in hardware sales, a shift to software-based feature sets and software lifecycle management, and a new way of deploying services to the business and customers," WWT's Chandler said. "If partners are not ready for these changes, then their relevancy will be short-lived."