Definition
IT operations management (ITOM)
What is IT operations management (ITOM)?
IT operations management (ITOM) is a strategic approach to managing an organization's information technology (IT) needs. This often involves managing, planning and provisioning of IT resources, digital services, networking and the IT infrastructure.
All the procedures and services that an organization's IT department manages are referred to as IT operations. This can include administrative processes and support for hardware and software for both internal and external clients.
Effective IT operations management ensures the availability, efficiency and performance of the organization's processes and services. Hence, the basic goal of ITOM is to carry out routine tasks in a way that improves the quality and efficiency of IT resources, thereby improving the end-user experience.
Functions of IT operations management
Most organizations that follow the ITIL framework can refer to the ITIL service operations book that highlights the processes and functions of ITOM. For ITOM to be successful, all business services and applications should be readily available and functioning properly.
IT operations departments generally set loosely-defined operations policies and procedures based on how the organization tends to solve its clients' needs and its own needs. As such, ITOM teams are typically in charge of the following three functions:
Network infrastructure management. The network services required to deliver internal and external business communications are managed by ITOM teams along with the hardware and software infrastructure that supports them. This can include network components such as TCP/IP addressing and VPN management, as well as routers, switches, hubs, monitoring tools, software programs and operating systems.
Help desk operations. This includes a wide range of activities such as incident response, event response and request fulfillment. IT infrastructure operations such as planning and maintaining data backups, user account management, system access and disaster recovery are also included.
Endpoint management. Endpoint management includes managing servers, desktops, laptops, mobile and internet of things (IoT) devices, as well as ensuring user access to storage.
ITOM providers include IBM, HP, BMC Software and CA Technologies.

Benefits of IT operations management
Effective ITOM offers several advantages to companies, from predicting problems, reducing user impact and automating fixes to modern DevOps and data connections.
Issue forecast. By gathering information from logs, events, metrics, IT infrastructure and container-based resources, ITOM solutions support data collection and analysis across the IT ecosystem. AIOps offers real-time alerting when combined with machine learning, which helps decrease false-positive alarms.
Reduced user impact. Due to the early prediction of issues, they are mitigated easily. This minimizes user impact since most of the time outages are solved before the users get a chance to experience them.
Decreased downtime. As ITOM proactively discovers issues and outages, it reduces downtime when problems do arise.
Workflow automation. ITOM automates workflows across teams to avoid pointless manual processes and handoffs and offers the chance to automate cross-team workflows. This provides actionable insights that can be quickly shared between teams. With low-code and no-code procedures in place, ITOM helps reduce recovery times and streamline repetitive tasks.
Innovation potential. Efficient IT management operations reduce errors and logged requests. Therefore, instead of focusing on resolving issues, IT teams spend more time on innovation and generating creative ideas.
DevOps delivery. The DevOps and site reliability engineering (SRE) teams benefit from increased visibility into microservices thanks to ITOM, which collaborates with both centralized and decentralized teams to enhance observability and issue response.
Challenges of IT operations management
Some common and critical challenges that come with ITOM include the following:
Rapidly changing technology. As businesses transition to the cloud rapidly, new technologies such as virtualization, IoT and software-as-a-service (SaaS) offerings have increased the difficulty of managing IT environments. ITOM teams usually require a broad range of talents as well as the adaptability to evolve with the times to handle complicated situations.
Low visibility. Businesses that have a mix of legacy and modern infrastructure dispersed across physical data centers and cloud services risk losing sight of their entire infrastructure. This can make it challenging to effectively manage and allocate resources and gather the data needed to make strategic decisions.
Scaling and security issues. Due to the fragmented technologies and lack of visibility, it can often be challenging for IT operations to expand and scale when new technologies are introduced. A broken IT infrastructure, higher security exposure and risky behaviors such as shadow IT might result from this. Since the average cost of data breaches exceeds $9 million annually in the U.S., IT leaders must seek out solutions that are completely secure and without potential pitfalls.
IT operations management vs. IT service management
The terms ITOM and IT service management (ITSM) are often used interchangeably. While both are defined in the ITIL framework, they are two distinct concepts.
ITSM refers to a broad range of techniques used by enterprises to provide high-quality services both internally and externally. It generally concentrates on the infrastructure, resources and strategic development of a network. Incident management, change management, IT asset management, service desk and service request management are a few examples of ITSM processes. Unlike ITOM, ITSM makes use of many different frameworks.
ITOM is focused on the daily management and tasks of an organization's IT infrastructure. In general, ITOM refers to the management or service delivery side of IT.
An organization can operate at its peak efficiency if both ITSM and ITOM procedures are integrated into the IT ecosystem. An effective IT asset management (ITAM) plan is also required to get the most out of an IT environment. Consequently, a strong configuration management database (CMDB) is also needed for an efficient ITAM strategy.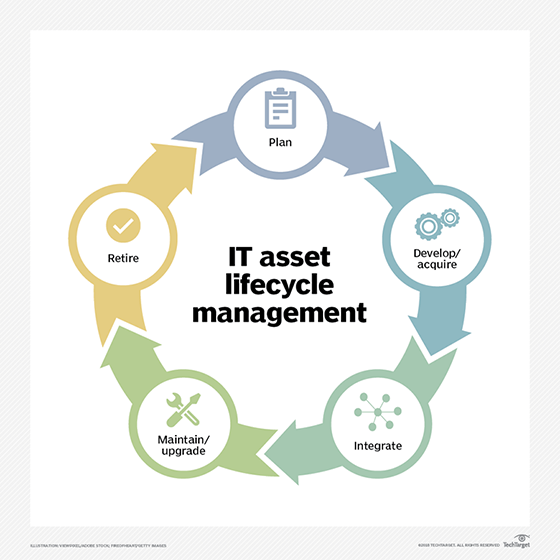 IT operations management software
ITOM software, which is a unified technology system, provides the required tools for managing, computing, networking and applications. The equipment, setting and general procedures required to operate IT services efficiently are also covered by ITOM.
In a small business, ITOM may be hands-on and provided in-house. Increasingly, however, it is likely to be automated and possibly outsourced. IT operations management software monitors and controls the way an IT organization manages software, hardware service and other IT support, such as mobile contracting and help desks of all kinds. Options here include managed services, SaaS and software platforms
Popular examples of ITOM software include Splunk Enterprise, Squadcast, ControlUP and Pentaho Business Analytics.
To succeed in the IT industry, organizations can benefit from insider knowledge provided by ITIL and IT4IT frameworks. Learn more about each model to determine which framework will work best for your organization.
This was last updated in
March 2023
Continue Reading About IT operations management (ITOM)
Dig Deeper on IT systems management and monitoring