olly - Fotolia
IT incident management best practices to minimize disruptions
IT issues can come out of nowhere, but an incident response plan can guide teams through troubled times. Follow these best practices to optimize each part of the plan.
Even for the most well-prepared IT teams, incidents are inevitable. However, certain IT incident management best practices streamline the process from planning to resolution.
A comprehensive IT incident response plan includes more than just playbooks, runbooks and guidance on patching -- it maps out detailed post-mortem steps to ensure IT teams learn from the event. Use the following tips to optimize IT incident response planning and management.
Modernize IT incident response plans
As companies move to the cloud and build out mobile computing and DevOps strategies, they need to update their IT incident response plan to suit these environments. Johna Till Johnson, CEO and founder of Nemertes Research, discusses five measures, including automation and collaboration with cloud providers, to create an incident response plan that aligns with modern IT deployments.
Build an IT crisis management playbook
Unfortunately, IT incidents are unavoidable and nearly infinite, but a crisis management playbook can curb the chaos.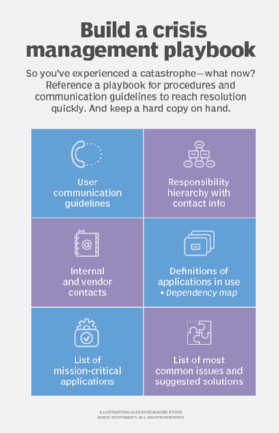 There are several details that IT teams should outline in a playbook -- such as the specific DR equipment to use, as well as a list of "owners" for major applications -- to help prevent an incident from turning into a full-blown disaster. IT architect and college instructor Brian Kirsch breaks down crisis management protocols that enterprises can adopt to strengthen their IT incident response plans, starting with a playbook.
Prevent issue escalation
The first few minutes of an IT incident can determine how the whole situation plays out -- and a poorly managed response can lead to unnecessary help desk escalation. Kirsch explains IT incident management best practices, such as to establish detailed runbook documentation and to use call scripts to weed out low-level issues, to prevent problems and help desk tickets from escalating up the chain of command.
Formalize a patch management process
A crisis can hit suddenly, and, for IT teams, keeping their cool can be the difference between a quick fix and an extended issue.
However, a rushed fix can be worse than no fix at all, so establish a patch management process to steer staff in the right direction. This tip from IT expert Clive Longbottom explores best practices, such as version control, documentation and testing, to manage patches during a crisis, along with effective habits to keep the business running and ensure happy users and customers.
Reflect on IT incidents
IT's response to an issue shouldn't end when the problem is resolved. IT incident management best practices continue past a resolution to include a thorough post-mortem to evaluate what went wrong, and how to prevent it in the future. TechTarget's senior technology editor Stephen Bigelow explains how to lay the groundwork for an effective post-mortem process and report, which includes a detailed summary of the incident, a breakdown of the triggers that caused it, and recommendations to prevent the same issue from occurring in the future.
Dig Deeper on IT systems management and monitoring