Tablet growth in the enterprise ready to erupt
IT pros are planning on significant tablet growth as part of their IT strategy, according to our reader survey. But will tablets ever replace laptops and desktops?
There is no doubt that tablet devices have invaded the IT domain. The results of TechTarget's annual SearchMobileComputing.com reader survey show almost surprising tablet growth and acceptance. Tablets are not only now supported in the enterprise, but IT departments are proactively investing in tablets and looking for robust business applications, with an eye toward using the devices as laptop replacements in the future.
Although tablet growth may be driven by single users or experimental device deployments at the moment, IT managers are taking tablets seriously, with impending plans for expansion. Fifty-eight percent of our readers expected their organization's spending for tablets to increase in the next 12 months, and only 14% said they would not spend at all on tablets in the next year. When asked to choose the mobile technologies or devices with the largest year-over-year growth, 40% of respondents chose tablets. This was the highest-ranking choice and was equal to the number of users who expected growth in smartphone spending. Both were more than twice as much as the number of respondents who expected growth in laptop spending.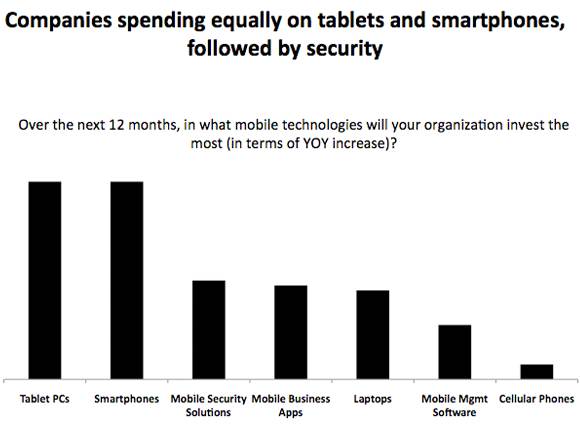 When respondents were asked which vendors they would consider for their tablet device purchases, Apple led the pack by a wide margin at 72%, followed by Dell at 29%, HP at 25% and Motorola at 22%. Research in Motion (RIM) garnered an 18% vote, and Cisco and Avaya, which make UC-specific tablets, came in at 12% and 3%, respectively.
Apple was a contender in tablets and also in the smartphone section of our survey. This can be attributed to several factors, including early time to market with its devices, wide selection of applications, and low cost when compared to enterprise devices manufactured by Cisco and Avaya. Survey respondents cited cost, end-user ease of use and a flexible operating system, in that order, as the top factors affecting their choice of tablet vendor—and the iPad, although targeted at consumers, delivers in these areas. In individual comments, respondents acknowledged shortcomings in the mainstream market as far as security, business-ready applications and interoperability, but were optimistic about resolving these issues.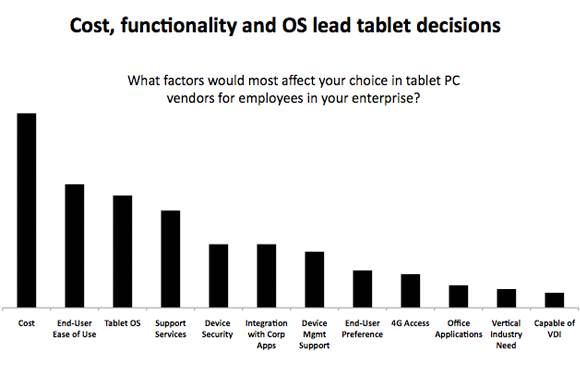 The use cases for tablet growth varied widely. Individual readers reported everything from using tablets as big smartphones to completely separate tablet application rollouts. The healthcare sector offers up many examples. Joe Behling, manager of network services at Methodist Le Bonheur Healthcare in Memphis, Tenn., explained that iPads were selected based on size and their compatibility with electronic medical records access (EMR), the main application they would support. "Tablets are much easier to use when [making rounds] at a hospital," he said. "The smaller form factor makes it easier to interact with patients and document in EMR applications."
Similarly, reader Anthony Allen, systems administrator at Doron Precision Systems Inc., a maker of driving simulation systems in Binghamton, N.Y., is implementing tablets with specific applications in mind. Tablets in his organization are handling unified communications applications including calendaring and Skype, and will provide access for new tablet applications that will interface with the company's CRM applications in its AS400 environment.
Our overall survey results, however, showed tablet application current use and deployment in the next 24 months mirroring that of smartphone applications. The most common applications already in use were email, Internet access, and word processing or other office applications. Readers said they were most likely to implement unified communications at 21%, individual collaborative applications (such as instant messaging, SharePoint or workflow apps) at 19%, and virtual desktop integration and Web-based applications, both at 18%.
Need for enterprise tablet applications
There seems to be quite a gap between what survey respondents said they are using tablets for now and what they hope to use them for in the coming two years. Reader Jeff Mozingo, IT officer at Alpine Bank in Rifle, Colo., acknowledged that his organization uses tablets for the standard fare, plus some third-party applications from its core services provider, but said that at this point "the difference between the [smart]phone and tablet for our users really is just a visual difference—the size of the screen."
The key to making tablet devices more valuable for IT professionals like Mozingo may lie in development of more enterprise-class applications that can be reliably and securely deployed across the IT environment. Said Christopher Paidhrin, security compliance officer at Southwest Washington Medical Center in Vancouver, Wash., "We only allow services that have compensating controls. This sometimes causes frustration on the part of our workforce…. Most application providers have not yet adapted their applications to be tablet aware."
Will tablets replace laptops?
It's evident that tablets have a long way to go to catch up to their enterprise computing counterparts in terms of business functionality. But if, as our survey recounts, tablets and smartphones are both outpacing laptop spending by double, does that mean the end of the traditional PC is in sight? Only in certain scenarios, it appears.
In our reader survey, 28% reported that they are considering replacing desktops or laptops with alternate devices in the next 24 months. Of those respondents, 60% said they would select tablets as their replacement devices. Other devices showed comparatively low interest; 20% were considering netbooks, and 17% were considering mobile workstations.
Anecdotally, readers noted that tablets will most likely be additions to laptops and desktops, issued to users who require heavy Internet or personalized applications. Paidhrin of Southwest Washington Medical Center said he does not anticipate tablets replacing laptops in his organization. "Laptops serve a valuable and continuing role," he said. "Tablets will be adopted to fill a specific 'view-centric' function."
David Barrick, vice president of IT strategy and business alignment at BB&T Corp., sees more promise for whittling down device numbers. "[We're] not replacing yet," he said."At this point we are looking to support them to augment laptops for highly mobile job roles, like field sales positions. We do believe for some of these roles they may be able to be a replacement, but we are not pushing it yet."
About the survey: TechTarget Networking's annual survey of SearchMobileComputing.com members was completed in May 2011. More than 360 IT professionals completed the survey. They hailed most commonly from the verticals of manufacturing, government, finance, education and healthcare. Twenty-five percent of respondents identified themselves as mid-level IT managers; 12% as network architects, engineers or administrators; 12% as security managers or administrators; 11% as senior IT managers; and 9% as business executives, managers or staff.
Dig Deeper on Wearable devices and emerging technology