Fotolia
SD-WAN vendor lock-in is unavoidable, but not necessarily bad
It's practically impossible to avoid SD-WAN vendor lock-in. But, instead of being deterred by lock-in, companies should focus on wisely locking in the vendor with which they want to partner.
Customers can rarely avoid vendor lock-in, even in the burgeoning world of software-defined WAN. But that doesn't mean disaster, according to industry analysts, especially if customers take the time to choose the suitable software-defined WAN vendor the first time.
Software-defined WAN (SD-WAN) is in a new phase of maturity and deployment, said Lee Doyle, principal analyst at Doyle Research. Companies have increasingly realized the myriad benefits that SD-WAN can bring to their networks, including improved application performance and centralized management. But the reality of lock-in remains.
"There's no way to avoid vendor lock-in on anything," Doyle said. "Just because this is software doesn't mean it's interoperable."
Currently, companies still need to pair a branch appliance to a data center controller from the same vendor. "You wouldn't take a Viptela appliance and try to plug it into a VeloCloud data center," he added.
Although many standards organizations have initiated the quest for SD-WAN interoperability, companies shouldn't expect a magic standard to solve the problem, he said. Instead, they should focus on selecting their SD-WAN provider wisely.
When it comes to basic SD-WAN functionality, such as handling packet transmission, most vendors use similar techniques, said John Fruehe, an independent analyst based in Austin, Texas. Vendors differ in how they design the network to deal with that traffic.
"To some degree, in any network, lock-in is going to be present," Fruehe said. "The key is not that vendor lock-in is necessarily bad, but instead that it limits choices."
Ideally, companies will be able to standardize on a single vendor that delivers all of the needed functionality at the right value, he added. "The other side of the lock-in coin is standardization -- and it is highly sought after in networking," he said.
Is multivendor SD-WAN a suitable alternative?
The key is not that vendor lock-in is necessarily bad, but instead that it limits choices.

John Frueheindependent analyst
Another approach is to use multiple vendors in different parts of the network. For example, a company could use SD-WAN from one vendor, select a different vendor for WAN optimization and add security from another. But this option carries certain caveats.
"You either deal with the hassle of multivendor, or you rip and replace," Doyle said. "That's the world of networking."
Fruehe added that there is little value in a multivendor approach.
But for companies that need to integrate two SD-WAN architectures -- like in the case of a merger or acquisition -- there might be no way around the hassle.
"If a customer wants to integrate two different SD-WAN platforms, they would create network-to-network interfaces in at least two locations for redundancy," said Steve Garson, president of SD-WAN Experts, based in Denver. "This isn't trivial, but it's definitely doable."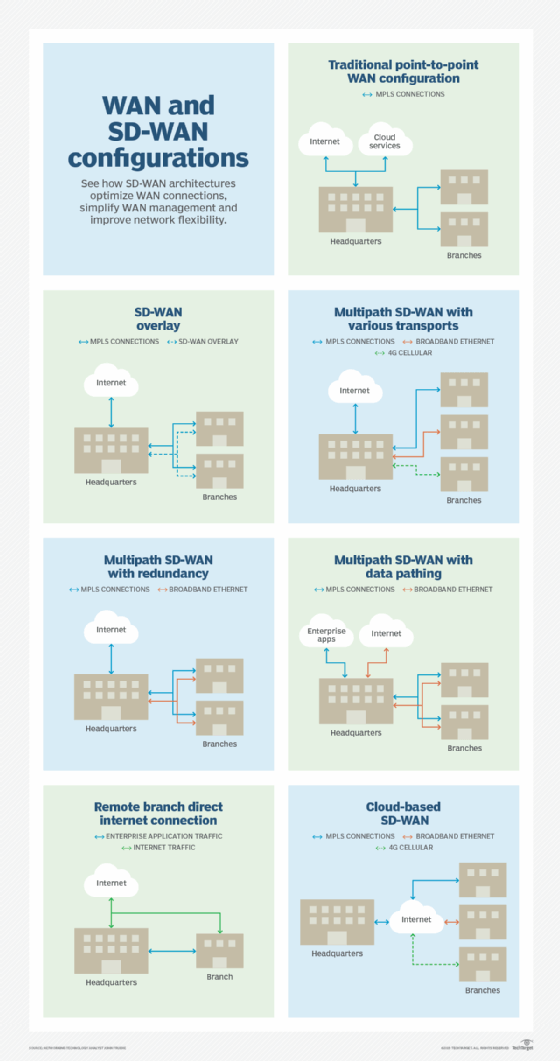 How vendor lock-in affects SD-WAN migration
For companies that aren't satisfied with their current SD-WAN vendor, it's possible to migrate to a new vendor. To do so, the company would need to create the required templates and configurations for a replacement, Garson said.
Because SD-WAN is a network overlay, jumping from one SD-WAN vendor to another is easier than transitioning from a standard WAN to SD-WAN, Fruehe said.
"However, migration and change are still difficult, time-consuming and risk-laden, so businesses should go the extra mile to make the right call the first time to avoid having to change down the road," he added.
This was last published in
February 2019