buchachon - Fotolia
Will SAP EWM-QM integration improve the quality inspection process?
Integrating SAP Extended Warehouse Management and Quality Management requires taking the time to allocate resources to carry out a successful project. Here are four areas on which to focus.
SAP Extended Warehouse Management is meant to provide a superior quality inspection process for incoming and outgoing...
Continue Reading This Article
Enjoy this article as well as all of our content, including E-Guides, news, tips and more.
materials.
With that in mind, companies that are currently using integrations of Warehouse Management (WM) and Quality Management (QM) to manage the quality inspection process should consider implementing Extended Warehouse Management -- or EWM -- and using that in conjunction with QM for quality inspections. Note that in SAP EWM, the quality planning and quality inspection business processes are managed through the Quality Inspection Engine (QIE), which is an add-on to the SAP EWM system.
After an SAP Extended Warehouse Management implementation, the integrated WM-QM system is only needed to keep the master and transactions data consistent between EWM-QM and WM-QM. Proper integration is crucial, since EWM is installed on a different SAP system than WM and QM.
To successfully integrate Extended Warehouse Management and Quality Management, you'll need to focus on the following four areas.
Configuration
The QIE setup requires the activation of specific inspection object types to signal the different types of quality inspections that are managed for materials in various warehouses. For example, if a company has a separate warehouse in EWM for materials or product returns, then the warehouse-specific Inspection Object Types field needs to be configured to enable quality inspection of such materials' returns.
Just like setting up a catalog for decisions on material usage is necessary in the QM component of SAP ERP Central Component (ECC), with fields such as accepted, partially accepted or rejected, the same catalog of decision codes needs to be configured and tested in EWM.
Activate the Event Type Linkage to enable data transfer between ECC and QIE. Activate the application event QBEXTP to enable smooth communication between the QM component of ECC and EWM for the transfer of quality-related data.
Master data
Depending on the inspection object types, the master data in Extended Warehouse Management needs to be set up accordingly. Here are some examples.
If recurring inspections or a repeat inspection is involved, then the inspection interval's details need to be maintained in the product master of EWM.
An inspection rule defines the quality parameters, such as how a quality inspector inspects a material and the number of samples to be inspected, and these must be created and maintained in EWM.
If the company uses SAP Dynamic Modification Rule (DMR), then this master data needs to be set up in EWM. DMR is a flexible inspection process that enables bypassing inspections for products that have consistently met high quality standards or for raw materials vendors that have consistently met their quality requirements.
Quality inspection groups enable a quality inspector to inspect several materials that have the same or similar chemical or physical attributes without having to create master data for individual materials.
Business transactions
Depending on which inspection object types are set as active for a materials' inbound and outbound inspections, the system triggers an inspection process as soon as the company receives a material in the warehouse, starts production of a product or dispatches a finished product to a customer.
Apart from the materials' inbound and outbound inspection processes, EWM is also able to perform other planned or unplanned inspections, such as recurring inspections (or repeat inspections) of batch-managed materials and physical counting inspections of materials to ensure a warehouse person physically counts and records the items received before posting them in the EWM system.
If the company is also using CRM, another component of SAP Business Suite, then it is also possible to manage customer returns and subsequent adjustments, such as product replacements or credit memo issuances.
Reports
As with any component of SAP Business Suite, there are a large number of reports and analyses available in Extended Warehouse Management. Figure 1 shows the initial screen to enter relevant parameters so that EWM is able to bring up the report containing the desired information. The transaction to access the report in EWM is /SCWM/SAPLQINSP.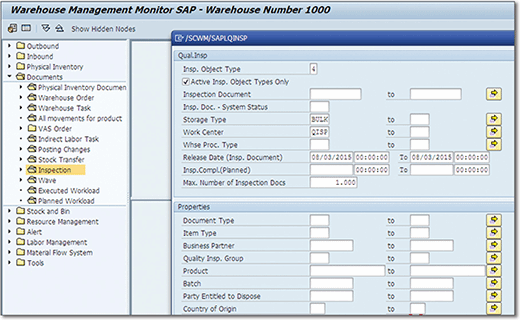 Companies planning to implement or migrate to S/4HANA will find that Extended Warehouse Management is native to S/4HANA, so integrating EWM with Quality Management business processes is easier and faster.
Next Steps
Manage hazardous materials with Warehouse Management
Get better warehouse operations with SAP
What you should know about warehouse management software
Dig Deeper on SAP ERP software and modules
Replenishment strategies, lot sizes, safety stock, reorder point planning and replenishment lead time are five factors in ERP that can ensure ... Continue Reading
S/4HANA public cloud provides a less disruptive route to digital transformation than some options -- including the on-premises S/4 -- and smoother ... Continue Reading
These nine key components of SAP MDG help ensure regulatory, legal, environmental and financial compliance of your master data and improve ... Continue Reading