James Thew - Fotolia
SAP executive board shuffle raises questions about its strategic direction
Some analysts believe SAP's recent executive changes mean the new leaders must prove their development credibility as the company moves forward in an evolving technology market.
The recent SAP reorganization -- with layoffs and changes in the SAP executive board -- has raised questions about the direction of the Germany-based ERP giant.
The biggest wave in the SAP executive board shake-up was likely the departure of 27-year SAP veteran Rob Enslin. About a week ago, he left his position as president of SAP's cloud business group (CBG), which encompasses Ariba, Concur, Fieldglass and SuccessFactors, to pursue an "external opportunity," according to the company.
Enslin's exit created more waves. He was replaced by Jennifer Morgan, president of SAP's global customer operations group (GCO). And Morgan was replaced by Adaire Fox-Martin, president of SAP Asia Pacific Japan.
This executive shuffle comes on the heels of other high-profile exits. Bjoern Goerke, a 30-year SAP veteran, left his position as CTO in April. He was replaced by Juergen Mueller, who was previously the vendor's CIO. Bernd Leukert, a 25-year SAP veteran, agreed to leave his role as co-leader of SAP Digital Business Services in February. Michael Kleinemeier, co-leader of SAP Digital Business Services with Leukert, is expected to assume sole responsibility for that role.
Based on reports from SAP, as well as the departed executives, all departures appear to be amicable. According to a letter to SAP employees addressing the changes, when Enslin took on the leadership of SAP's CBG in 2017, he would "likely be curious to try something outside of SAP" after a "couple more years."
Enslin had received "inquiries about opportunities that were interesting to him" late last year, but he stayed on "to help Ryan Smith get Qualtrics on board with SAP," according to the letter.
SAP relies on a deep bench
The SAP executive board shake-up is interesting, but not particularly troubling, according to Joshua Greenbaum, analyst at Enterprise Applications Consulting.
Enslin was instrumental in the early stages of pulling the cloud companies together when the company needed someone with a big-picture viewpoint, and SAP may miss that vision, Greenbaum said.
"[Morgan] needs to get out in front of that very quickly and prove her chops, and that's her No. 1 job right now," Greenbaum said.
However, the structure that Enslin helped put in place is sound, he said, which should make it relatively easy for Morgan to walk into the role. Plus, Morgan comes to the position with a significant advantage.
"She comes in from the sales side [SAP GCO], and she knows better than most that SAP can't succeed without having this portfolio sold as a portfolio. So, she gets that perspective very well, and that's a good starting point," Greenbaum said.
Although SAP lost a good deal of experience with the recent departures, it has a deep enough bench, so the effects should be minimized, which is also true for most large enterprises, Greenbaum said.
"The fact is, particularly at SAP, there's a lot of structural organization underneath any individual leader, which keeps that organization moving forward," he said. "Some people are saying this is going to have a huge impact across the board and have a direct impact on customers, but I just don't see it."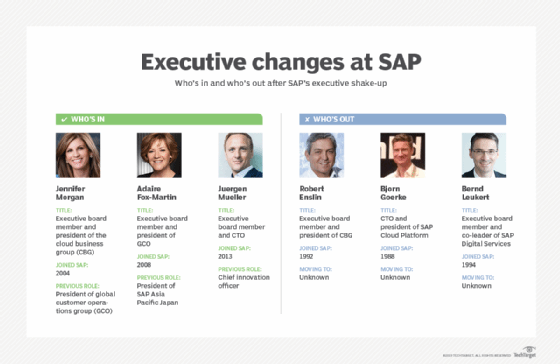 New leaders have to prove technology credibility
For Jon Reed, analyst and co-founder of Diginomica, the leadership changes were not really surprising. But he said he believes so many departures in such a short time means SAP will have to prove it has a sound strategy going forward.
"You have to look at each individually and respect that sometimes folks move on for new opportunities," Reed said. "However, the combined sum of all the executive changes does put pressure on SAP in the short term to present a compelling leadership team at Sapphire Now that can articulate SAP's business direction, has technical and product depth when necessary ... and [understands] their customers' concern about these changes."
Many in the SAP community are reeling from the pace of the recent changes, Reed explained, so SAP will need to make the new executives more visible -- and credible -- in articulating what's next for the company.
This is especially true as the technology world continues to evolve rapidly, according to Vinnie Mirchandani, analyst and founder of Deal Architect Inc.
"[Enslin] is a highly recruitable executive, especially with his breadth of global experience, which is highly unusual in tech world. And [Jennifer Morgan] has followed his steps in many countries, so I think that transition should be OK," Mirchandani said. "However, it is a bit jarring that his leaving is coming alongside the changes in R&D."
SAP customers are investing less in back-office transactional systems and more on next-generation technologies, like machine learning and analytics, SAP technology and products that didn't exist five years ago.
"Developer communities are changing rapidly, and these trends are affecting every vendor, not just SAP," he said. "So, it's not surprising. You will see impact on their R&D staffing, but even more on staffing of their SI [systems integration] partners and their customers' IT. ABAP and Basis skills will continue to be in demand for a long time, but you will see a lot more interest in Python and open source infrastructure skills."
The fact that the new leadership is comparatively inexperienced and largely from a sales and services background, rather than a developer background, raises questions for Holger Mueller, vice president and principal analyst at Constellation Research.
"Development experience is about building what customers want -- independent of the technology," Mueller said. "[The new executives' lack of development experience] does not have to hurt SAP, but it certainly would be better if they had a little more subject expertise."
Dig Deeper on SAP ERP software and modules