carloscastilla - Fotolia
SMBs focus on future with S/4HANA and SAP intelligent enterprise
Medical device startup Enable Injections is small now but intends to be big soon, so it's implementing SAP S/4HANA in phases to future-proof its company.
The innovation that characterizes the SAP intelligent enterprise often surprisingly comes from small to midmarket companies rather than large enterprises.
At the Innovate Live by SAP event in New York City, several of these companies discussed their experiences in establishing what SAP calls the "intelligent enterprise," where organizations use SAP technology to digitize business processes and develop new business models based on data analytics. One characteristic of note was the diversity of companies and the ways they are using and implementing various SAP technologies, including S/4HANA, to drive each company's version of the SAP intelligent enterprise.
Participants included Enable Injections, a medical device patients can use to self-inject medications; Scrub Daddy Inc., a maker of cleaning products that gained attention from appearing on the Shark Tank reality show; Paradox.Ai, which developed Olivia, an AI-based HR recruitment tool; and Protecht, a mouthguard developed by Sports & Wellbeing Analytics that analyzes the impacts of hits to athletes in contact sports.
Although each company is relatively small now, they all chose to implement SAP technology to grow with them and handle the demands of the future.
Take Enable Injections, for example. The Cincinnati-based medical device startup had fewer than 10 employees in its early years from 2010 to 2014 but expects to have around 150 by the end of 2019. The company's real growth may not arrive for another five years, however, when it is anticipated to bring its on-body medication injector to the market, said Tim Flaherty, executive vice president and CFO at Enable Injections.
Bringing the medical device to market is a complicated process that involves time, money and people, Flaherty said. But if it gets the timing right, Enable Injections believes the payoff will be huge.
"We have [pharmaceutical firms] talking about millions of devices for one drug, and with seven partners in the pipeline, our hopes are that they time it at about the same time," Flaherty said. "If we get approval with one, then two, three and four will start to stack up. That's one of the reasons why we're bringing in SAP S/4HANA because we can see those volumes just balloon. And when we go from zero to millions of units, we have to make sure that we have a system that can scale quickly."
SMBs need partners to succeed
Like most of the smaller enterprises that are beginning to build an SAP intelligent enterprise, Enable Injections worked with a partner to provide implementation expertise and strategic advice. The relationship between the company and its partner -- in this case Dickinson & Associates, an SAP independent software vendor based in Chicago -- is designed to be long term.
The important thing for Dickinson was to determine what SAP software Enable Injections needed and how it would be implemented, said Donald Dickinson, Dickinson's president, at the SAP event. Enable Injections is a startup with a limited amount of financial resources, so, Dickinson needed to come up with alternatives to the big bang implementations that are possible in larger enterprises.
"We brought the same type of resources that we would to a company that's ready to do a big bang, and we worked with them to discover what their business needs and pains were, what constraints they were dealing with, and what they needed when," Dickinson said. "Then we figured out the sequencing that would make sense and how we could do that effectively from a budgetary perspective."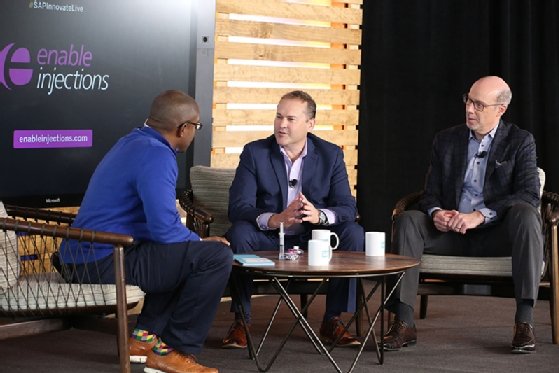 Taking a phased approach
Enable Injections decided to implement S/4HANA as the platform to handle the projected growth, but the startup won't need most of the modules immediately. Because of this, Dickinson recommended a phased implementation approach.
The first phase focused on the financial module in 2018. The second phase added manufacturing, quality management, and SuccessFactors-based performance and learning modules in January 2019. The third phase will add product lifecycle management (PLM) and plant maintenance by the end of 2019.
"In phase four we'll look at analytics and possibly some project management modules, project systems and also some regulatory tools," Flaherty said.
S/4HANA provides Enable Injections with part traceability functions that are critical in the pharmaceutical industry and unavailable in other ERP financial systems designed for midmarket firms.
"They could have put in different things, but the moment that you think about traceability -- which is an inventory concept and a quality inspection concept -- then you start thinking about what SAP can support in a pharma environment," Dickinson said. "They were going to need that traceability as a supplier to Big Pharma."
SAP targets SMBs for intelligent enterprise innovation
Although primarily known for being best suited for large enterprises, SAP is making an effort to drive the intelligent enterprise to smaller companies, which make up 80% of SAP's global customer base, said Subhomoy Sengupta, head of small and midsize enterprise operations at SAP.
The dynamics of business have changed with the advent of technology like 5G and AI, enabling small companies to grow much faster, Sengupta said.
"[Small to midsize companies] see the value that SAP can bring to them as they go from being a small company to being a future large organization, but that's a journey that has gotten speeded up," he said. "The barriers to doing business across the world have changed significantly. The money coming in through private equity and so on can capitalize these companies very easily, so the jump from being a small company to a big one is a common phenomenon."
Every small company is looking to get bigger, and Sengupta argued that SAP can be the bedrock for future growth, with much of the work provided by SAP partners.
"The processes that they need as they scale, the practices that they need to have in place as they focus on their core business is something that SAP can do," he said. "SAP can provide the technology and the vision, but the partner makes it real for the customers. They bring in a lot of industry expertise and have worked in similar midsize companies, so they know what they need. It's not about every feature in the product; it's about how they can solve a business problem."