James Thew - Fotolia
SAP for Me provides 'one-stop shopping' for product data
Customers who need comprehensive information about their SAP environments can now use the new SAP for Me portal to get a complete and transparent look at all the products in the system.
SAP customers who are confused about the full extent of their SAP product portfolio now have a new tool to help end the confusion.
SAP environments can be complex systems composed of many products sprawled across different locations. A too-wide selection of tools is available to get information about issues like license usage, but these tools don't always work together, said SAP's Juergen Jakowski. SAP for Me, on the other hand, gathers data from all of an organization's SAP products and aggregates it into a "one-stop shop" for customers, said Jakowski, chief product owner of SAP for Me.
"Customers have told us that there are too many portals and tools, so it's hard for me, as a customer, to understand where to go," he said. "SAP customers found it hard to draw an overarching picture of what they had purchased, and it was not easy to draw a picture that shows their entire portfolio."
SAP for Me is intended to complete that picture of the entire SAP landscape and provide transparency about all SAP products within the organization. Customers can use the tool to get information about licensing, support and contacts, as well as SAP education and skills assessment.
'Single point of entry'
The portal is designed to be easy to use and can be personalized to the specific requirements for each user, Jakowski said.
"It's a single point of entry where the customers can go to and … personalize their view based on their interest and role," he said. "For example, a purchaser would only see all of the financial aspects of the house like the orders and invoices."
However, because the SAP for Me portal gathers data about the system as a whole, users can get information and act on issues that would have previously been time-consuming and difficult, Jakowski said.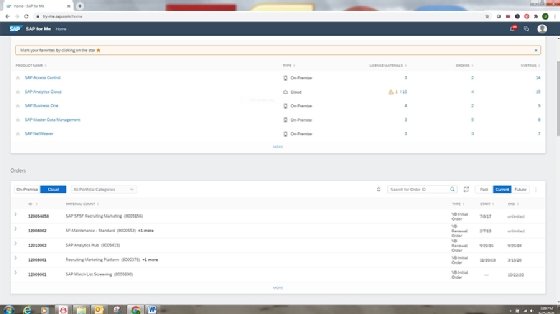 The purchaser might not look at system status data, for example, because that's normally used by administrators. "However, seeing how often a system was up or down can be relevant as a purchasing topic," he said. "Because the purchaser may want look into the [service-level agreement] and understand where this fits into what's in their contract."
Customers can also use SAP for Me to monitor license usage and know whether they are overusing or underusing certain products.
"For example, you can see if only 80% of your license has been used," Jakowski said. "If you know how many users are really using the system, maybe you can invest in more learning to get more users to use the products."
SAP for Me is available now license-free to SAP customers.
Cloud usage monitoring is useful
The concept of SAP for Me is sound and will be helpful as SAP moves to a consumption-pricing model, said Jon Reed, analyst and co-founder of Diginomica.com, an enterprise computing news and analysis site.
"A license-free offering is helpful, and SAP for Me includes a consumption dashboard, as monitoring your data and license consumption in real-time is the future of software licensing," Reed said. "Customers have been pushing SAP to do this for a long time and it seems they are making strides here, and it will be interesting to see if customers adopt it."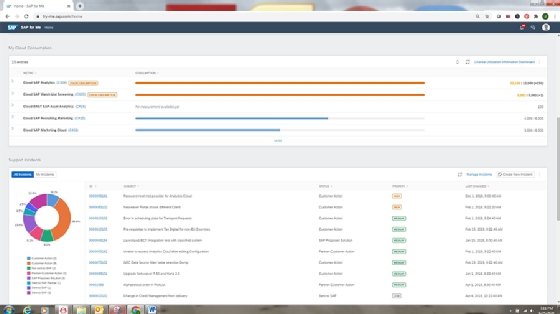 SAP for Me will be best suited for SAP customers who are predominantly using cloud-based products, said Joshua Greenbaum, principal of Enterprise Applications Consulting.
"SAP for Me is going to be more complicated for a predominantly on-premises customer to use because SAP doesn't know a whole lot about what the customer has done to an on-premises implementation," Greenbaum said. "It is interesting because there are a lot of things that are happening now in terms of putting a lot more data in front of customers, but it's going to be much more advantageous in the cloud, and, really, this is what the cloud is good for."
SAP for Me for partners
A version of SAP for Me specifically for SAP partners is also available.
This is intended to provide SAP partners with a complete view of their relationship with SAP, said Karl Fahrbach, chief partner officer at SAP.
"The partners can get data about the relationship in terms of KPIs, or steps that that they need to follow, as well as customer data through that single access point," Fahrbach said. "It's a digital engagement tool that gives a 360-degree view of the partner's relationship with SAP."
This should be helpful in improving SAP's relations with its partners, Greenbaum said.
"Anything they can do to make the partner interaction with SAP better is going to help because the bar, unfortunately, is set low," he said. "Part of opening up these additional tiers is about making SAP systems seductive to partners -- and that's great. Being able to look at the partner data, being able to look at the customer data, being synced more with SAP's presales stuff is good for partners."