Deployment options -- SAP S/4HANA Cloud vs. on-premises vs. hybrid
Are you confused about the implementation options of S/4HANA? If so, learn about the various choices and their associated pros and cons.
CIOs who are interested in becoming SAP customers or who are interested in moving to the next generation of SAP...
Continue Reading This Article
Enjoy this article as well as all of our content, including E-Guides, news, tips and more.
ERP must conduct due diligence when comparing S/4HANA Cloud vs. on-premises vs. hybrid to decide which is the right choice of deployment option for their company. Each offers advantages and disadvantages, and it's important to consider them all before choosing.
However, before getting into the advantages and disadvantages of various S/4HANA deployment options, let's go over some core concepts.
Understanding S/4HANA deployment options
S/4HANA is the on-premises ERP business suite based on the SAP HANA in-memory database. With on premises, the customer manages everything, including the HANA database, applications, data centers, OS, middleware, servers, virtualization and networking.
SAP S/4HANA Cloud is the SaaS version of S/4HANA. SaaS deployment means that users can take advantage of much of on-premises S/4HANA's functionality without needing the hardware, databases or IT staff required for the on-premises version since the chosen cloud vendor provides and manages almost everything. Cloud provider platforms include SAP Cloud, Google Cloud Platform, IBM Cloud, AWS, Alibaba and Microsoft Azure, among others. Those companies that choose S/4HANA Cloud and want to run it with SAP Cloud must decide between public cloud (HANA Cloud Platform) and private cloud (HANA Enterprise Cloud).
The two S/4HANA hybrid cloud options are IaaS and PaaS. These entail managing some on-premises assets and performing associated services, while the remaining are managed by the cloud provider. With IaaS, the company manages applications, data, runtime, middleware and OS, while the cloud provider manages virtualization, servers and storage. With PaaS, only applications and data are managed by the company, while the cloud provider takes care of the rest. In both cases, companies will need to choose from among cloud providers and, as with S/4HANA Cloud customers, whether cloud applications with be hosted on public or private cloud.
The figure below shows each of these deployment options available to companies. The blue boxes denote the services managed by a cloud vendor. The beige boxes denote the assets and services that companies need to manage on their own.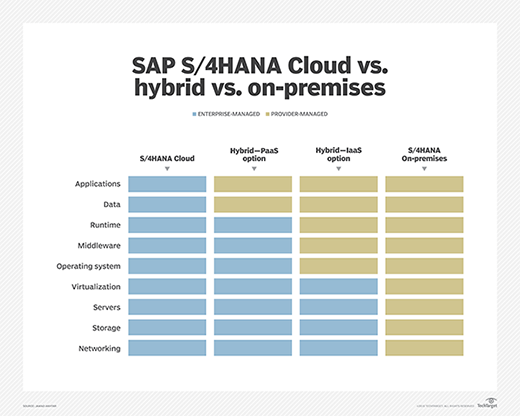 Advantages, disadvantages of S/4HANA Cloud vs. on-premises
To help in navigating deployment options, here are eight areas to research when considering S/4HANA Cloud vs. S/4HANA on premises. The considerations for choosing a hybrid model are covered in a later section.
Customization
Cloud: Although able to be customized to some extent, there is far less flexibility compared to on premises.
On premises: There is far more flexibility with and control of customization since the company manages all customization in-house.
Cost
Cloud: There's one agreed-upon monthly (or any other payment frequency) fee to the cloud vendor that covers everything from infrastructure to the cloud provider's support to daily backups and software upgrades. Companies need fewer internal technical resources, and the upgrade costs are lower. However, the year-to-year maintenance costs may be higher when a company's need for a cloud provider's services increase.
On premises: The company owns the tangible hardware assets, owns the software and pays a low annual software maintenance fee. However, the operational cost can be high due to the support team needed to maintain the infrastructure. Software upgrade costs can be high too compared to S/4HANA Cloud.
Security
Cloud: The cloud provider has an expert infrastructure and server security team to keep SaaS systems safe.
On premises: Choosing the S/4HANA on-premises option requires dedicated security experts and often additional security software that ends up costing the company.
Implementation
Cloud: The implementation is faster than S/4HANA on premises since the cloud version uses a ready-made platform that has already been provisioned, implemented and tested by the cloud provider.
On premises: Implementation takes time, cost, effort and the right personnel to set up a new environment. There may also be a need to purchase additional hardware or software to implement new features.
Upgrades and support packages
Cloud: There is less control over an upgrade schedule compared to on premises. However, the cloud provider can inform the customer in advance about the impending upgrades, and the customer can choose the timing and functionality of the upgrade. In addition, IT's involvement in the upgrade is minimal and might only be limited to validation review.
On premises: The company decides the frequency and schedule of software upgrades or whether to implement the latest support packages. This option is time-consuming and expensive, and involves technical or functional resources. System downtime during an upgrade or implementing support packages is another consideration to be taken into account.
Using the hybrid model does require careful consideration of the system maintenance since a cloud maintenance activity may impact the flow of data between cloud and on-premises systems.
Integrations
Cloud: Integration among various corporate systems of a company can be complex and involves greater security risks due to data being sent over the internet. The company needs to validate that the cloud vendors have well-defined web services as integration points.
On premises: Data transfer among systems is faster, and integration over the internet is relatively simpler. Integration tools, like integration PaaS (iPaaS) by SAP, are able to integrate S/4HANA with various on-premises and cloud applications in the company's technology ecosystem.
Regulatory compliance
Cloud: The vendor provides and ensures baseline validation. Enforcing regulatory compliance is easier and faster.
On premises: The company has to make full validation efforts to ensure it complies with the regulatory requirements, and these validation efforts cost time, resources and money for the company.
Scalability
Cloud: Scaling up or down is easier, faster and cheaper to meet the changing needs of the company.
On premises: This approach needs long-term planning and commitment for resources required for scaling.
S/4HANA deployment options: Hybrid model considerations
For companies that are considering an S/4HANA hybrid deployment, factors such as cost and security, vary depending on the exact mix of the deployment. But you can use the comparisons in the S/4HANA Cloud vs. on-premises section above to sto get a general sense. In addition, companies considering the hybrid model from among the S/4HANA deployment options should take the following factors into consideration:
Due to limited and time-bound activities, all development and testing can take place on PaaS, such as HANA Cloud Platform, while the final software can be implemented on a private cloud or on premises.
The need to temporarily use a public cloud is justified when there's a sudden but short surge in data use, such as during promotion or marketing of products or services.
Integration tools are making it easier to choose and implement a hybrid model. IPaaS delivers cloud services for S/4HANA and the SAP ecosystem -- applications, data and process integration scenarios. It supports cloud-to-cloud, cloud-to-on-premises, on-premises-to-on-premises and B2B integration.
Using the hybrid model does require careful consideration of the system maintenance since a cloud maintenance activity may impact the flow of data between cloud and on-premises systems. For example, the on-premises SAP Human Capital Management system and the cloud-based SuccessFactors.
Every company will need to weigh each of the S/4HANA deployment options, along with the relevant considerations, but the research and due diligence are worth it to enable a successful project.