Share this item with your network:
Managing and protecting all enterprise data

imageteam - Fotolia
Businesses use enterprise file sync-and-share market to collaborate
Enterprise file sync and share solves numerous business problems by offering organizations a way to provide more secure document sharing and collaboration.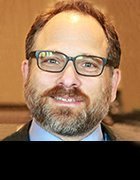 By
Enterprise file sync and share is becoming a more important member of the collaborative toolbox for organizations...
Continue Reading This Article
Enjoy this article as well as all of our content, including E-Guides, news, tips and more.
across the world. The technology is so effective at delivering the secure syncing, accessing, sharing and managing of files from any device that market research firm MarketsandMarkets predicted the worldwide enterprise file sync-and-share market will grow healthily to more than triple its 2015 value of $1.1 billion to over $3.51 billion by 2020.
According to our surveys, there's plenty of room for the enterprise file sync-and-share market to replace or supplement another collaboration tool in the enterprise, or fill a hole where none presently exists. In fact, there are more organizations who already have some type of file sharing or collaboration system installed shopping for another tool in the enterprise file sync-and-share market than do not. Of those, the majority have full-blown enterprise content management (ECM) or document management systems (e.g., SharePoint) (43%) deployed as their main method for sharing and collaborating on documents; while another 32% have in-house or custom-built apps for that purpose; and 28% have some other type of Managed File Transfer, EFSS or cloud-based ECM product deployed.
Only 17.5% of those looking in the enterprise file sync-and-share market do not already have some type of file sharing or collaboration system currently in place, and a mere 13% who do expressed dissatisfaction. So while this indicates most are satisfied with how their current collaborative products work, there's still something drawing them away to EFSS.
A number of factors are driving organizations to the enterprise file sync-and-share market. A need for increasing collaboration among employees, higher levels of security, simpler access to shared files outside of the internal network and virtual private network and mobile access to corporate accounts lead the way, in that order. These are followed by a desire for central management, log records, and control of all users and discouraging or prohibiting the use of unauthorized file sync-and-share services.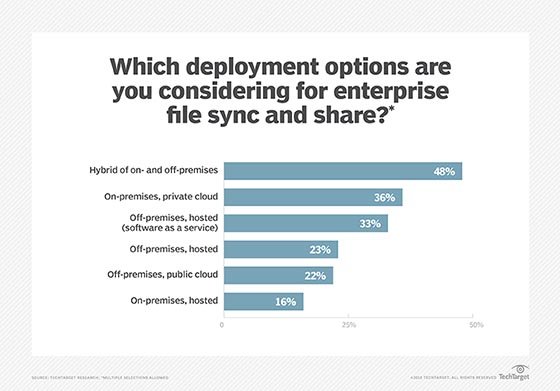 One of the most attractive aspects of the enterprise file sync-and-share market is the flexibility with which you can deploy the technology. With many decision-makers still not completely sold on the security and efficacy of having their data hosted off-site, it's no surprise that nearly half of those surveyed said a hybrid on- and off-premises approach is top on their EFSS deployment shopping list, with off-premises private cloud next and various off-premises (e.g., hosted [software as a service], public cloud and so on) coming in after that.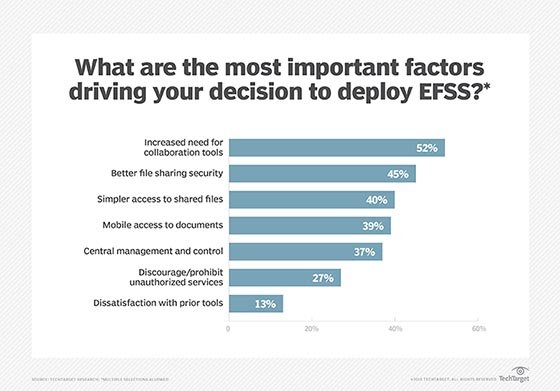 Interestingly, on-premises hosted EFSS pulled up in the rear. The likely reason is the added burden completely managing and hosting an EFSS product would have on IT staff. After all, part of the attraction of the enterprise file sync-and-share market is how much it simplifies these things.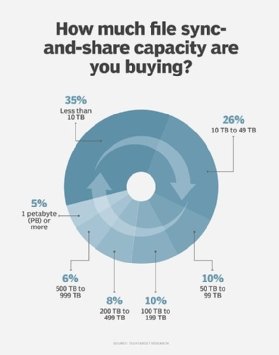 Exactly what features are businesses looking for in an EFSS product? Well, topping the list is cloud storage that integrates with on-premises storage (57%), followed by support for cloud-based file sharing and collaboration among employees (55%), file synchronization across multiple devices per user (48%), web access to files (45%) and support for centralized administration of all user accounts (48%). These are followed by the encryption of files in transit or at rest (38%), the integration of cloud storage with installed software such as backup applications (34%) and files synchronizing across multiple office locations (34%).
Furthermore, while 55% of respondents do not work in a regulated industry that has special requirements for EFSS, 45% do. So it would make sense that 31% of respondents are looking to the enterprise file sync-and-share market to help them adhere to regulatory compliance and e-discovery requirements while providing easy data access to users.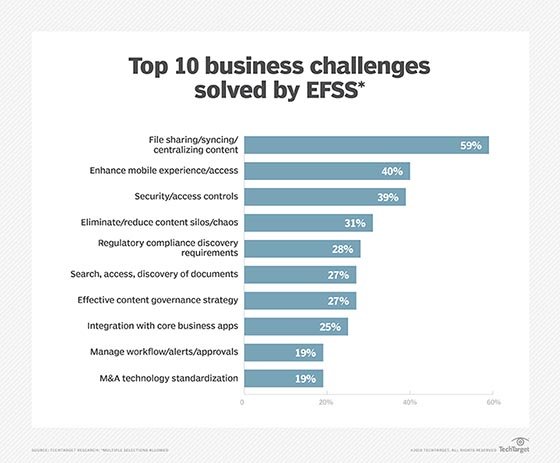 Other business problems that organizations are looking to the enterprise file sync-and-share market to help solve include having security access controls put in place for content; reducing silos to eliminate content chaos; easing the search, access and discovery of documents; better integration with core apps; the setup and managing of workflow, alerts and approvals; and the development of an effective content reuse and information governance strategy.
Next Steps
A primer on the EFSS marketplace
The rise and maturation of EFSS
Beware the danger of "shadow EFSS"