Fotolia
8x8 X Series integrates with Slack, Microsoft Dynamics
8x8 X Series has new APIs for embedding communications into third-party apps. Meanwhile, the vendor said it could now deliver speech analytics to larger contact centers through the public cloud.
8x8 has made it easier for customers to embed the cloud communications functions of its unified communications and contact center platform, 8x8 X Series, into third-party messaging and customer relationship management apps.
The vendor will offer customers a new workflow for bringing 8x8 communications into third-party apps. The workflow, which is based on microservices and industry-standard APIs, replaces an integration framework that many customers apparently found insufficient.
8x8 also announced several new prebuilt integrations for X Series, including with the customer relationship management (CRM) apps Microsoft Dynamics and Bullhorn. Those integrations let customer service agents make and receive calls, for example, without having to toggle between multiple apps.
Businesses that rely heavily on Dynamics or Bullhorn would be unlikely to see 8x8 X Series as a worthwhile investment without those integrations, unless they had the IT expertise to build custom integrations. 8x8 previously offered connectors to other leading CRM vendors, including Salesforce, Zendesk and NetSuite.
On the unified communications (UC) side, the vendor integrated 8x8 X Series with Slack, letting users place 8x8 calls and launch 8x8 video conferences from within the team collaboration app. The move comes despite 8x8's launch in October of a Slack-like team messaging app.
8x8 is the second UC vendor to plug its platform into Slack this year, following Avaya. The trend is an acknowledgment of Slack's increasing foothold in the collaboration market, with 10 million daily active users as of this month.
8x8 updates contact center AI, analytics
8x8 can now scale its speech analytics capabilities to support large contact centers of 1,000 agents or more. That's because the vendor is now delivering the feature at least partially from the Amazon Web Services public cloud.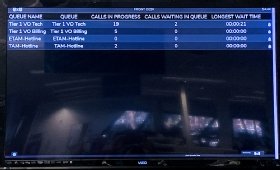 8x8's speech analytics can be used to identify trends or flag problems in recorded calls between agents and customers. The program provides real-time feedback to agents and helps managers plan training for improving customer interactions.
Previously, 8x8 hosted speech analytics technology in its data centers, offering the capability primarily to contact centers with 50 to 100 agents. Contact centers of that size represent the majority of 8x8's customers in that business segment.
By delivering speech analytics from the public cloud, 8x8 is signaling its ability to scale to support larger contact centers. The vendor said it was considering increasing its reliance on public clouds for other aspects of X Series, as well.
To make speech analytics and other AI features more useful to customers, 8x8 is now providing real-time dashboards that users can customize through a drag-and-drop interface. Previously, the X Series only generated historical analytics reports.