Jezper - Fotolia
Cisco's People Insights raises questions about accuracy, privacy
Cisco's People Insights is coming to Webex Teams and Jabber this summer. The vendor's embrace of the product comes as the tech industry is under fire over data privacy.
SAN DIEGO -- Cisco is extending its new People Insights tool to the messaging apps Webex Teams and Jabber, as the company seeks to make AI-driven features, including facial recognition, a primary differentiator from competitors Microsoft, Slack and Zoom.
Cisco's decision to double down on People Insights as a core part of its sales strategy comes at a time when the tech industry is under increased scrutiny for its handling of personal data.
Cisco's People Insights searches the web for publicly available information about users of Cisco's collaboration software, creating a profile that typically includes photos, educational background, employment history and relevant news articles.
It remains to be seen how customers will react to Cisco maintaining automated records on them based on data scraped from the internet. The program already has profiles on 300 million people, with the vast majority of them likely having no idea that material exists.
"There is going to be a lot of concern about the Big Brother perception of it," said Rob Arnold, analyst at Frost & Sullivan. "Privacy, accuracy -- those are probably going to be two of the biggest concerns."
Cisco launched the feature in Webex Meetings in April. The company is adding People Insights this month to Webex Teams and, later this summer, to the on-premises messaging client Cisco Jabber as a cloud add-on. The feature is off by default and is available only to English-speaking customers based in the United States.
"I like the vision of it," Zeus Kerravala, founder and analyst at ZK Research, based in Westminster, Mass., said of Cisco's People Insights. "The implementation of it -- we'll see how that goes."
Cisco touts accuracy and stresses privacy
Cisco said the program only culls information that is already public, and it does not source from websites protected by paywalls or logins. LinkedIn, for example, is explicitly blacklisted.
Users can choose to link to social media pages like Facebook in their profiles, but the program doesn't inspect those sites for content, said Keith Griffin, CTO of Cisco's collaboration division.
Users can edit the information contained in their profiles, but people who use Webex only as guests may not think to do so. Cisco plans to store people's profile data indefinitely, but will delete records upon request.
Accuracy will be crucial, because errors in a person's profile -- for example, if it contains information about a different person with the same name -- could derail a sales call or job interview.
People Insights is 95% to 97% accurate in English, Amy Chang, senior vice president of the Cisco collaboration division, told reporters when questioned in a press briefing.
The profiles also include corporate directory information for internal users. If the AI engine has doubts about the accuracy of the information it finds on a user, it will show only the directory notes, Chang said.
It's also essential that the data doesn't reveal more about users than they feel comfortable sharing at work. Chang told reporters the program collects only information that would be appropriate in a business context.
"I don't want you to have anything in your head that you have to suppress or block when we're sitting down together," Chang said. "Everything that I know about you should be OK to share and to tell you.''
In addition to people, the program has created profiles on 20 million companies and counting.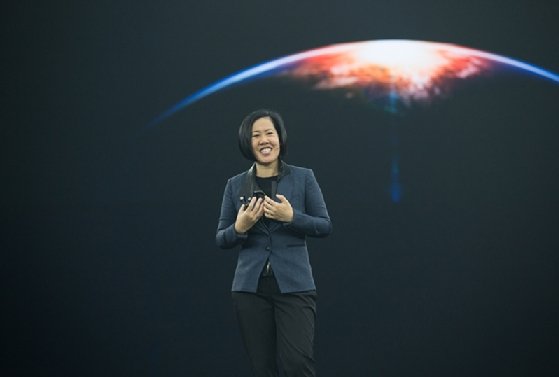 Cisco bets on success of AI-driven collaboration
Cisco has made the tool a centerpiece of its cloud collaboration strategy under the brand "cognitive collaboration," a term that also refers to features such as facial recognition and the Webex AI voice assistant.
Cisco obtained the technology behind People Insights in its $270 million acquisition of the startup Accompany in May 2018. Chang founded that startup and came to head the collaboration division at Cisco as part of an executive shake-up connected to the deal.
In the future, Cisco plans to bring the AI engine behind People Insights to its contact center portfolio. The tool could potentially help route an incoming call to the optimal agent based on a more sophisticated profile of the caller than is available today.
At the Cisco Live user conference, many customers said they hadn't yet heard of People Insights. Others expressed interest in the feature's potential to improve collaboration by giving users helpful information about colleagues and external collaborators.
"It would be useful for us because ... we're in different geographical locations. We don't know who we're talking to sometimes," said John Ceaser, network engineer at Iridium Communications Inc., a midsize telecommunications firm based in McLean, Va.