sommai - Fotolia
Slack redesigns app as Microsoft Teams hits 44 million users
Slack introduced several features that make its app look more like Microsoft Teams, which now has 44 million daily active users.
Slack has redesigned its team messaging app in a bid to make the product simpler for workers who aren't as tech-savvy as its earliest customers.
The refresh comes as Slack falls further behind rival Microsoft Teams in the race for users. The Microsoft product now has 44 million daily active users, up from 20 million four months ago, the tech giant announced Thursday.
Teams has gained 12 million daily active users in the past week alone, a spike the company attributed to the coronavirus outbreak. Slack had 12 million daily active users as of September 2019 but has likely exceeded that figure by now. Slack said it added paid customers at nearly three times its typical rate between Feb. 1 and March 18, netting 7,000 new accounts.
The Slack redesign contains several elements that make the product look more like Teams. The top of the app now features a search bar and navigation buttons. Slack also added tabs for files and notifications, such as when a user tags someone in a message.
Even more significant, Slack now lets paid users place channels within folders. For example, a user could put several channels in a "marketing team" folder. The setup is similar to how Teams groups channels -- except in Slack, each user gets to customize the layout.
The inability to organize channels into groups had been a stumbling block for many Slack users, said Irwin Lazar, analyst at Nemertes Research. Slack should be able to get some companies to switch from free to paid plans with the introduction of folders as a premium service, he said.
The redesign also lays the groundwork for Slack to introduce more real-time communications features. A newly reorganized sidebar within channels features a prominent phone icon that lets users begin a video call.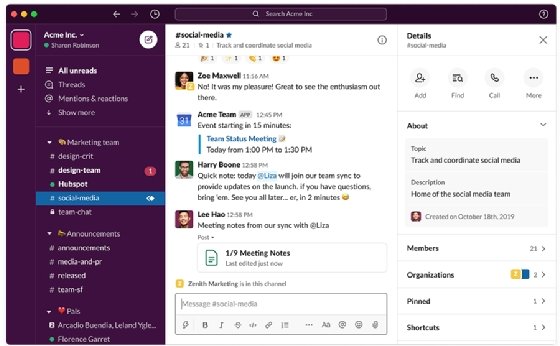 In the future, Slack plans to "do even more with that call button" through partnerships, said Ilan Frank, Slack's vice president of enterprise product. Frank declined to provide further details. Currently, Slack's built-in options for voice and video calls are far less advanced than what's available in Teams.
The prominent call button is an example of how Slack is trying to make interacting with its app more intuitive. Over the past couple of years, the vendor has given users new ways to access third-party integrations without resorting to so-called slash commands. Those commands require users to type, for example, "/call" to start a call.
A new shortcut menu introduced with the redesign lets users access integrations through a few clicks of their mouse rather than by typing a command. At launch, the menu contains shortcuts to Slack tasks, as well as to the integrations for Cisco Webex, Simple Poll and Freshdesk, a help desk app.
Slack is giving its newest users access to the redesign first. Like many collaboration vendors, Slack has reported an uptick in usage in recent weeks as people work from home because of the COVID-19 coronavirus pandemic.
"We want to make sure that those new teams that are formed right now, especially in this time of remote work, see this new interface," Frank said. Everyone else will get the update within a few weeks, except Slack's largest customers. They will get more time to roll out the new design.
Through its latest changes, Slack wants to make its app more palatable to nontechnical users. The move could help the vendor convince more customers to deploy its app companywide. Software developers were the first to adopt Slack in droves. But that cohort now represents a minority of Slack's users, Frank said.
Slack needs to sell to more organizations with thousands of employees to become profitable. The company has made progress in that regard: Over the past year, the number of customers each paying more than $100,000 annually for Slack increased by 55% to 893 customers.
But Slack is facing an uphill battle against Microsoft, which has a stranglehold on the market for cloud productivity tools. More than 200 million workers use Office 365 every month, giving them access to Teams at no additional charge. And Microsoft is particularly good at selling to large organizations: Ninety-three of the Fortune 100 are now using Teams.
On a conference call with investors in December 2019, Slack CEO Stewart Butterfield tacitly acknowledged he would have difficulty reaching a customer base equal in size to Microsoft's. For example, Microsoft Lync, an older collaboration application that the vendor later rebranded as Skype for Business, had 100 million users in 2015.
In response to Teams hitting 44 million users on Thursday, Slack said in a statement that its app and Teams are "different tools used for different purposes." The company said Slack is a collaboration tool that integrates with third-party applications. Nevertheless, Microsoft has integrated Teams with other applications too. Also, Teams has most of the same collaboration features as Slack.