Monkey Business - Fotolia
Microsoft announces free version of Teams video calls
Microsoft's holiday-inspired free video conferencing lets people with a personal Teams account invite up to 300 participants, who do not need Teams accounts to join.
Microsoft has launched free video conferencing on its Teams collaboration service in time for the holiday season.
Microsoft announced this week that a subscriber to a free personal Teams account could invite up to 300 people to a video call that can last up to 24 hours. There's no limit on the number of back-to-back calls, and Microsoft said the new feature will be available indefinitely.
People invited to the call do not need a Teams subscription to join. Instead, they can click on a host-provided link sent via text or email and enter the gathering through their web browsers. The feature is similar to what Zoom and Google offer in competing products.
Another new personal Teams feature lets subscribers text people who don't have accounts. The text can include sharing the sender's location. All the new features, including the video conferencing service, are in preview mode, meaning they may not become permanent capabilities in Teams.
"We are excited to announce the preview of more new personal features in Teams that will make it even easier to manage and plan your days," wrote Arjun Tomar, a senior product marketing manager at Microsoft, in a blog post.
Microsoft joins Zoom and Google in offering free video conferencing when families are unable to gather in person due to the coronavirus pandemic.
Zoom announced a similar free feature last week, letting participants stay on a call for 24 hours during the Thanksgiving holiday instead of the regular 40 minutes. The move allows family members and friends to connect without being booted, as they would otherwise from Zoom's free version. Unlike Teams, Zoom is limiting this feature to Thanksgiving Day.
Google announced in September that it is letting free Meet users stay on a call for up to 24 hours until March 31, 2021.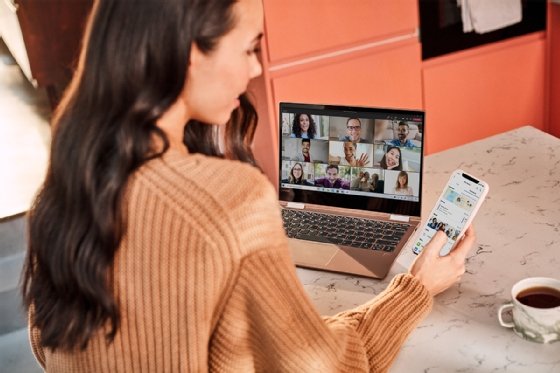 Earlier in the week, Microsoft announced opening up its app market to nearly two dozen apps that can be used directly within Teams. The feature will let users work on projects in apps such as Asana and Slido without leaving Teams. On top of that, users will develop their chatbots, workflows and other apps within Teams using low-code tools. Both features are rolling out this month.
The in-Teams apps come on the heels of a similar feature from Zoom. In October, Zoom announced an apps marketplace called Zapps. The store features nearly three dozen apps, such as Dropbox and Slack. Zoom said it would eventually open up its marketplace to more preapproved app developers. Zoom, however, does not offer the low-code development feature in Teams.